Hildo Krop: Sculptors of the Amsterdam School – part 4
Posted on 6 September 2018
Originally trained as a pastry chef and destined to take over his father's bakery, Hildo Krop decided to become an artist anyway. He attended drawing and painting classes at the Heatherly's of Fine Art in London and Académie Julian in Paris and went on to study sculpture at the Rijksacademie voor Beeldende Kunsten in Amsterdam at the age of 24. Hereafter, Krop became one of the most important sculptors of the Amsterdam School.
Versatile artist
Hildo Krop (Steenwijk, 1884 - Amsterdam, 1970) is best known as the city sculptor of Amsterdam, an honorary title granted to him in 1956 after forty years of working for the Dienst Publieke Werken (Public Works Department). Krop's sculptures can be discovered on many facades and bridges in Amsterdam. He also contributed beautiful facade-sculptures to the Scheepvaarthuis (Shipping House, originally the headquarters of six Amsterdam shipping companies, now Grand Hotel Amrâth). Krop was a very versatile and productive artist. In addition to being a sculptor, he was also an ornamental artist and graphic artist. For example, from 1919 on, he designed utility and decorative earthenware for ESKAF (The First Steenwijker Art Pottery), the earthenware factory of which his father was co-founder and director. He also designed furniture, tableware and carpets for, among others, Winkelman & van der Bijl, Steltman, N.V. Van Wijngaarden and Sons, firm Nusink & Zn and 't Woonhuys.
Below we highlight some remarkable works by Hildo Krop from the Kunstconsult collection.
Menade for ESKAF
This sculpture of a 'Menade' was designed by Hildo Krop for ESKAF around 1920. This 'Menade' ('Maenad') from Greek mythology is a female nymph - in this case with goat's legs and a tail - who accompanies and worships the god of wine, Dionysos. The First Steenwijker Art Pottery (ESKAF) produced fascinating pieces designed by different artists between 1919 and 1934. Hildo Krop made around 60 designs for decorative and utility earthenware, as well as tiles and building ornaments for ESKAF. Various ESKAF-designs by Krop were awarded with a gold medal at the Exposition Internationale des Arts Décoratifs et Industriels Modernes in Paris in 1925.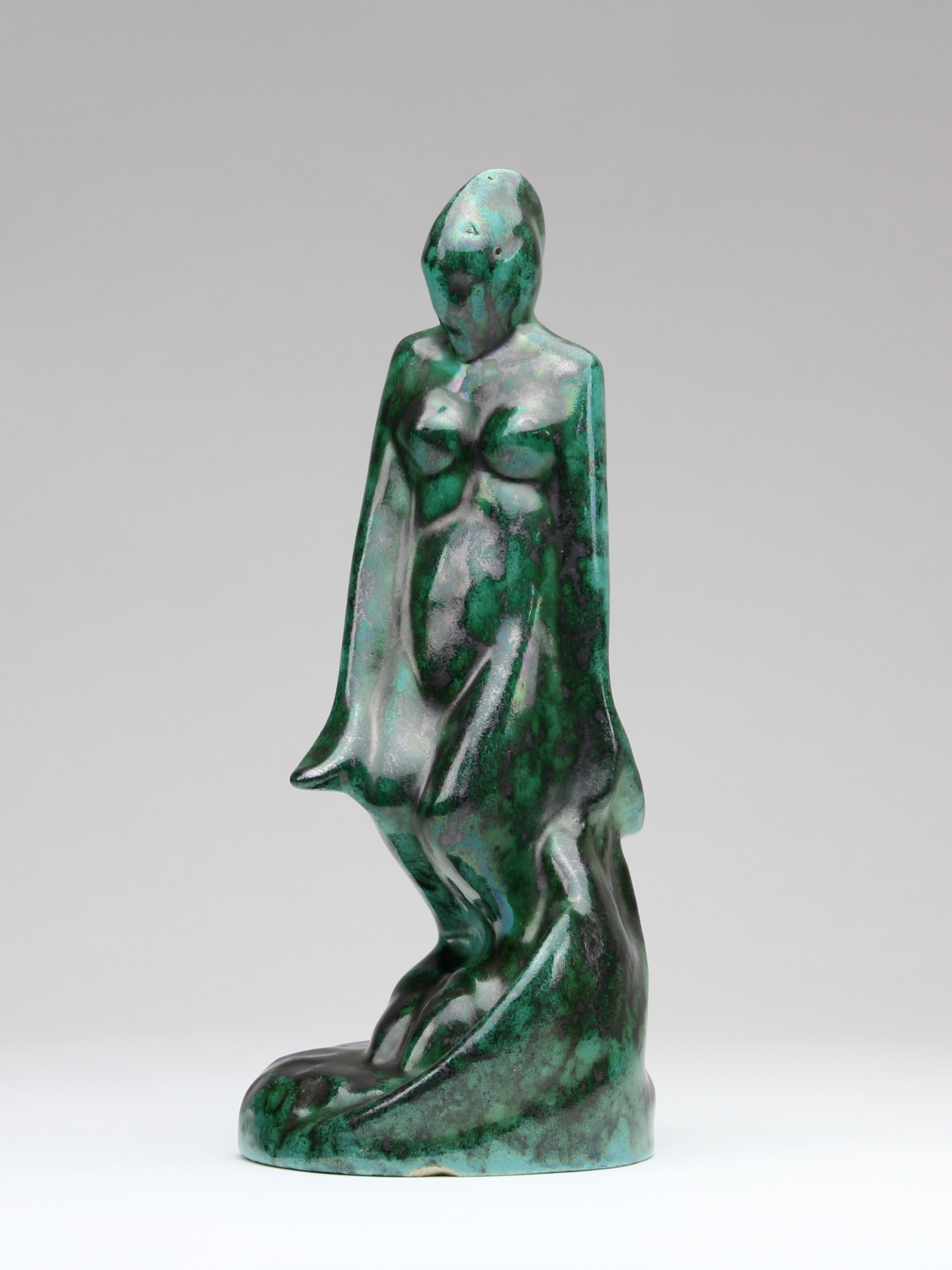 Stoneware ajour tile as architectural ceramics
This tile of reddish-brown metallic stoneware with a representation of a dog was designed by Hildo Krop around 1921-1924. This type of architectural ceramics, executed by ESKAF, was used to decorate the entrance of jewelry store Steltman at the Noordeinde in The Hague, in the interior of the main hall of the bank building of the Rotterdam bank association on the Kneuterdijk in The Hague and on the facade of the former Trade School and the Comenius Lyceum (now the Berlage Lyceum) in the J.P. Takstraat in Amsterdam. Thanks to their openwork, the ajour tiles form a beautiful decoration on the southern facades of these school buildings of light-colored stone.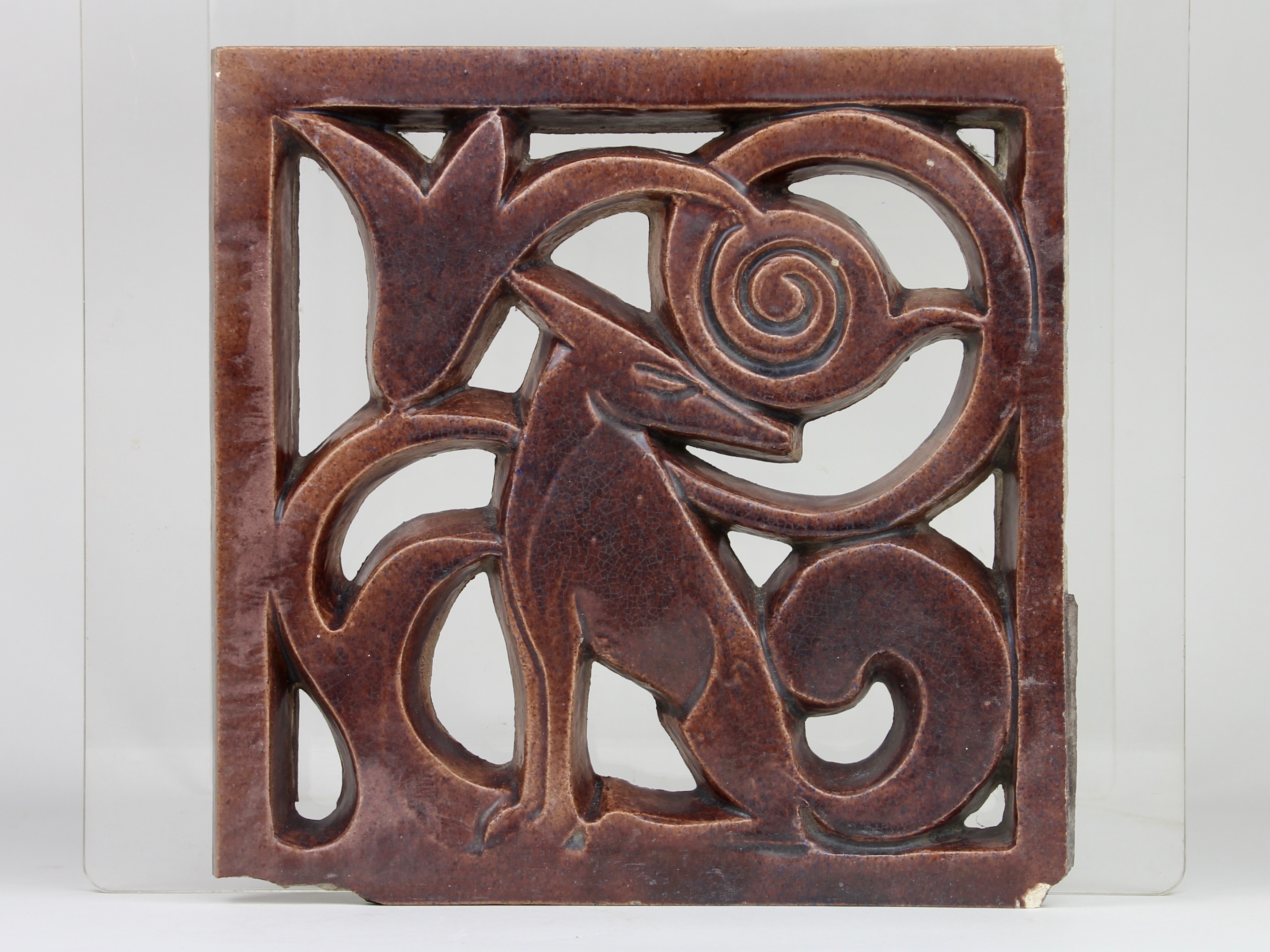 Wall panel in Wendingen
This beautiful mahogany wall panel was part of the interior of a study in a house at Oranje Nassaulaan 10 in Amsterdam, designed by architect Cornelis Jouke Blaauw (1885-1947). Commissioned by art and culture enthusiasts August and Ada von Saher-Crone, Krop designed the paneling, furniture and wood carvings for the interiors of the drawing room, dining room and study in 1926. From the interior of the study photos appeared in the leading Amsterdam School magazine Wendingen. Maandblad voor Bouwen and Sieren in 1927. In these photographs not only the wall panel can be seen prominently, but also a unique coromandel sculpture of a lady (with details of a woman's face and hand), which was part of the paneling. Later, when Ada and her second husband Jan Hondius moved to Villa Vijverhof in Bloemendaal, the interior of the study - including the wall panel and coromandel sculpture - and the dining room were moved. (These dining room table and chairs are now part of the collection of the Rijksmuseum.) The wall panel shows a mother and child in the middle, who are surrounded by the working man and industry left and nature including flying herons, eagles, a fox, a deer and a faun on the right.

Found in the workshop of Hildo Krop: polychrome consoles
These two polychrome wooden consoles were designed and manufactured by Hildo Krop around 1925. The provenance of the objects is the studio of the artist, from where an heir acquired them. Because they were privately owned, their existence was until recently unknown. Figures are carved out of the wood, including a squirrel and a bird. After this the consoles have been painted with gold and red and blue paint. Possibly it concerns beam-ends. Beam-ends with a similar appearance are known for their use in the Dutch pavilion at the Exposition Internationale des Arts Decoratifs et Industriels modernes in 1925 in Paris.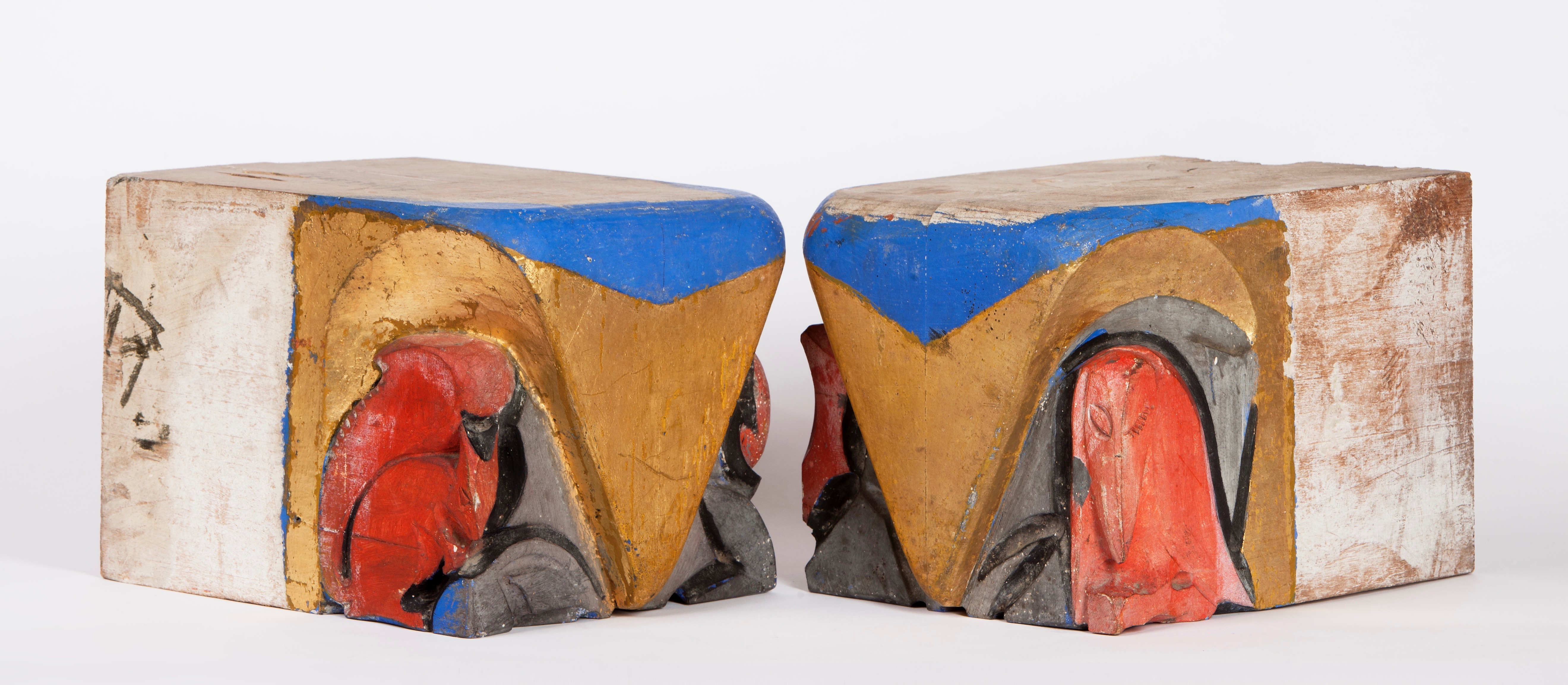 Music cabinet from the studio of Hildo Krop
This music cabinet or bookcase of blackened oak with filigree-cut Amsterdam School motifs from ca. 1925 has the same provenance as the consoles. Hildo Krop used the furniture himself in his studio. The cabinet has a drawer at the front and a side compartment on the right. It can stand freely in the room. Krop learned the crafting of furniture at the firm Gieben in Amsterdam.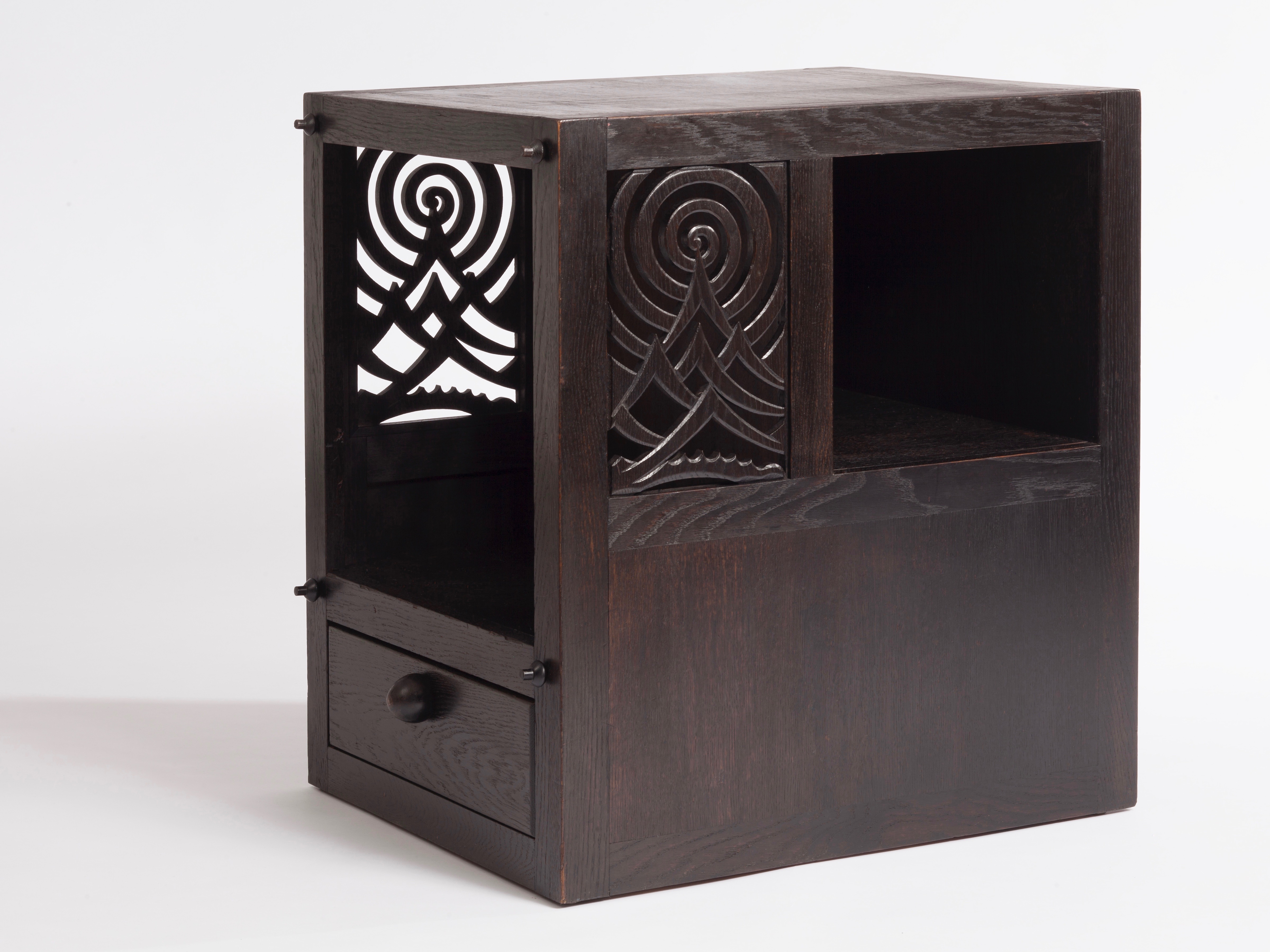 The blanket chest Hildo Krop made for his wife
This richly decorated blanket chest is made by Hildo Krop for his wife in 1948. On the lid of the chest is carved in a graceful handwriting: 'Hildo Krop dedicavit uxori carissimae AD 1948', which means: 'By Hildo Krop dedicated to his beloved wife in 1948'. The blanket chest is made of djati wood (very old teak from East Java) and comes from the artist's own studio. This blanket chest has the same provenance as the music cabinet and the consoles. On the front and sides of the chest is written on a banderole in carved capital letters: "De mens staat en valt En helpt en richt zich op Wat geloof de mens ook heeft verloren De vrijheid eenmaal wordt geboren" ("Man stands and falls And helps and gets up Whatever faith man has lost Once freedom is born"). This phrase, like the representations on the seven relief panels, refers to the liberation of 1945.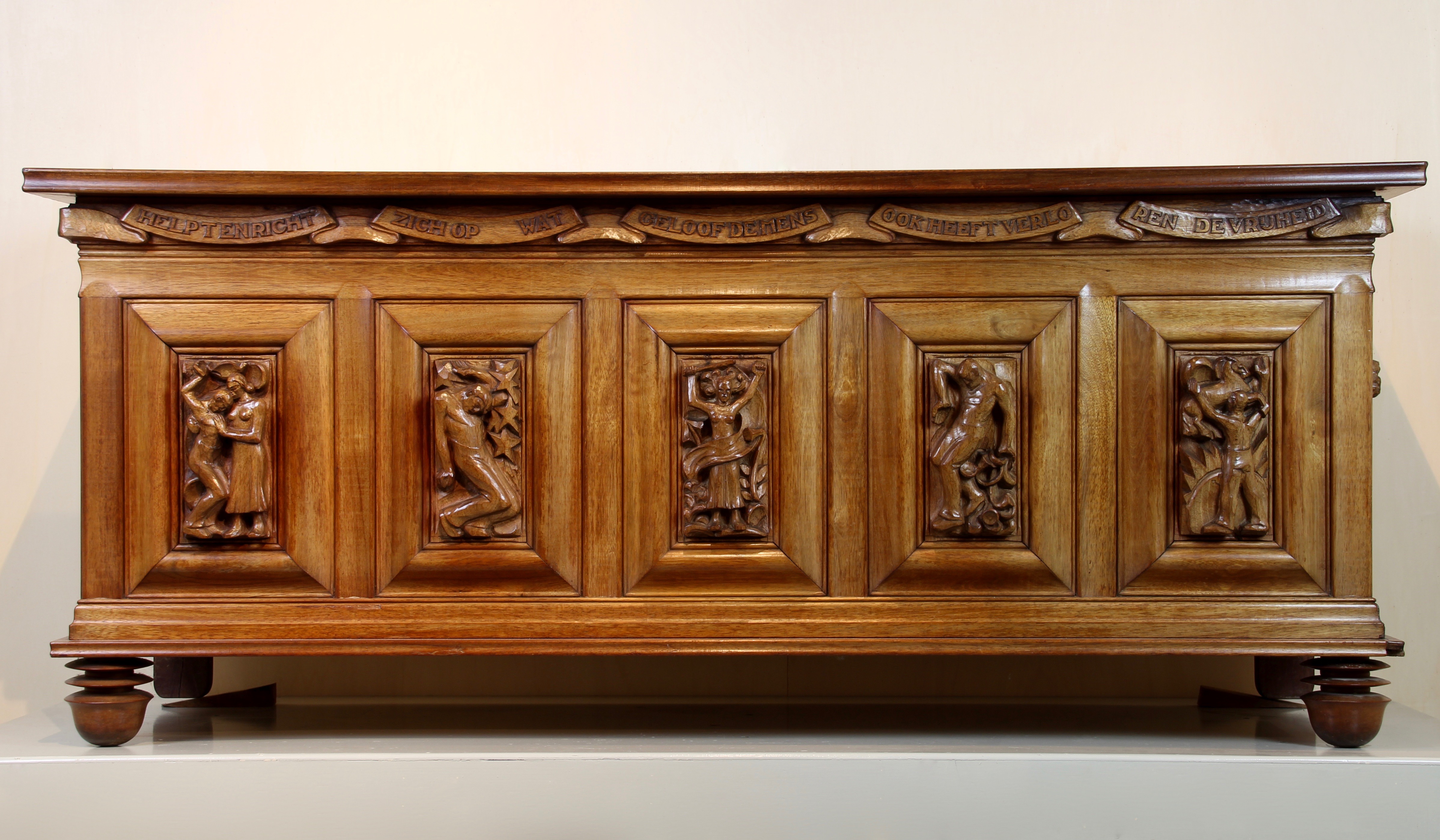 Urn as monument
This unique urn with a representation of standing and lying men in relief was designed by Hildo Krop in 1948. The urn is made of glazed ceramics, partly covered with gold. Probably this urn was intended for the memorial wall behind the National Monument on Dam Square, a World War II monument in Amsterdam. Eleven urns with soil are placed in this semicircular memorial wall. This soil comes from World War II execution grounds and war cemeteries from the then eleven Dutch provinces and from the former Dutch East Indies, present-day Indonesia. The urn by Krop has not been given a place in this wall, because he did not agree with the fact that earth from Indonesia was also placed here.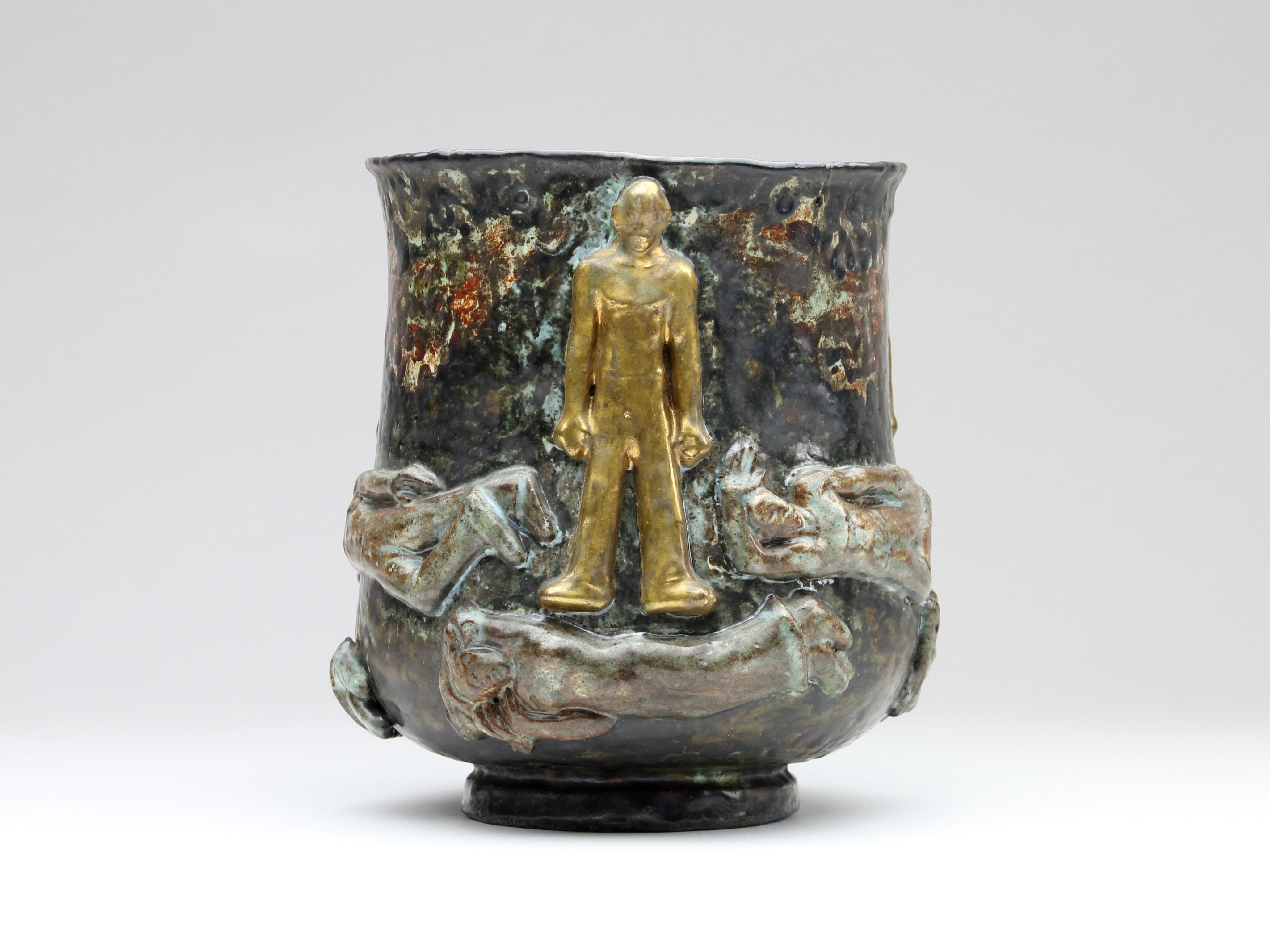 Small sculptures from the studio of Hildo Krop
These two small sculptures of a lying woman and a kneeling man were made by Hildo Krop around 1946-1950. Both are made of white glazed red earthenware. Around 1925 Krop started experimenting with making small sculptures, which he baked in his pot-stove. From 1927, he had a coal-fired enamel oven, of which he could slowly increase the temperature. He made playful, sensitive and humorous sculptures of people, masks, fauns and animals. Some small sculptures were used as models for larger sculptures and bronzes. After the Second World War, Krop continued to experiment with glazes and motifs. He also purchased a larger gas oven, which allowed him to bake larger ceramics. His ceramics became an important addition to his large, monumental sculpture.
New Year wishes from Mien and Hildo Krop
These seven cards with New Year wishes from Hildo Krop and his wife Mien date from 1952, 1955, 1959, 1960, 1965, 1966 and of one card the year is unknown. The cards display beautiful woodcuts and texts, sometimes poetic or with a political message. With his powerful woodcuts, including for the communist newspaper De Tribune, Krop fought for a society with more equality and solidarity.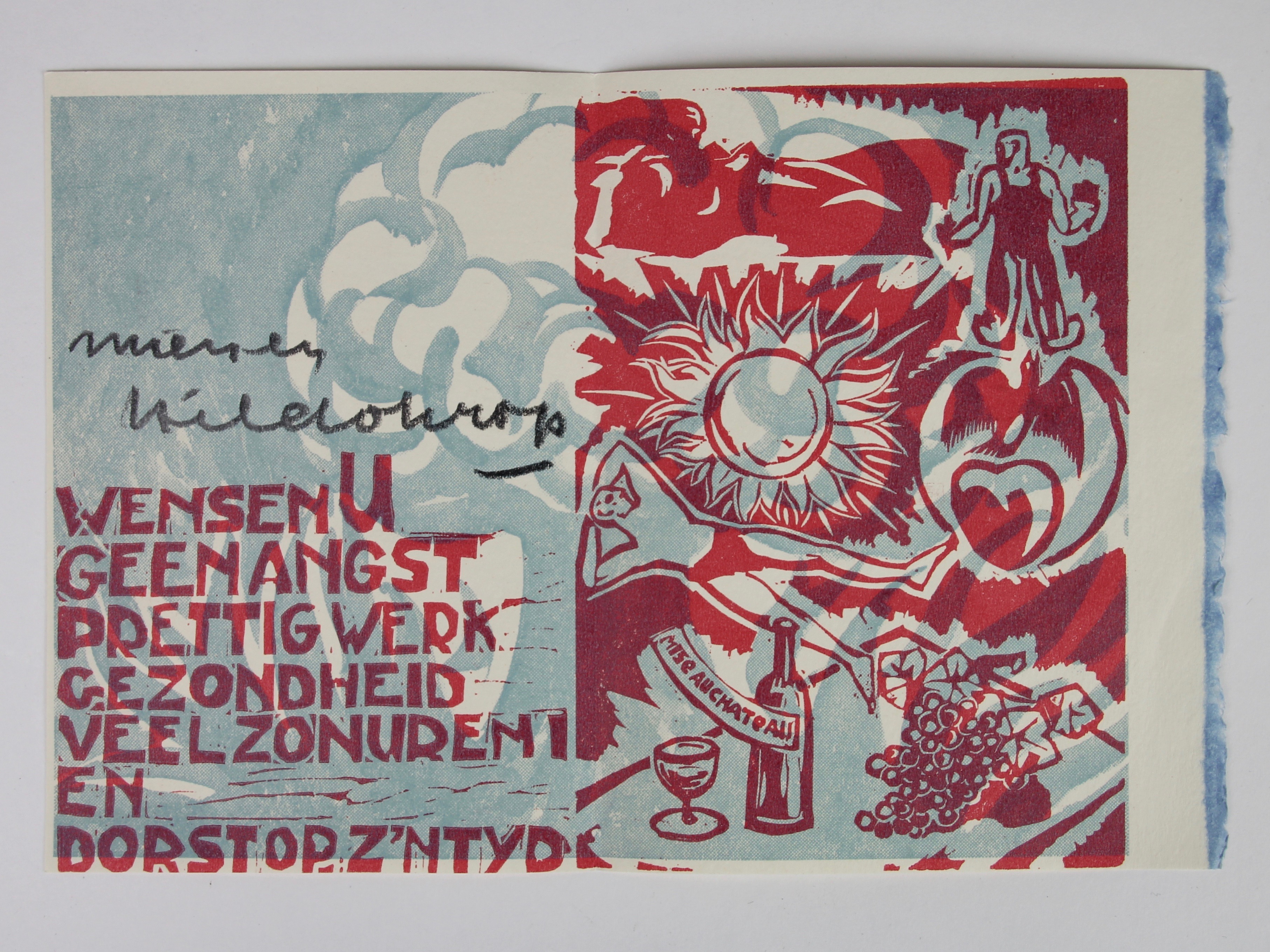 Amsterdam School
The Amsterdam School (1910–1930) is renowned as an expressive movement in Dutch architecture. However, the architects of the Amsterdam School involved artists of all disciplines in their housing and interior projects. The movement, therefore, includes almost all (decorative) arts. In several blogs, we highlight sculptors who were a part of the Amsterdam School. This is part 4: Hildo Krop. Also read our blogs about John Rädecker, Bernard Richters and Cris Agterberg.
Check our collection pages for more works by Hildo Krop.
Text: Bobby van Brussel, Noortje Remmerswaal
Photos: Dennis A-Tjak, Noortje Remmerswaal
© Kunstconsult – 20th century art | objects
Reproduction and distribution of this text is only allowed with correct reference.