Dansk Stil Møbel: Made in Holland
Posted on 2 August 2018
The chairs of Hilversum furniture manufacturer Van den Bovenkamp do not seem typically Dutch. And this is actually the case: The success models from the sixties, which are now popular again, were designed by the Danish designer duo Madsen & Schubell. Little is known about Van den Bovenkamp. Reason for retrowatcher Arno Weltens to dive into the archives.
The furniture factory annex upholstery shop of Jacobus van den Bovenkamp and his brother-in-law Sieuwert de Boer dates from just after the Second World War. From the end of 1946, the company at the 2e Loswal 16 in Hilversum produces armchairs, sofas and coffee tables. After about 15 years of production, Van den Bovenkamp decides to make a change in his assortment. He has conceived a plan to manufacture tasteful modern furniture in series from now on.
Designer duo Madsen and Schubell
Inspired by the success of Scandinavian furniture designs, in the early 1960s the decision is made to manufacture designs under license. To this end the Danish designer duo Madsen and Schubell is contacted. Born in Ringe, Aksel Bender Madsen (1916-2000), educated at the Royal Academy of Fine Arts, has been a well-known name in Scandinavia since the 1950s. This designer and teacher even works for a period with the famous architect and designer Arne Jacobsen. After several conversations they start a collaboration in the form of a license agreement. The contract describes matters such as the duration of the agreement, liability, guarantees and the compensation associated with the right of use. The intellectual property remains with designer Madsen.
Expansion factory
Apparently business is going well, because at the end of October 1966 the management of Van den Bovenkamp is submitting a request to the Mayor and Executive Board of Hilversum to change and expand the existing factory. Local architect Breebaard submits the application. The construction drawings show a considerable increase in scale. In the new designs, both the furniture factory and the upholstery shop will be expanded considerably. There is also space reserved for a showroom of 15 x 37.5 meters for import furniture from Finland and Norway.
Teak and rosewood
Van den Bovenkamp starts ambitiously. The production consists of well-made furniture with a functional, contemporary look. A lot of Scandinavian furniture is made in wood during that period; initially in oak, teak and later rosewood. Remarkable regarding emancipation is the difference in back height of the armchair; available in a men's and women's version. The frame of armchairs and sofas by Van den Bovenkamp is made of solid teak. Teak is naturally greasy; oiling is therefore not recommended. The oil leaves a layer, because the applied liquid does not withdraw. Moreover, the color of the wood darkens as a result of using furniture oil. Rosewood, like teak, is a tropical wood, but heavier and harder. The color variations are larger, from light brown, sometimes with orange accents, to red and dark brown. Moreover, this type of wood is often characterized by a specific vein pattern.
Interior specialists
The names Madsen gives to the separate armchairs and couches are often borrowed from women: Birthe, Tove, Tora. Van den Bovenkamp regularly advertises in national newspapers. Sales to the consumer – apart from their own showroom – take place via a network of interior specialists. The manufacture of the furniture is organized in a production line. That is why buyers have to wait four to six weeks for their orders. Delivery from stock is not possible, unless they buy a showroom model. Van den Bovenkamp selects 111 of the more than 4,000 registered Dutch home furnishers and appoints them as official dealer. Van den Bovenkamp's furniture is clearly recognizable, not only because of the style, but also because the maker applies his logo, consisting of the letter B. For a number of years, the company has a stand at the Utrecht Furniture Fair.
Upholstery fabrics from De Ploeg
Van den Bovenkamp mostly uses upholstery fabrics from De Ploeg from Bergeyk. This fabric collection is designed by Nico Daalder. For example, the woven wool furniture fabrics 'Octavia' or 'Rhea' in countless shades of color, or the bouclé fabrics because of their durability.
The Hilversum factory is running at full speed in the mid-sixties. Approximately forty employees are working at that time. At the end of the sixties the design from Scandinavia is no longer a novelty. Modern materials such as plastic (ABS) make their appearance, and Italian designers in particular experiment with this shiny, impenetrable material.
Liquidation
The heyday of Dansk Stil Møbel lasts no more than a decade. Manufacturers such as Van den Bovenkamp are not able to change their course in time. It is financially virtually impossible to convert an entire production line which is focused on the supply of upholstered furniture with a wooden base. Only a few Dutch manufacturers succeed, sometimes it means temporary postponement. The well-known Gispen company, for example, no longer targets the private market but switches to office furniture. Colleagues such as Artifort and Gelderland manage well-known designers such as Pierre Paulin or Jan des Bouvrie to commit to their company. The management of Van den Bovenkamp decides to liquidate. Factory and buildings are being sold. Initiator and co-director Van den Bovenkamp leaves for Spain.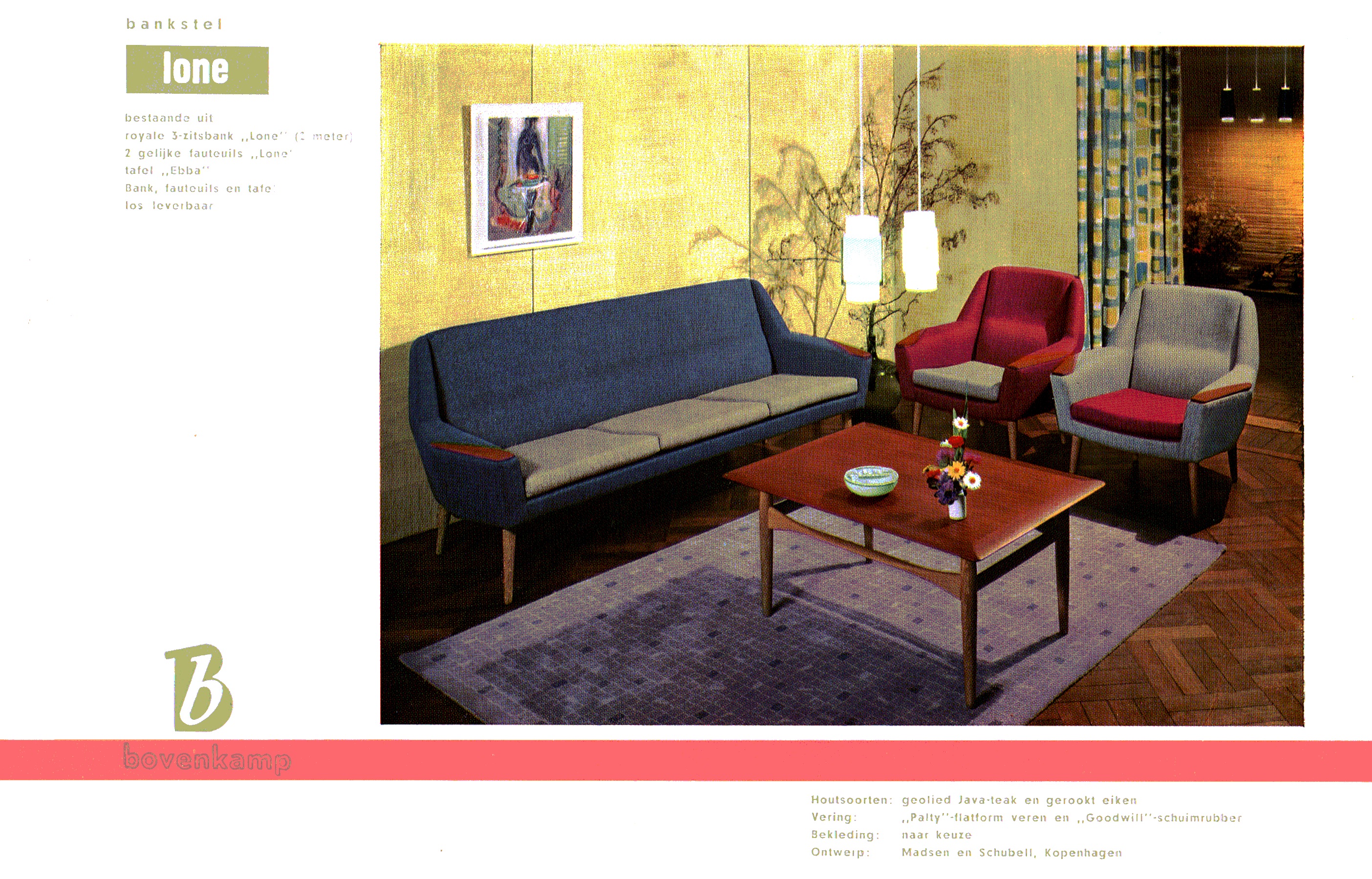 View our Mid-Century Modern furniture on the collection page, including a teak armchair designed by Aksel Bender Madsen for Van den Bovenkamp.
Text: Arno Weltens, historical images: private collection.
© Kunstconsult – 20th century art | objects
Reproduction and distribution of this text is only allowed with correct reference.