Museum Pieces
Posted on 17 August 2018
In 25 years, Kunstconsult came across many exceptional art treasures. Wiljan Versteeg and Belinda Visser proudly look back on a special collection of 'museum pieces': gems from the Kunstconsult sales collection that are now part of the collection of both national and international museums. From a long-hidden bronze owl by Joseph Mendes da Costa to a rare diadem by Jan Eisenloeffel, for this blog Kunstconsult-owners Wiljan Versteeg and Belinda Visser selected some of their most treasured museum pieces.
Among the customers of Kunstconsult are the Rijksmuseum, Stedelijk Museum and Jewish Historical Museum in Amsterdam, as well as the National Glass Museum, Museum Beelden aan Zee (Sculptures by the Sea), Textile Museum, Drents Museum and Purmerends Museum elsewhere in the Netherlands. Museum Kunstpalast in Düsseldorf (Germany) and the Smith Museum of Stained Glass Windows in Chicago (United States) also purchased a work of art from Kunstconsult. These are Wiljan's and Belinda's favorites:
Jan Eisenloeffel: Loving Cup
The Drents Museum in Assen bought this special 'Loving Cup' at Kunstconsult, a unique piece in the oeuvre of Jan Eisenloeffel. In England there is the Loving Cup, in France the Coupe de Marriage: a big cup to drink from together during weddings and banquets. The use of the cup symbolizes love, friendship and unity. Eisenloeffel produced the goblet in 1924 for the textile manufacturer Johannes Leonard Lodewijk Tilanus from Almelo, Twente. The entrepeneur was an in-law of Eisenloeffel, who was married to Social Democrat Liede Tilanus. He made the goblet to commemorate the 50th wedding anniversary of Tilanus and his wife Johanna Hendrika Dikkers.
When the cup is rotated, a line from Vondel's famous poem 'Gijsbrecht van Aemstel' can be deciphered: 'Waer werd oprechter trouw dan tusschen man en vrouw ter wereld oyt gevonden' ('Where in the world has truer fidelity ever been found than between husband and wife'). The goblet is an exceptional piece in the oeuvre of Eisenloeffel, who in this period mainly focused on manufacturing his famous lamps and clocks. However, as far as the use of the enameling technique and the ornament is concerned, this piece is Eisenloeffel through and through and fits perfectly within his oeuvre of these years.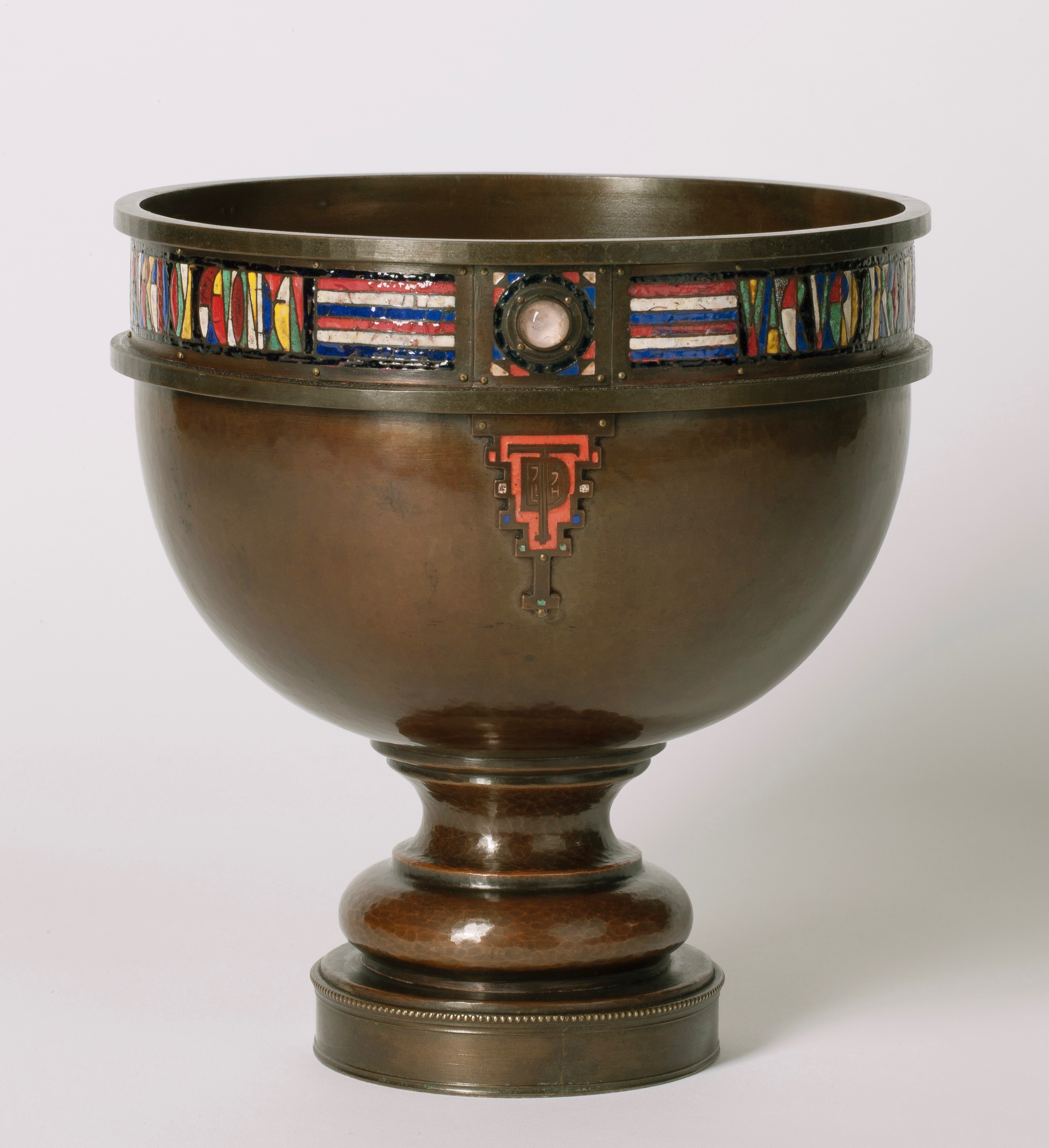 Photo: Dennis A-Tjak
Jan Eisenloeffel: Gold Diadem
A magnificent diadem by goldsmith and decorative artist Jan Eisenloeffel was purchased by the Rijksmuseum at Kunstconsult's booth at art fair PAN Amsterdam in 2011. Eisenloeffel was an iconic designer at the beginning of the 20th century. In contrast to the naturalistic dream worlds of famous French jewelers such as René Lalique, Eisenloeffel opted for strictly geometrical forms. The front of this gold band is decorated with abstract patterns. As a result, all attention goes to the centrally placed red coral. Eisenloeffel designed this adornment around 1902-1905. At the Kunstconsult booth, the diadem caught the Rijksmuseum's eye already during the vetting of the fair. It is a perfect addition to their collection of objects of this artist and the earliest known gold diadem of his hand.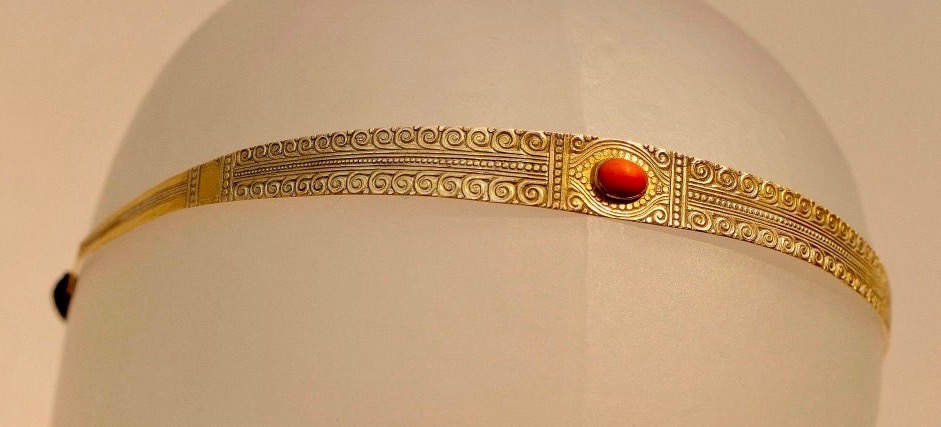 Photo: Belinda Visser
Joop van Kralingen: Stone Sculpture
A beautiful sandstone woman's head was purchased - also at PAN Amsterdam 2011 - by Museum Beelden aan Zee (Sculptures by the Sea) in The Hague-Scheveningen. This special, modest sculpture was made by Joop van Kralingen (1916-2001), a sculptor from The Hague. After his education at the Royal Academy of Art in The Hague, Van Kralingen worked in Tourrettes sur Loup, a village on the Côte d'Azur, where artists such as Picasso and Chagall were among his acquaintances. In 1957 he returned to The Hague, where he taught at the Vrije Academie. In his studio in Leiden he has sculpted, painted and has made tapestries and mosaics, inspired by Roman mosaics depicting medieval saints. Van Kralingen received commissions from the municipality of Leiden. Besides this he created the six-meter-high Janus fountain on the square Vuurtorenplein in Noordwijk. The beautiful woman's head sold by Kunstconsult is characteristic of Van Kralingen's work because of her clear, simplified forms and resemblance to primitive sculptures from Romanesque churches. Van Kralingen acquired international fame with his work.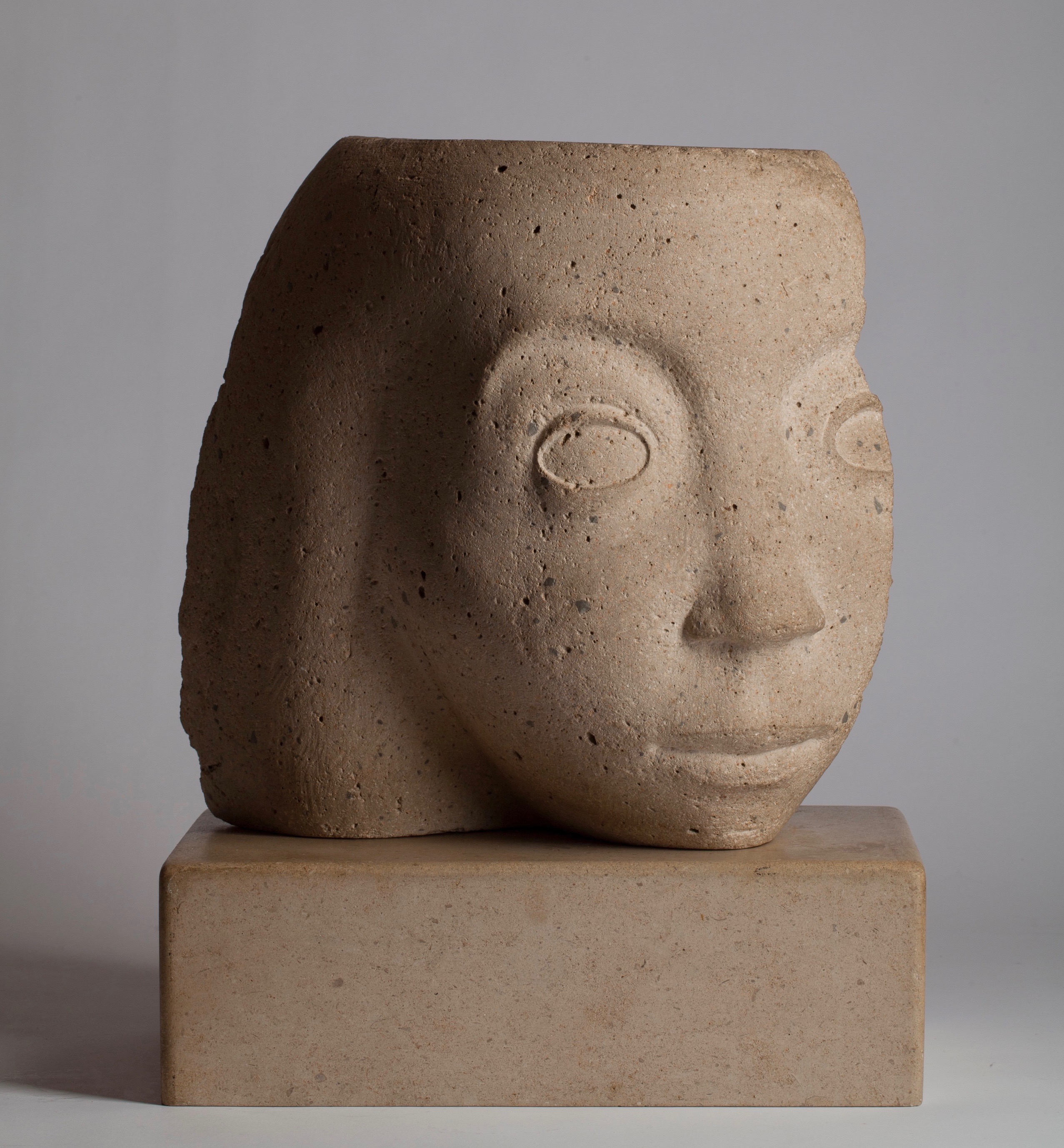 Photo: Dennis A-Tjak
Marie Kuyken: Cloisonné Fire Screen
A unique fire screen designed by Marie Kuyken went to the Stedelijk Museum in Amsterdam. Marie Kuyken (1898-1988) became known as one of the few professional female pattern designers in the pre-war Netherlands. Initially, however, she made her name with her so-called cloisonné panels, a fascinating 20th-century translation of the centuries-old enameling technique. With this technique, copper or silver strips were chased on a wooden surface into cells, or 'cloissons', which were filled with cement or plaster mixtures in many different colours. The cloisonné panel in this fire screen shows an exotic looking animal in expressionistic, whimsical but stylized forms; a colourful fusion between a snake and a dragon. With the flames at the bottom of the cloisonné panel, Marie Kuyken alluded to the intended function of the fire screen. The frame of the fire screen was manufactured by Winkelman & Van der Bijl. This renowned workshop for ornamental silverware frequently collaborated with Amsterdam School artists and was responsible for a lot of fence and decorative ironwork in and around the Scheepvaarthuis in Amsterdam, a famous Amsterdam School monument that is nowadays a five star hotel.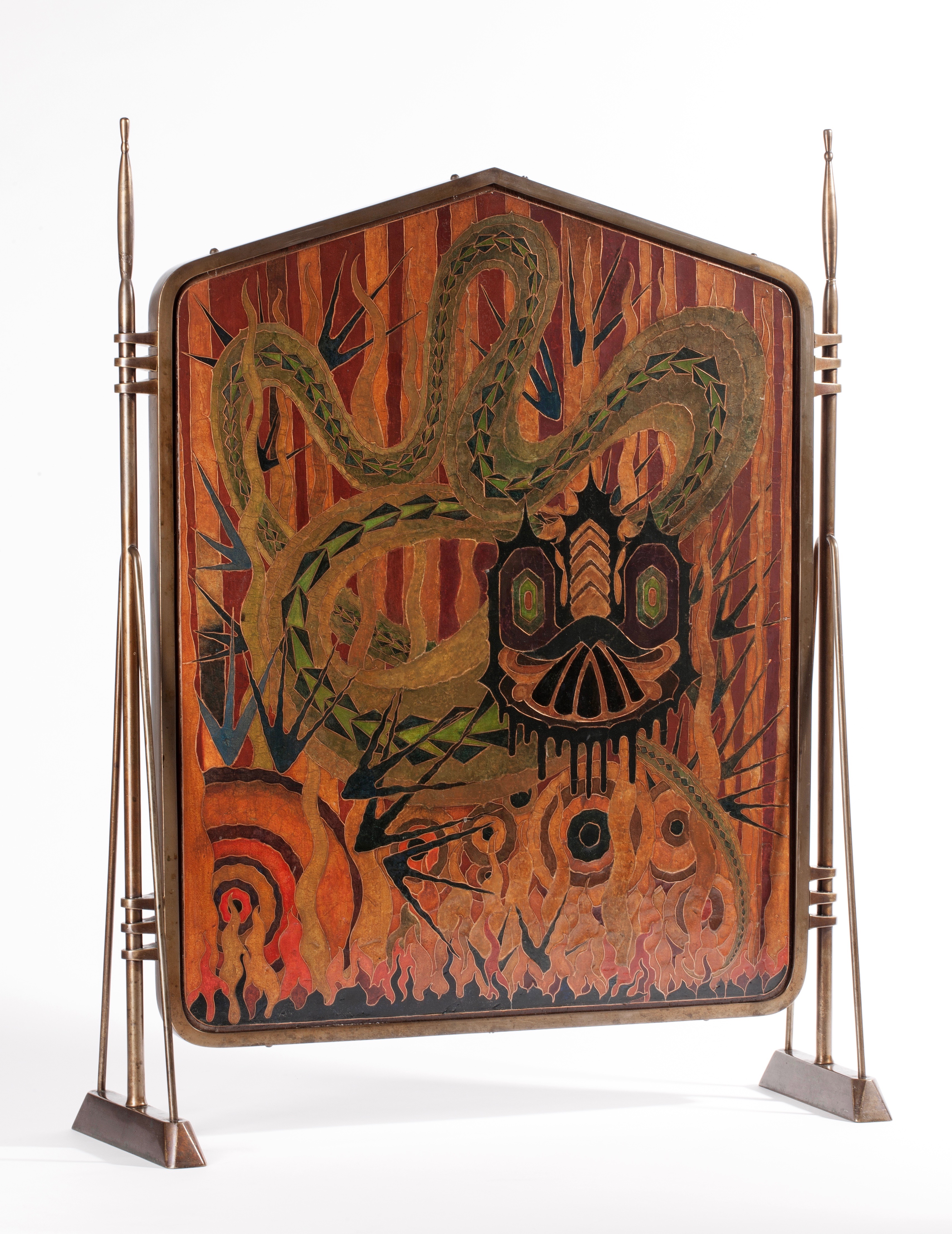 Photo: Dennis A-Tjak
Joseph Mendes Da Costa: Bronze Owl
The Jewish Historical Museum in Amsterdam found a long-hidden owl by Joseph Mendes da Costa at Kunstconsult. Kunstconsult presented the bronze animal sculpture at art fair PAN Amsterdam. The sculpture from 1912 came on the market for the first time in 100 years. It belonged to a family collection for a century. With this owl, Joseph Mendes da Costa was a pioneer of Dutch animal sculpture. The world of fauna was an inexhaustible source of inspiration for him. Mendes da Costa initially worked naturalistically and depicted the animals as true to nature as possible. At the beginning of the 20th century, however, Mendes Da costa took a turn in his work. It was no longer the realistic representation of the outward appearance, but the essence, the spiritualization of man and animal that became central to his work. With his sculptures he wanted to show the real 'essence', not just external beauty. This can be seen in this owl, which is stylized with clean lines that look almost abstract and let go of the visible, naturalistic form. The powerful features and the penetrating, expressive gaze embody the nature and character of the animal. Mendes da Costa inspired many other sculptors with his work. All Dutch sculptors who made animal sculptures between 1900 and 1940 were more or less tributary to him, including Coenraad Altorf, Hildo Krop and John Rädecker.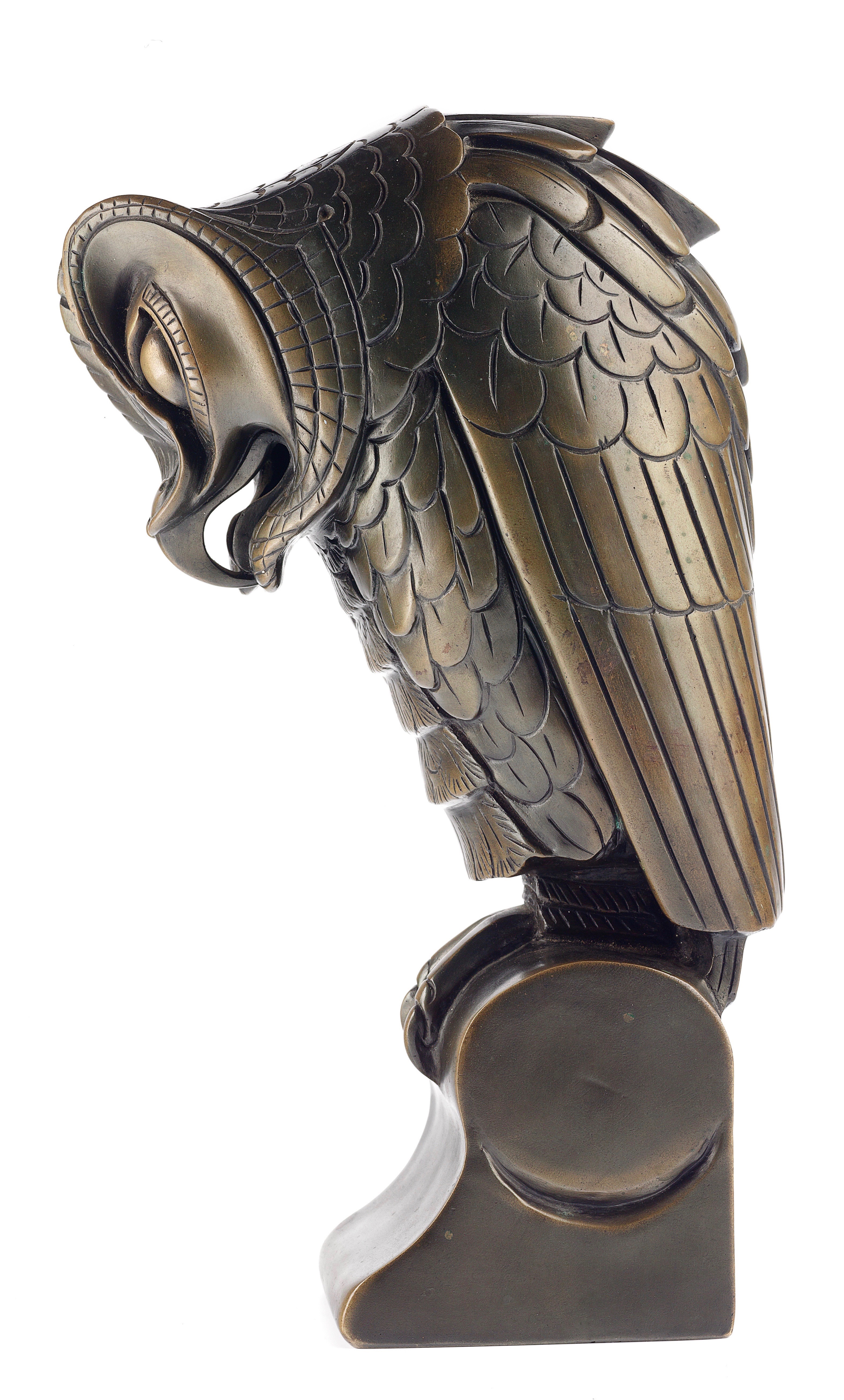 Photo: Erik & Petra Hesmerg
A.D. Copier: Cut Glass
A unique glass object by A.D. Copier went abroad, to Museum Kunstpalast in Düsseldorf. Kunstconsult sold this one-off piece from the collection of Dieter Enke, a former architect from Berlin. Almost forty years ago, Enke became fascinated by Copier's work. This fascination led to a special collection of museum quality with highlights from the oeuvre of this famous designer and glass artist. The glass piece in Museum Kunstpalast is one of these highlights. It was designed by Copier in Nový Bor, Czech Republic in 1987. After his time at Glasfabriek Leerdam (Leerdam Glassworks), Copier started a new era of incredible creativity and productivity. Free from the factory, he turned into an autonomous artist. From the age of 80, Copier made work trips to the most important glass centres in the world, where he worked with the best glassblowers. He worked in Nový Bor with master glass blower Peter Novotny and master glass cutter Jan Friedrich on this special hand-blown glass object of colourless crystal glass with a transparent, light blue core. The discus shape and the perfectly cut surfaces in the shape of a clover create exciting light reflections and optical illusions. Glass cutting is a specialty in Nový Bor. Copier has perfectly expressed this technique in this rare glass artwork.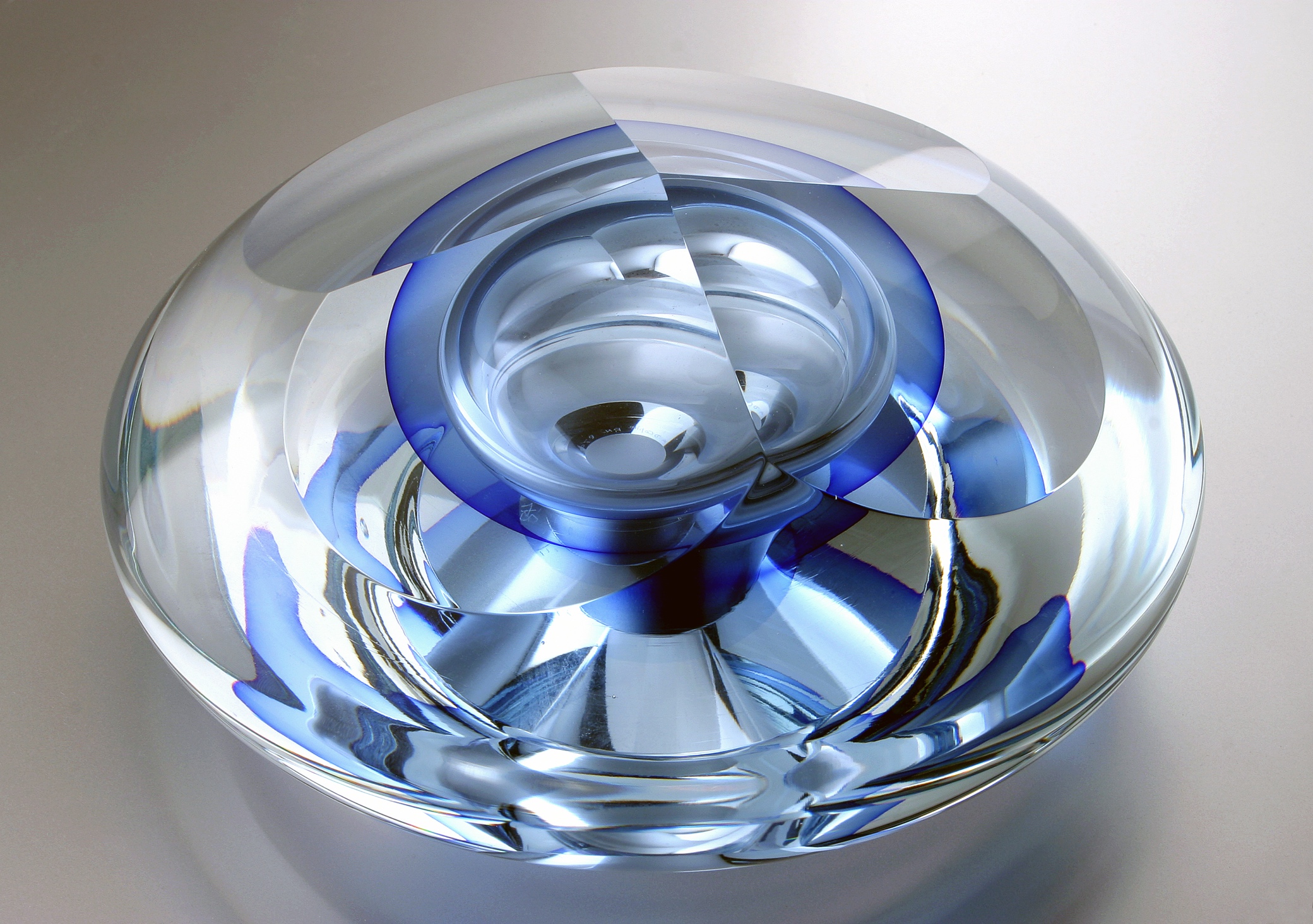 Photo: Dieter Enke
Lucienne Bloch: Glass Sculpture of a Female Head
The National Glass Museum in Leerdam acquired from Kunstconsult a glass sculpture of a female head designed by Lucienne Bloch. The Swiss-American artist Lucienne Bloch (1909-1999) stayed from 1929 to 1930 in Leerdam, at the invitation of P.M. Cochius, the director of the Glasfabriek Leerdam (Leerdam Glassworks). Here she designed small glass sculptures. They were animal figures and car mascots of fish, an angel, a bird and a female figure. The modest female head from 1929 is unique in the limited glass oeuvre of Bloch. It was blown hollow in a metal mold. This was a difficult and expensive technique at the time. The female head was her first design for Glasfabriek Leerdam. This rare sculpture has a prominent place in the exhibition that the National Glass Museum dedicates to Lucienne Bloch this year.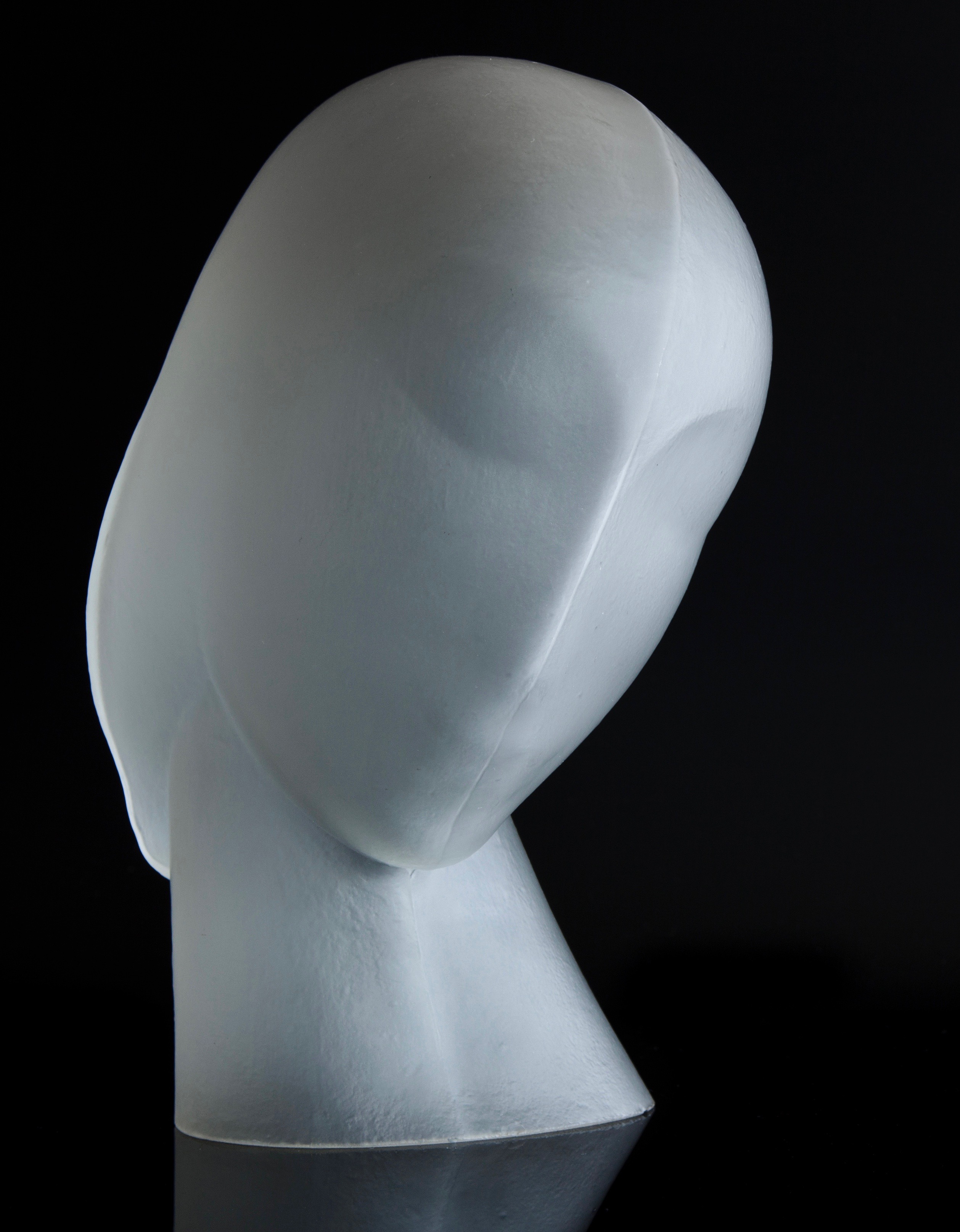 Photo: Erik Rijper
Text: edited by Noortje Remmerswaal