From Art Nouveau to Modernism: The second Golden Age of Delft
Posted on 13 July 2018
From 1880 to 1940, Delft, as a small provincial town, grew into one of the most important centers of applied art in the Netherlands. The success of the art from Delft was due to a unique interaction between art, education and industry: the 'miracle of Delft'. Museum Prinsenhof Delft presents the works of important artists – like Jan Toorop and Bart van der Leck – to show this flourishing period of Delft art. From Art Nouveau to Modernism. Due to success, the exhibition has been extended till the 9th of September.
Important centre of Art Nouveau
These two beautiful vases by De Porceleyne Fles - the famous earthenware factory of Delftware - were very innovative in 1900. Around this time Delft developed, like Amsterdam and The Hague, into an important centre of Dutch Art Nouveau. This development was a direct consequence of the industrial revolution. The Netherlands experienced a second 'Golden Age' thanks to the increasing trade and industrialization. Because of this economic prosperity the arts could flourish. In Delft, where the industry thrived and the Polytechnic School ('Polytechnische School') was founded, the foundation was laid for one of the most innovative and colourful chapters in art history. After the Art Nouveau, movements such as Art Deco, De Stijl and New Objectivity could flourish in Delft as well.
NOF: Theo van Hoytema, Jan Toorop and the 'Salad oil style'
The creative collaboration between artists and industry was exceptional for Delft. Entrepreneur Jacques van Marken played a major role in the development of Art Nouveau. He was the founder of the Gist- en Spiritusfabriek and Nederlandsche Oliefabriek (NOF), which produced cooking oils and sauces. His assignments to artists meant a huge stimulus for creativity in Delft. He asked artists such as Jan Toorop and Theo van Hoytema to design posters and advertising material for his products. Van Hoytema, for example, made the design for the wooden boxes with salad oil bottles. And the salad oil poster that Toorop designed for the NOF became world famous. The Dutch Art Nouveau even got the nickname 'slaolie stijl' ('salad oil style') because of this special poster.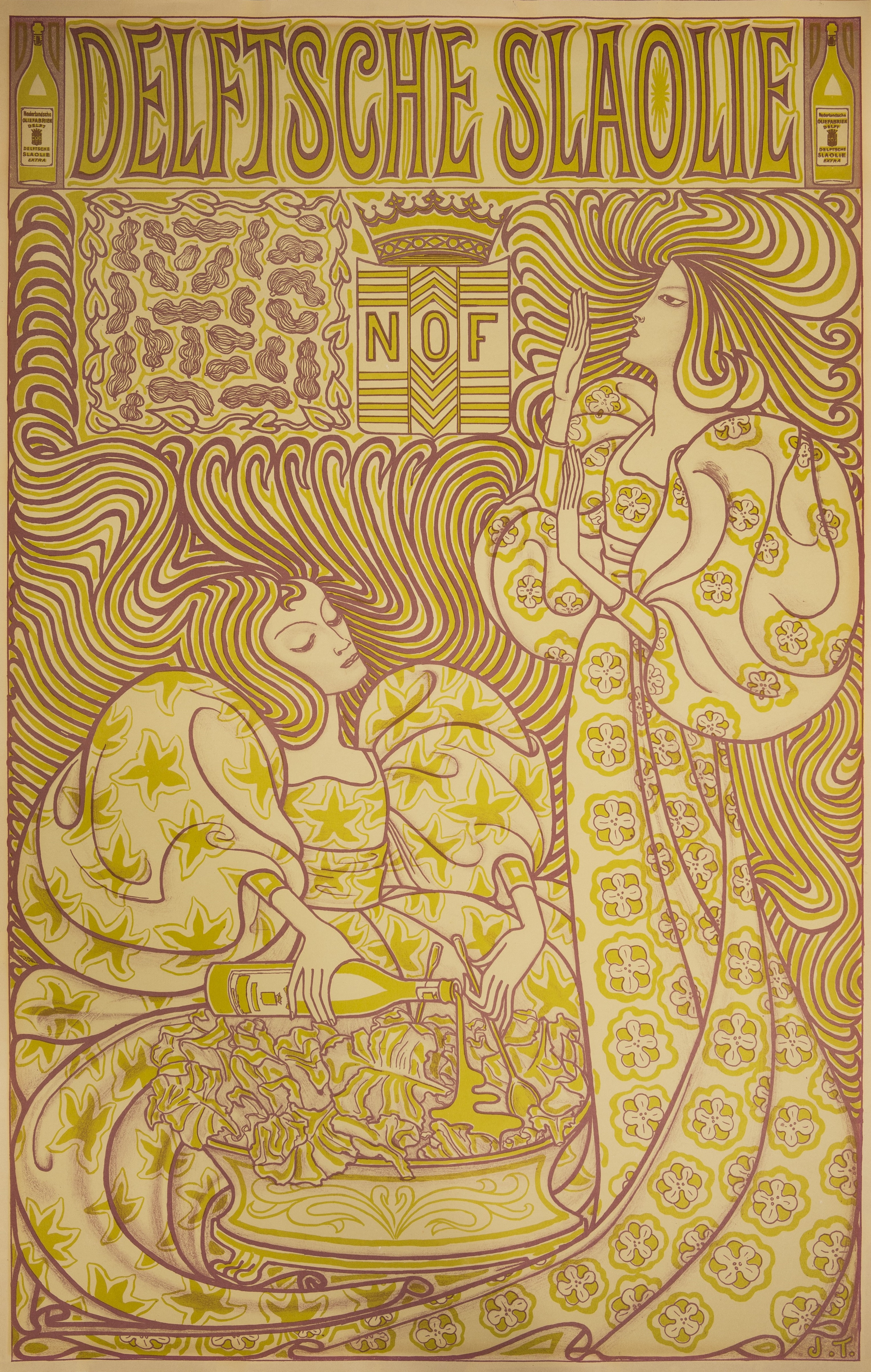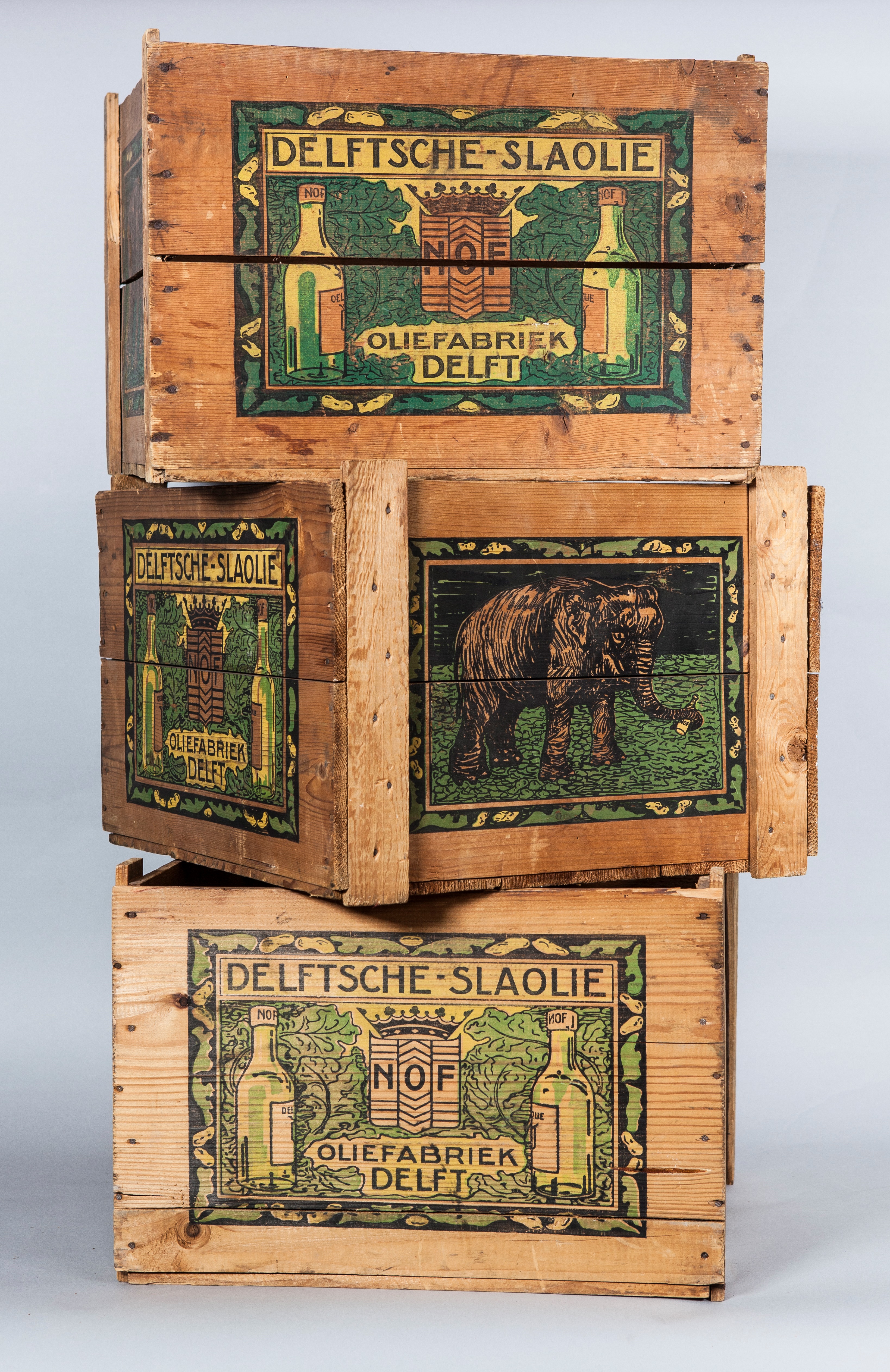 Polytechnic School
Both Van Marken and Toorop studied at the Polytechnic School. Future industrialists and artists together attended this forerunner of the current TU Delft, the technical University in Delft, founded in 1864. Many artists at that time were trained at engineering and craft education schools instead of academies for visual arts. At the Polytechnic School students were taught in civil engineering and architecture, but were also able to learn to draw and model. This education gave an important impulse to the arts and crafts in Delft.
Adolf Le Comte, innovator from the Porceleyne Fles
One of the most influential teachers was Adolf le Comte, who was closely involved in artistic developments and projects in the city. Due to his artistic vision, De Porceleyne Fles - the last remaining earthenware factory in Delft - developed spectacular new forms, decorations and glazes, which made a good impression at the world exhibition in Paris in 1900. The flourishing economy of the end of the 19th century allowed the factory to experiment with contemporary products that brought Delftware again under international attention.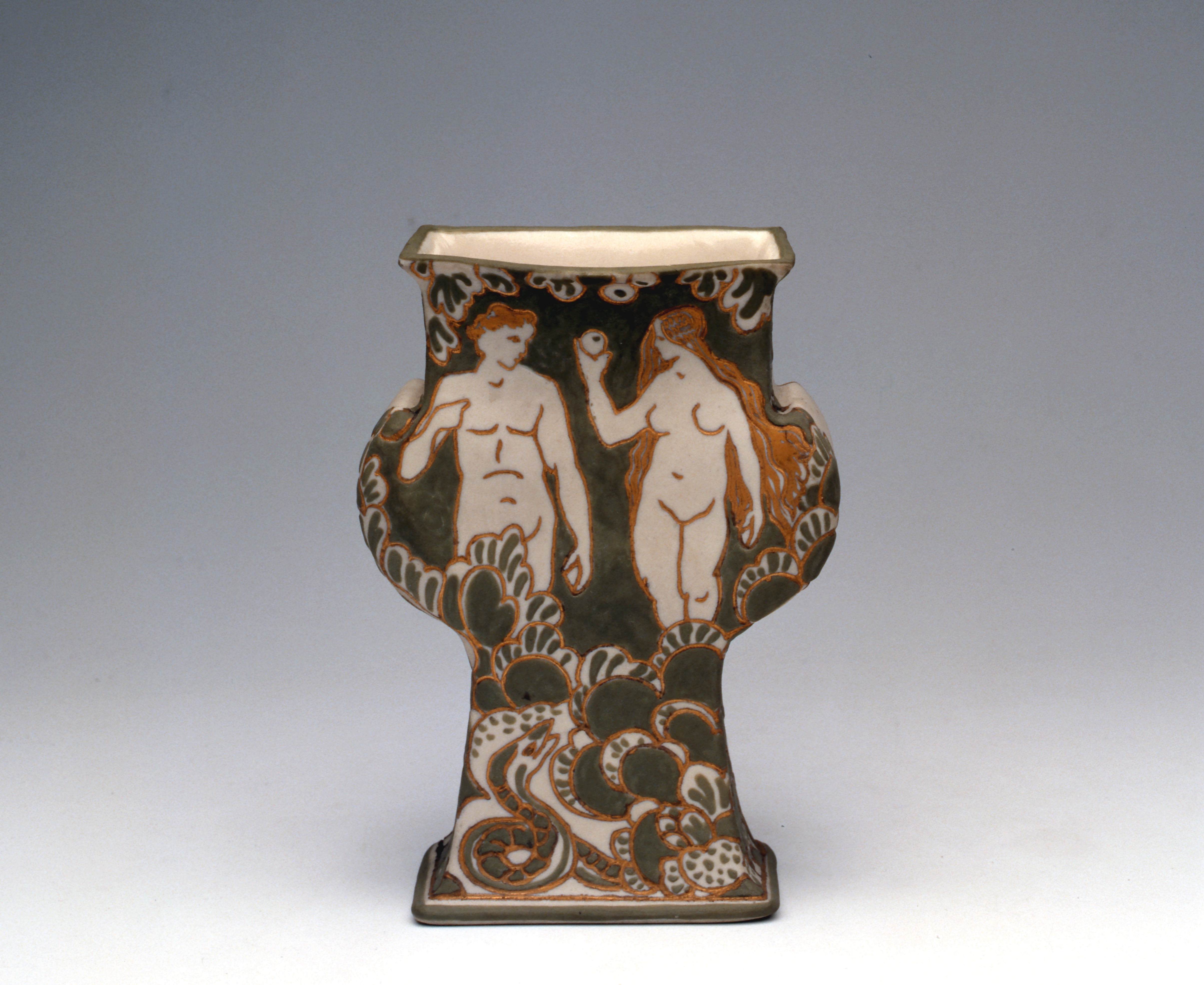 Arts and crafts companies
Unlike in Amsterdam and The Hague, it was not so much individual artists in Delft, but arts and crafts companies that left their mark on art production. As with De Porceleyne Fles, other Delft arts and crafts companies such as Glasatelier 't Prinsenhof and Koninklijke Fabriek F.W. Braat, renewed the attention for craftmanship. It was Le Comte who encouraged his pupil Jan Schouten to paint glass and to found Atelier 't Prinsenhof in 1889. The studio made special stained-glass windows and gained fame with participating in national and international exhibitions. Firma Braat specialized in the manufacture of ornamental ironwork, window frames, heating systems and galvanizing of metal. Especially their fences and lamps stood out with gracefully curved ironwork in the forms of plants and insects like butterflies, characteristic for Art Nouveau. Together these companies put Delft on the map through their innovation, craftsmanship and aesthetics. They received important commissions, for example for the Vredes Paleis, opened in 1913, in The Hague. The palace was provided with building ceramics from the Porceleyne Fles, stained-glass windows by Atelier 't Prinsenhof and bronze and metalwork by Firma Braat.
Exhibition at the Prinsenhof
For the first time in Delft this important period in the history of the city is highlighted. Museum Prinsenhof Delft shows a variety of special objects, such as paintings, posters, ceramics and stained glass. Work by important artists, from Toorop to Bart van der Leck, show the heyday of Delft's art from 1880 to 1940, with the Art Nouveau as its starting point.
Art Nouveau | Nieuwe Zakelijkheid | Delft, Museum Prinsenhof. Due to success the exhibition has been extended till the 9thof September!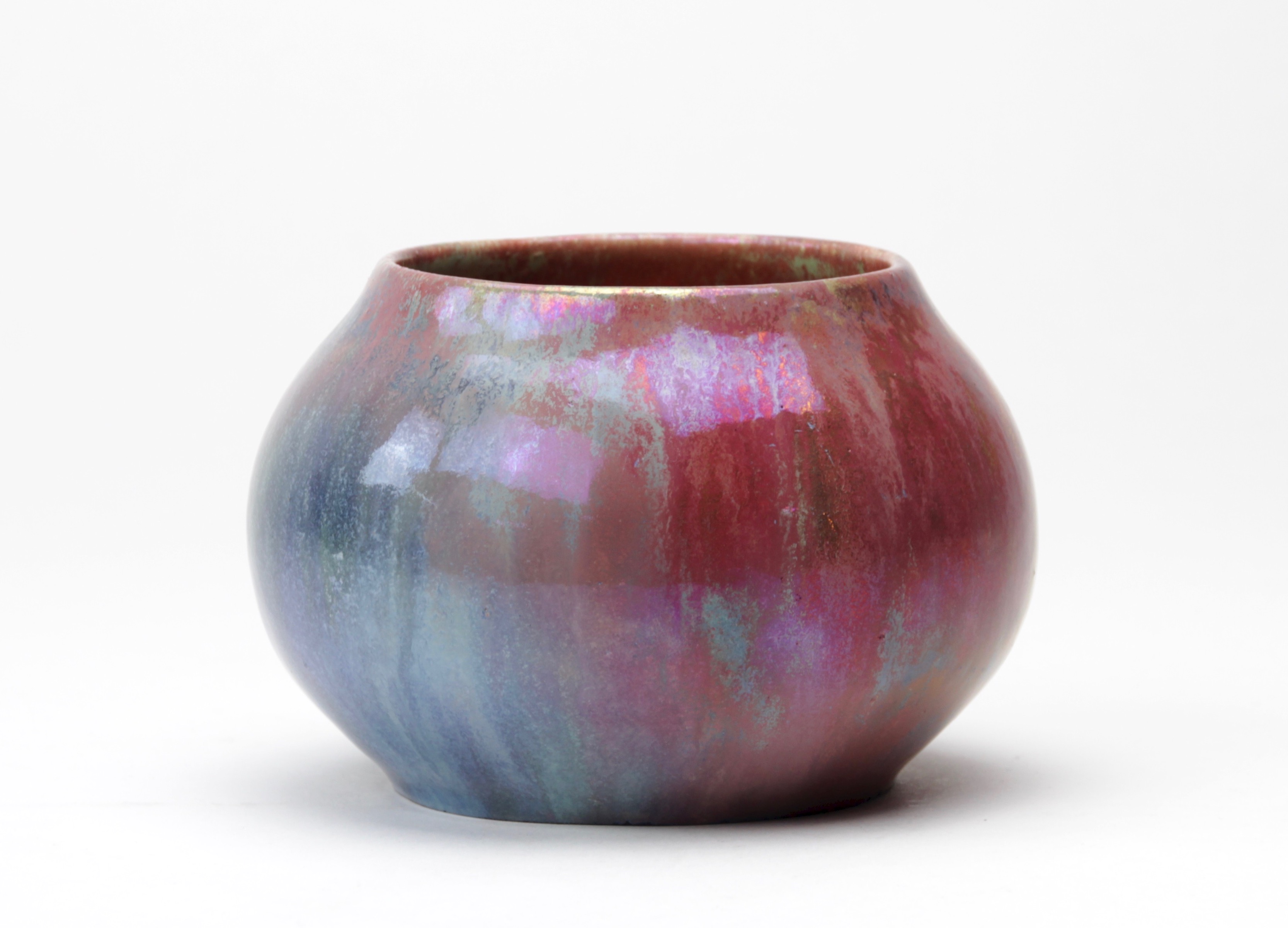 Text: Noortje Remmerswaal
Photos: Jan Toorop, Delftsche slaolie advertisement for the Nederlandsche Oliefabriek, 1894, Stichting Ricard Delft, photo: Marco Zwinkels. | Theo van Hoytema, Delftsche slaolie boxes for the Nederlandsche Oliefabriek, collection Museum Prinsenhof Delft, loan Unilever Nederland BV, photo: Marco Zwinkels | Adolf le Comte, De Porceleyne Fles, vase with picture of Adam and Eve, bisque porcelain, 1901, collection Museum Prinsenhof Delft, bought with support of Vereniging Rembrandt.
© Kunstconsult – 20th century art | objects
Reproduction and distribution of this text is only allowed with correct reference.