Chris Lanooy: Long live the experiment
Posted on 4 September 2018
A self-willed man, a soloist, who worked for nearly all successful Dutch pottery bakeries around 1900. His unstoppable urge to experiment however, he could only really set free in his own studio. In the early twentieth century, Chris Lanooy turned into an innovator in both ceramics and glass art.
Art Nouveau ceramics
Chris Lanooy (1881 - 1948) extensively experienced the flourishing of Art Nouveau ceramics in the Netherlands. In 1896, at the age of fifteen, he was a student-painter and was hired at The Hague's Plateelbakkerij Rozenburg. There he provided pots and vases with floral decors that were typical of the period. In the evening he took classes at the Royal Academy of Fine Arts. Already in 1897, he resigned from Rozenburg, possibly because he found it hard to comply with the company's assignments. In 1898 he became a pottery painter at the newly established pottery factory Plateelbakkerij Zuid-Holland in Gouda and in 1903-1904 he worked at the Weduwe N.S.A. Brantjes & Co in Purmerend. In 1906 he became designer and artistic leader at N.V. Plateelbakkerij Haga, also in Purmerend. For Haga, Lanooy designed beautiful nature-inspired decors with a Japanese character. Together with Gerrit Offermans, he conducted glaze experiments that led to the famous luster glaze. By adding metal oxides, such as gold dust, a semi-transparent glaze was created that provided a mysterious metallic sheen over the decorations.
Freedom and autonomy
Chris Lanooy was a self-willed man, a soloist. He was always in short-term employment and had an urge to experiment and to design things that did not fit in with the fixed pattern of the factories. In his own workshop he let his creativity run free. He had a free way of working and always invented new enamel combinations at a time when painted decors were popular. Lanooy saw himself more as an artist than as a potter. And as an artist he did not want to compromise; he strove for freedom and autonomy.
Nature motifs
His fascination for Chinese and Japanese ceramics appeared in a number of vases and tile tableaus that he produced in 1906 for Haga pottery bakery. In this he combined Japanese-style dragons with his second great source of inspiration: nature. Flowers, insects, fish and the underwater world were popular subjects. He often finished these decors with a luster glaze. Nature motifs continued to play a major role throughout his career. After moving to Epe in 1920, he designed large wall dishes with birds and fish. On the occasion of his 25th anniversary as a ceramist in 1925, he released a series of wall plates with various mushroom motifs. These plates can be recognized by the blue-striped border. Notable for these mushrooms, fish and bird plates is the large variation between the decors within the individual themes. Lanooy has made countless imaginative variations, resulting in plates with each having their own unique design and character.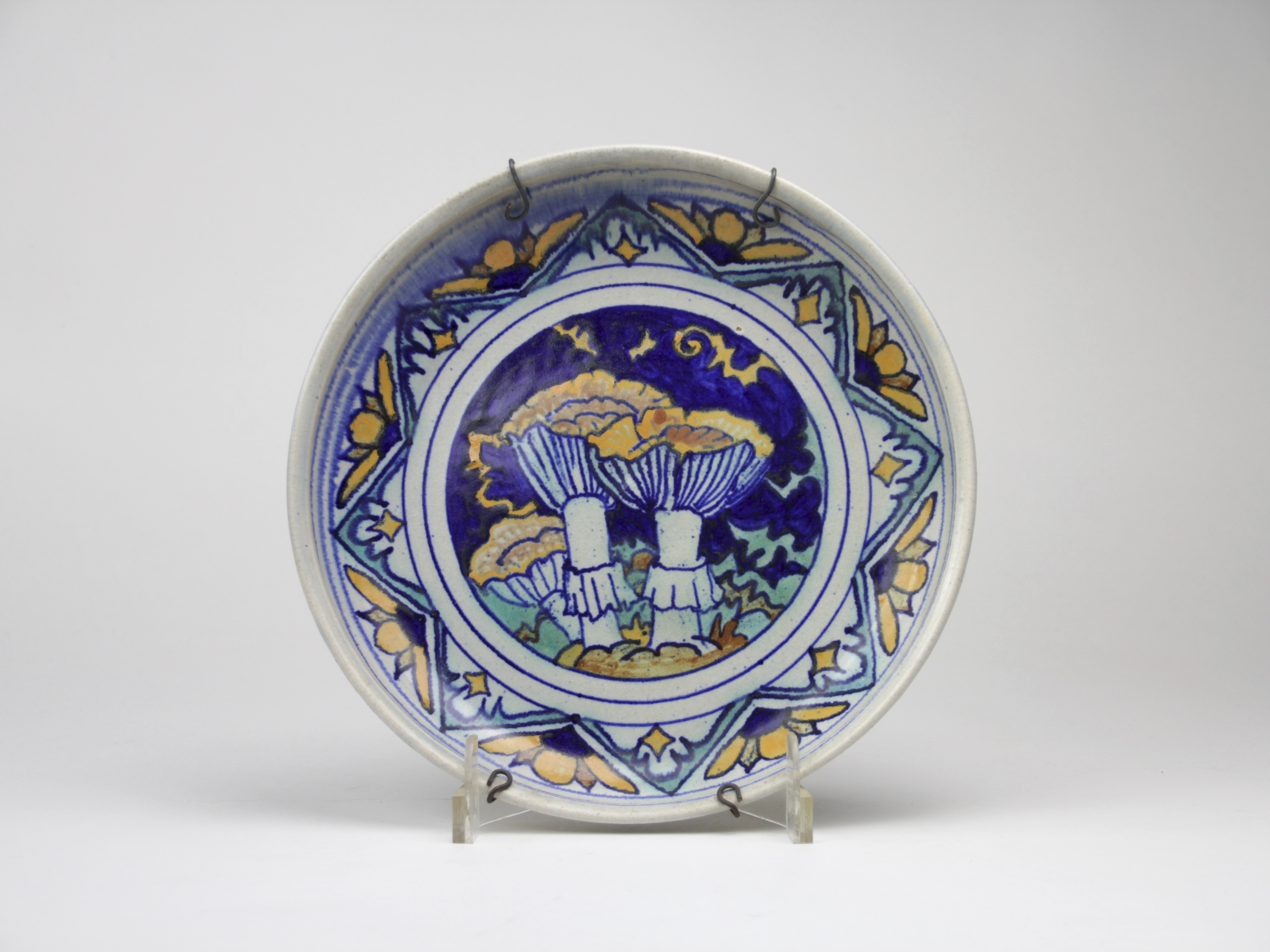 Animal sculptures
In the period 1911-1912 Lanooy produced various animal sculptures in collaboration with sculptor Johan Coenraad Altorf, including a long-eared owl, a cockatoo and an elephant. It was art pedagogue H.P. Bremmer who brought the two artists together. Perhaps they already knew each other from the period in which they both worked at the Haga pottery in Purmerend. Altorf designed the animals and Lanooy baked them in the oven of his own studio on the Wachtelsstraat in Gouda. Inspired by Altorf Lanooy also created his own ceramic sculptures, including some monkeys. The animals had their own character and were distinctive for their abstracted forms and long lines.
Complex glazes
Lanooy had settled in Gouda in 1907, working independently, and devoted himself to the development of glazes. He was one of the first ceramists in the Netherlands to replace painted ceramic decorations with decorative, complex glazes at the beginning of the 20th century. His way of working was daring at a time when figurative decorative pottery was popular. He translated a certain personal impression of nature, of things like a flower field or pond, into abstract glazes. By experimenting a lot, he developed new effects, including the streaming glazes which he would perfect later in his career. Lanooy continued to innovate by constantly making new compositions and combinations and applying them particularly to larger objects. In Epe he developed combinations of luster with crackle and streaming glazes in the 1920s. He also used glazing techniques such as crackle, flambé and galvanisé to get special effects. As a free artist, Lanooy was an entrepeneur having exhibitions at home and abroad. In 1910 his work was part of the Dutch entry for the World Exhibition in Brussels. His work was in the midst of established names such as Amstelhoek, De Distel and Willem Brouwer and was awarded a 'Diplôme d'honneur'.
Gold medal in Paris
In 1914 Lanooy finally broke through thanks to a retrospective exhibition in Stedelijk Museum Amsterdam. Although his work was appreciated and applauded in magazines, he was criticized for his wayward manner working with colleagues - including Willem Brouwer - who preferred simple, geometric motifs. They found that the way Lanooy applied glazes, and thus created decorations, depended too much on chance. Despite this criticism, his reputation continued to rise. In 1925, Lanooy received the 'Médaille d'or' for his work at the Exposition Internationale des Arts Décoratifs et Industrieles Modernes in Paris. Many other ceramists were inspired by his glazing techniques, including Paul Hobbel and Hein Andrée.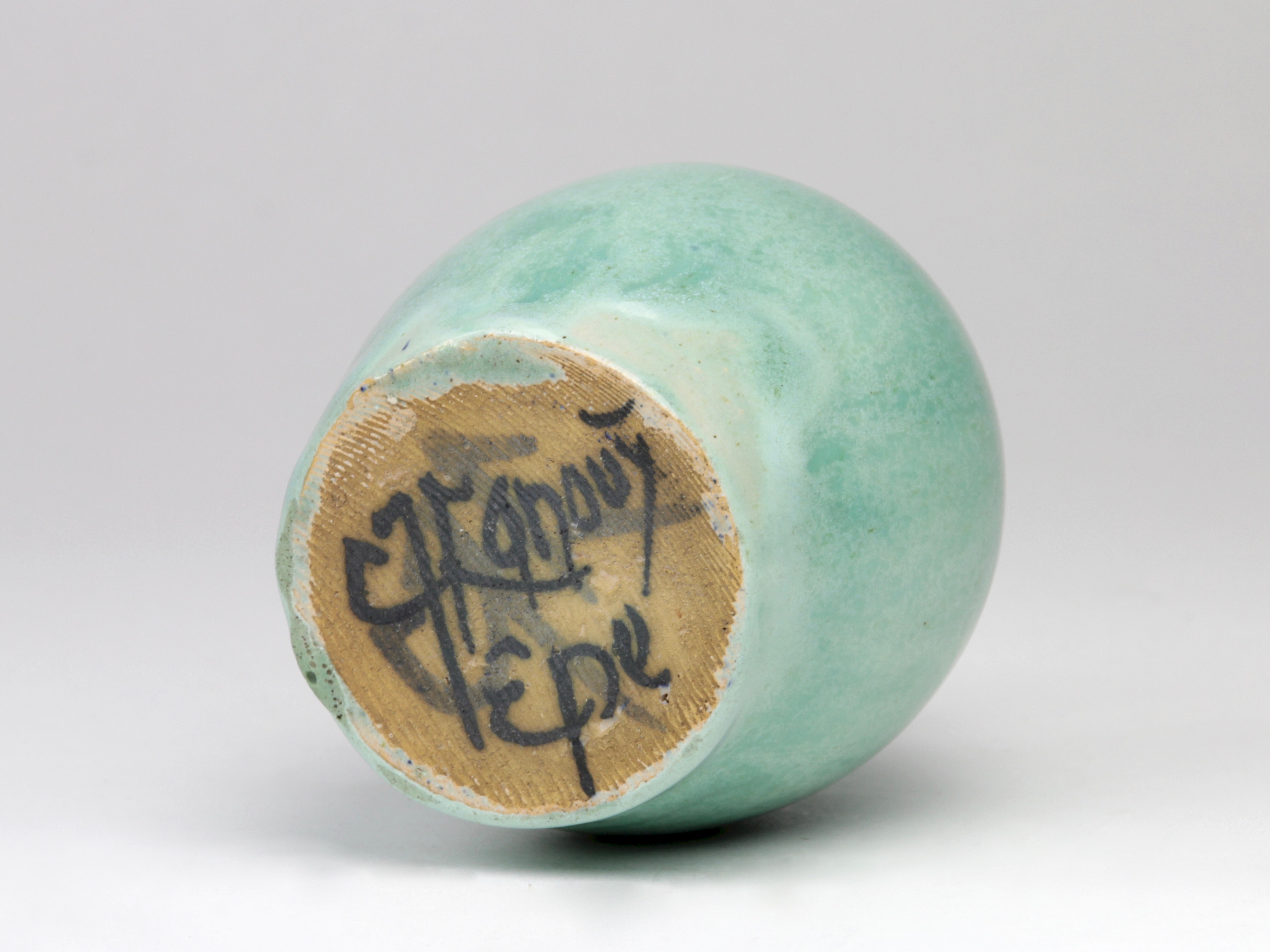 Customer circle
A growing clientele managed to find the studio in Epe, where Lanooy regularly in the presence of potential buyers took his ware out of the oven. He also showed his work among the books in the local bookshop of Epe, where his plates decorated with mushrooms were sold. During less flourishing times Lanooy crossed the country with a cart full of art pottery to sell his products. Thanks to art pedagogue Hendrik Bremmer, the upper class became acquainted with Lanooy's work. Bremmer himself was a great admirer of the oeuvre and also customers such as Helene Kröller-Müller and Mrs. Hannema-De Stuers collected his work. Eventually the demand for his products increased, so Lanooy appointed a permanent assistant, Frans Slot, to help him in the studio.
Glass designs of a ceramist
Although Lanooy is mainly known for his ceramics, he has also dedicated himself to glass art for years. Around 1918 he started working at Glasfabriek Leerdam (Leerdam Glassworks), where he started painting existing glass objects. Just as in his ceramics, the influence of nature is everywhere; he painted vases and cups with floral motifs and insects. Soon he also had the chance to design glass objects himself. Between 1918 and 1923 he designed utility glass. Striking were the convex and straight walled bottles with folded neck, the small vases with rings and floating bowls, in which the ceramist's hand can clearly be recognized. The forms of glassware seem to have originated on the potter's wheel. All models are made of clear glass, some were made in other Leerdam colours such as blue, green and purple.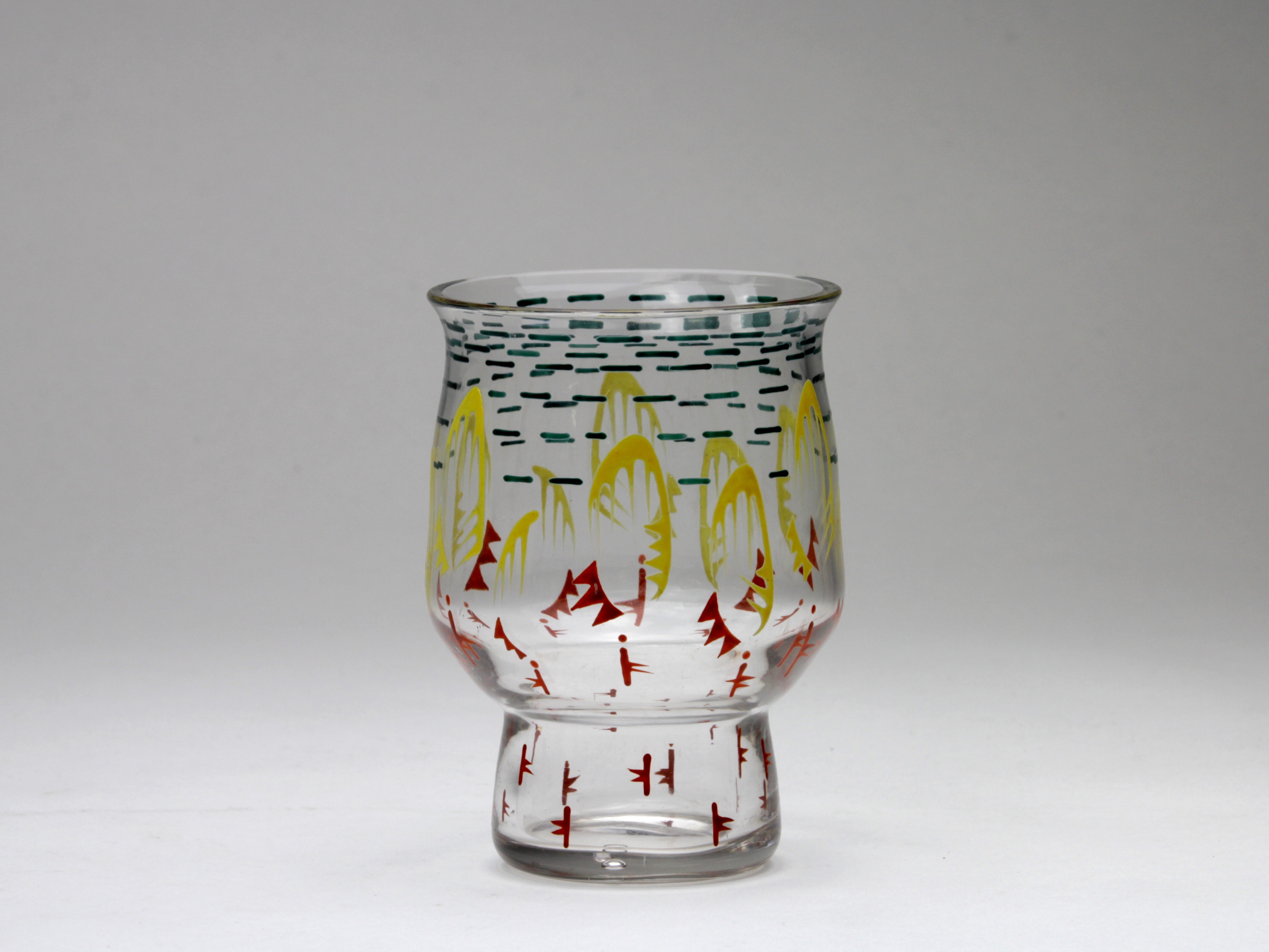 Leerdam Unica
Between 1923 and 1930, Lanooy designed Leerdam Unica, one-off glass objects, for the glass factory, focusing mainly on the technical aspect. As with his glazing experiments for ceramics, Lanooy explored the possibilities of burnt-in lusters and irisé on glass. The success of the first experiments led to ornamental objects soon becoming an important part of the glass production of Leerdam. He regarded a number of one-offs as test pieces. Some stories say that Lanooy had a cabinet in the factory in which he kept recipes and these test pieces. Another technique that he applied was the process in which one or more glass layers were applied over a hot blown shape. With this 'overcapturing' he often included materials such as colour powders, glazes or pieces of glass between the layers, creating special effects. The style of the ceramist can also be recognized in the design and finish of these Leerdam Unica. Lanooy often provided his objects with thick layers of glaze, so that the transparency of the glass disappeared, and the objects were more like ceramics.
Lanooy as a painter
Less well known is that Lanooy also painted. Again, nature played the main part in this work. Between 1910 and 1930 he worked in an impressionistic and luministic style. Lanooy often used natural tones, but also experimented with different colour combinations. Lanooy, born at Tholen, started painting at a young age and was often inspired by the Zeeland landscape and the Oosterschelde. Fish, jellyfish and algae have always remained an important theme in his work. Other themes that he applied to his ceramics as decors are also reflected in his painting, such as mushrooms and butterflies. From his move to Epe, woodland and moor landscapes became a popular subject.
Artistic leaps
At the end of the 1920s, Lanooy made a few leaps to other decorative art forms. Commissioned by the Amsterdam firm Rath & Doodeheefver, he designed contemporary paper wall hangings with organic motifs. These were carried out in a large variety of colours. In addition, he created two designs for table linen, which were carried out at E.J.F. van Dissel in Eindhoven. The designs, one with a scene of snow fowl, the other with a pattern of penguins and fish, are not known from the factory's paper books. Presumably they were made in a very limited edition. The existence of the damask is known because copies were kept within the Lanooy and Van Dissel families.
In 1977 a new generation became acquainted with the work of Lanooy, when Keramiekmuseum Het Princessehof in Leeuwarden devoted an exhibition to the versatile oeuvre of the artist. Apart from the Princessehof, his work is represented in the collections of, among others, the National Glass Museum in Leerdam and the Rijksmuseum in Amsterdam.
Works by Lanooy are exhibited at Kunstconsult's sales exhibition Gestolde Dromen IX. Click here for a selection of Lanooy objects from our collection.
Text: Marleen Windhorst, main photo: Erik Rijper
© Kunstconsult – 20th century art | objects
Reproduction and distribution of this text is only allowed with correct reference.