Kunstconsult lends original plaster model by Hendrik van den Eijnde to ABC Architectuurcentrum
Posted on 6 June 2019
The plaster model of a pelican with young from 1932, designed by sculptor Hendrik van den Eijnde, is one of the eye-catchers of the exhibition 'Sculptor Van den Eijnde (1869-1939) rediscovered'. Exactly eighty years ago, a few months after his death, the Frans Hals Museum organized an honorary exhibition for Van den Eijnde. Now this Haarlem artist, known for his sculpture on the Sint Bavo church in Haarlem and the famous Scheepvaarthuis in Amsterdam, is being rediscovered in an exhibition in Haarlem. The ABC Architectuurcentrum will show this original plaster model from the Kunstconsult collection until the 30th of June.
Originally the "Pelican's nest" sculpture, executed in tuff, was part of the modernist office building of an insurance company: "A pelican is a symbol for (Christian) sacrifice. She pierces her own breast with her beak to be able to feed her brood with her blood." This sculpture from 1932, decorated the entrance to the life insurance company OLVEH in The Hague, a precursor of the current AEGON. After the demolition of the office building in 1969, a design by architect Jan Wils, member of the architect group De Stijl, the sculptures were returned to the family, who in turn donated them to the municipality of Heemstede. Since 1979 this tuff sculpture adorns the Laan van Rozenburg in Heemstede.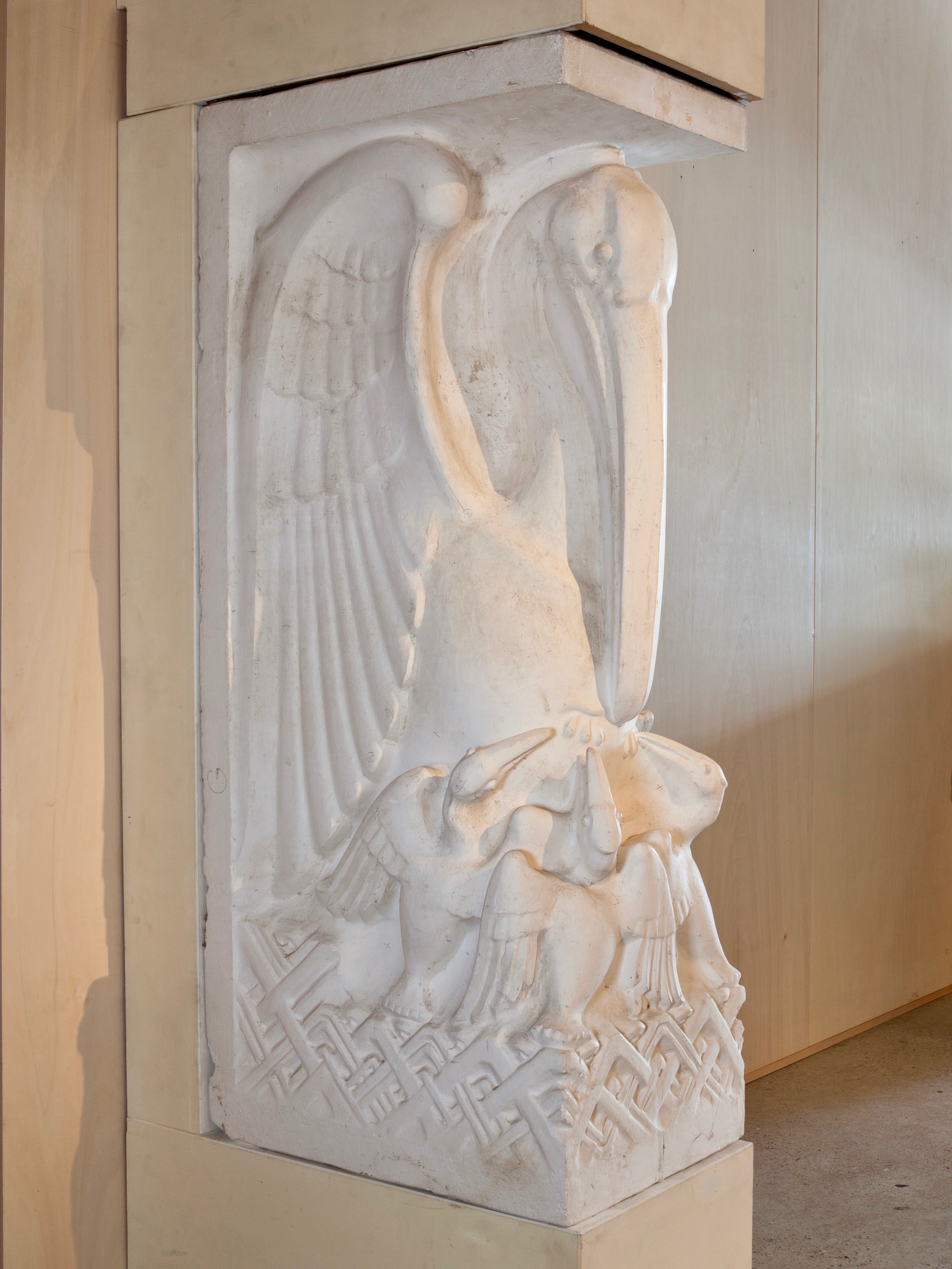 In the exhibition there are many photos of his work throughout the Netherlands and beyond, but also objects in stone, bronze and wood. And in plaster, such as the pelican's plaster model that is part of the Kunstconsult collection. This life-size plaster model is unique: it was modeled by the sculptor himself, as an example for the execution and with instructions about how they should carve the representation from the block of stone. During the exhibition, the plaster and tuff pelicans are close together. So take your chance, visit the exhibition, get on a bike (2.5 km) and spot the difference.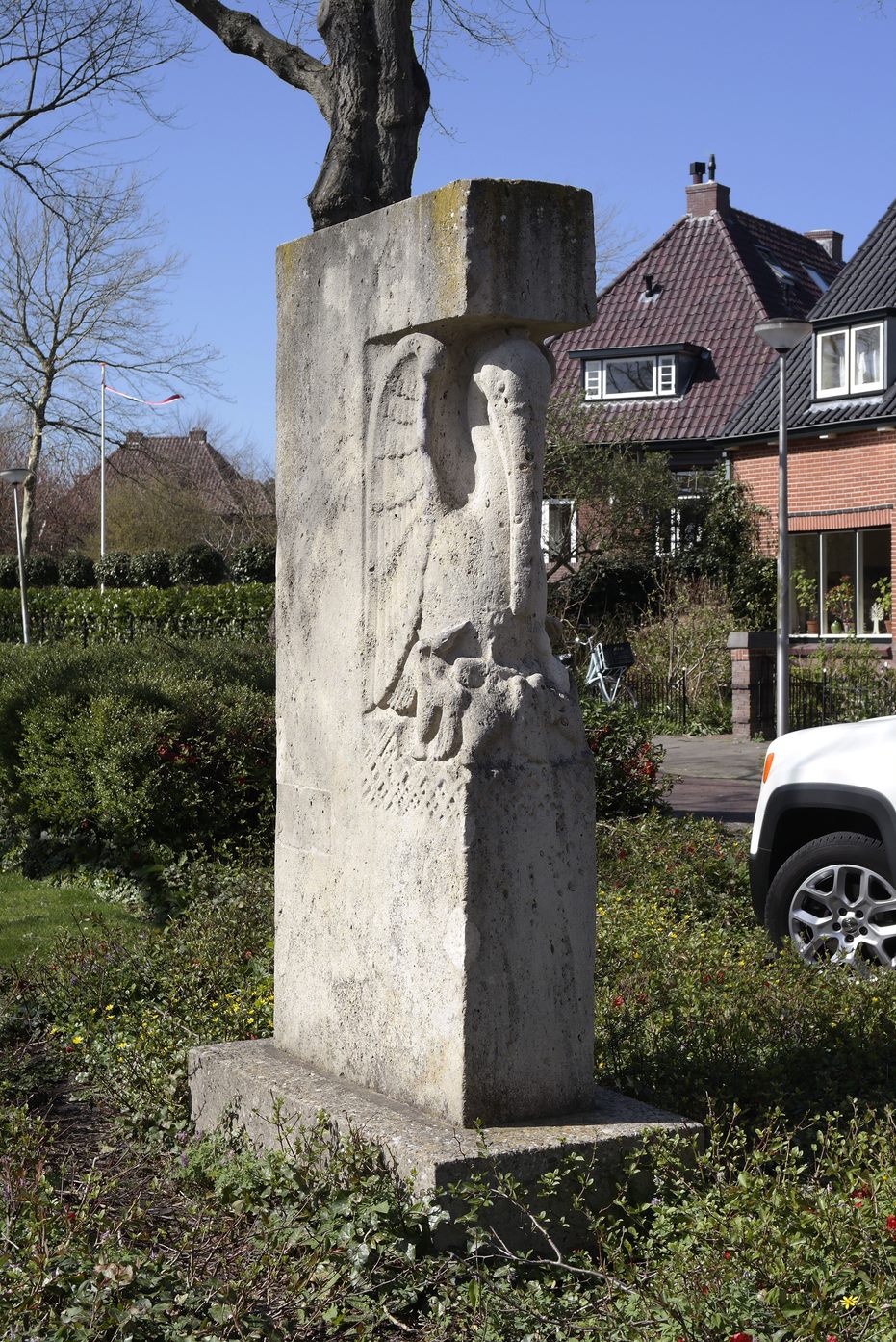 The plaster model of the pelican by Hendrik van den Eijnde is part of the Kunstconsult sales collection and is temporarily on loan for the exhibition Beeldhouwer Van den Eijnde (1869-1939) herontdekt (Sculptor Van den Eijnde (1869-1939) rediscovered) at the ABC Architectuurcentrum in Haarlem.
Because he mainly made architectural sculpture and monumental work, there is rarely any work by Hendrik van den Eijnde on the market. The sculptor documented a lot and a large part of his legacy ended up at the Stichting Schone Kunsten rond 1900 and is managed by the Drents Museum. The plaster model of the pelican from this article is for sale. It is part of the Kunstconsult sales collection.
Photo object: Erik Rijper
Text: Belinda Visser
© Kunstconsult – 20th century art | objects

Reproduction and distribution of this text is only allowed with correct reference.