Kunstconsult lends iconic Space Age Ball Chair to Textielmuseum
Posted on 26 June 2018
This summer the Textielmuseum presents a beautiful overview of iconic Scandinavian design in the exhibition Simply Scandinavian – Nordic Design 1945 – 2018, designed by studio Scholten & Baijings. The futuristic Ball Chair by Finnish designer Eero Aarnio from the sales collection of Kunstconsult steals the show with his beautiful original blue upholstery next to Verner Panton's undulating landscape of Visiona II and the vibrant poppy print by the Finnish Marimekko.
The Ball Chair by Eero Aarnio is an icon of 'Scandinavian design', the term used for the designs from Scandinavian countries which are influenced by modernism and the restrictions of the surrounding landscape. This type of design originates in the 1930s and is characteristic for the simple clean lines, functionality and a minimalistic use of materials. The international success of Scandinavian design started in the 1950s. This is due to the Triennales in Milan, where Scandinavian designers won several prices, but also the first extensive design exhibition 'Scandinavian Design' touring the United States from 1954-1957.
In his search for the possibilities of the new furniture material fibreglass, Eero Aarnio created the iconic Ball Chair. At first no manufacturer dared to make it, but in 1966 this Space Age-design became the star of the International Furniture Fair in Cologne. The perfect geometric globe shape elaborates on the organic shapes of the designs from the 50s. While wood limits curves, fibreglass completes them.
Thanks to the spherical shape of space satellites Sputnik and Echo, Aarnio's chair became an icon of the Space Age Era and pop culture. For futuristic films as Moon Zero Two (1969) and the series The Prisoner (1967-1968) the chair became a prop. From the 90s onwards, it is often used to denote the 60s.
Exhibition
The Ball Chair by Eero Aarnio with original blue upholstery is part of the sales collection of Kunstconsult and is on loan for the exhibition Simply Scandinavian | Nordic design 1945-2017 in the Textielmuseum in Tilburg.
Simply Scandinavian | Nordic design 1945-2017, Textielmuseum, 9 June - 11 November 2018.
For sale
View the collection pages for sales information about the Ball Chair and other Mid-Century Modern design.
Further reading
Read more on our blog about the origin and design of the Ball Chair by Eero Aarnio.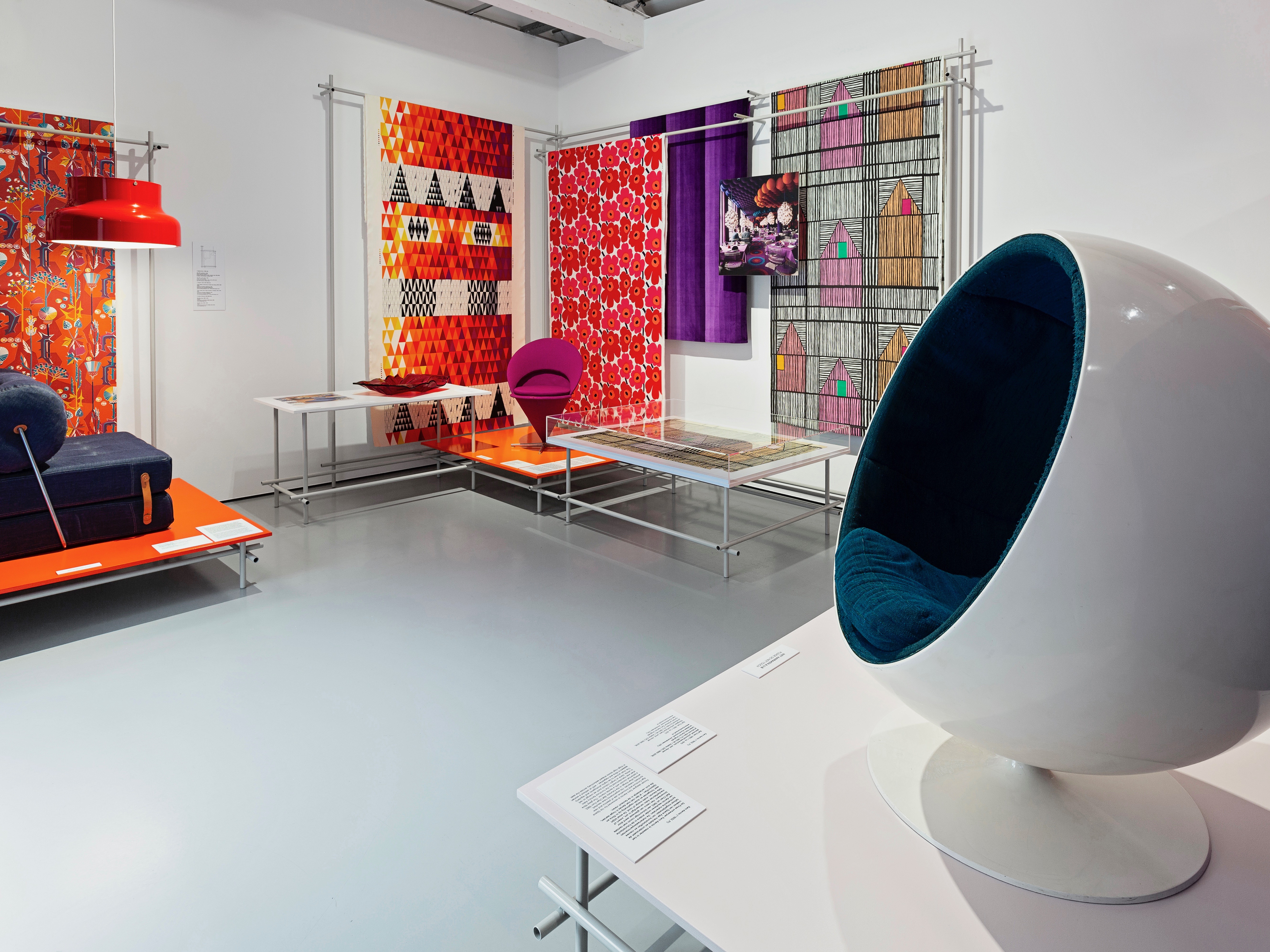 Photo's: Josefina Eikenaar / Textielmuseum