The estate of Dirk Breed (1920-2004), painter of the lowlands
Posted on 18 February 2020
The following introduction to the work of Dirk Breed was written by Wim van Schaik in 1995 on the 75th anniversary of this well-known West Frisian artist. Wim van Schaik (1924-2017) and his wife Hella admired and collected the work of Dirk Breed. After the death of Dirk's wife Lia Breed in 2017, Wim and Hella were endowed with works of art from the house and studio of the artist couple. It is this collection that is now - 100 years after the birth of Dirk Breed – on show in a sales exhibition at Kunstconsult's gallery.
"Not man is dominant, but nature"
Text: Wim van Schaik, 1995
We rarely see a visual artist for whom the landscape in which he was born is and remains the theme of his work continuously and consistently. Dirk Breed is such an exception. For about fifty years the landscape of his youth has been portrayed in a quirky way in watercolors, drawings, gouaches, but especially in oil paintings. It is the space of the polders and everything that has to do with polders, such as dikes, pumping stations, locks, farms, etc. that are the subject of his work.
Kolhorn on the Zuiderzee and the Westfriese Omringdijk
Dirk Breed was born in the old village of Kolhorn, high in the north of Noord-Holland. In his childhood, Kolhorn was still located behind the dike that protected the rural village from the sea (Zuiderzee). The Zuiderzee was still in open connection with the North Sea. Kolhorn is located at the meeting point of two dikes: the Zuiderzeedijk and the high, medieval Westfriese Omringdijk.
As a child, Dirk saw that on the other side of the dike the Wieringermeer-polder was drained and the North Sea and Zuiderzee being separated by the Afsluitdijk. Many of the young workers who turned the Wieringermeer-lake into land, stayed in Kolhorn. They brought life to the introverted village: it became more involved in what happened elsewhere in the country.
The polders of North Holland
Dirk's impressions of the man-made landscape in the Wieringermeer are reflected in his paintings. He displays the polders of North Holland in a very impressive way; the roles have been reversed. Not man is dominant, but nature. If one finds a person in his landscapes, it is a tiny creature. Waiting at a bus stop, lonely in endlessness. Or a farmer battling against the wind, with a curved back like a beetle, cycling down a straight road, doing an apparently impossible task.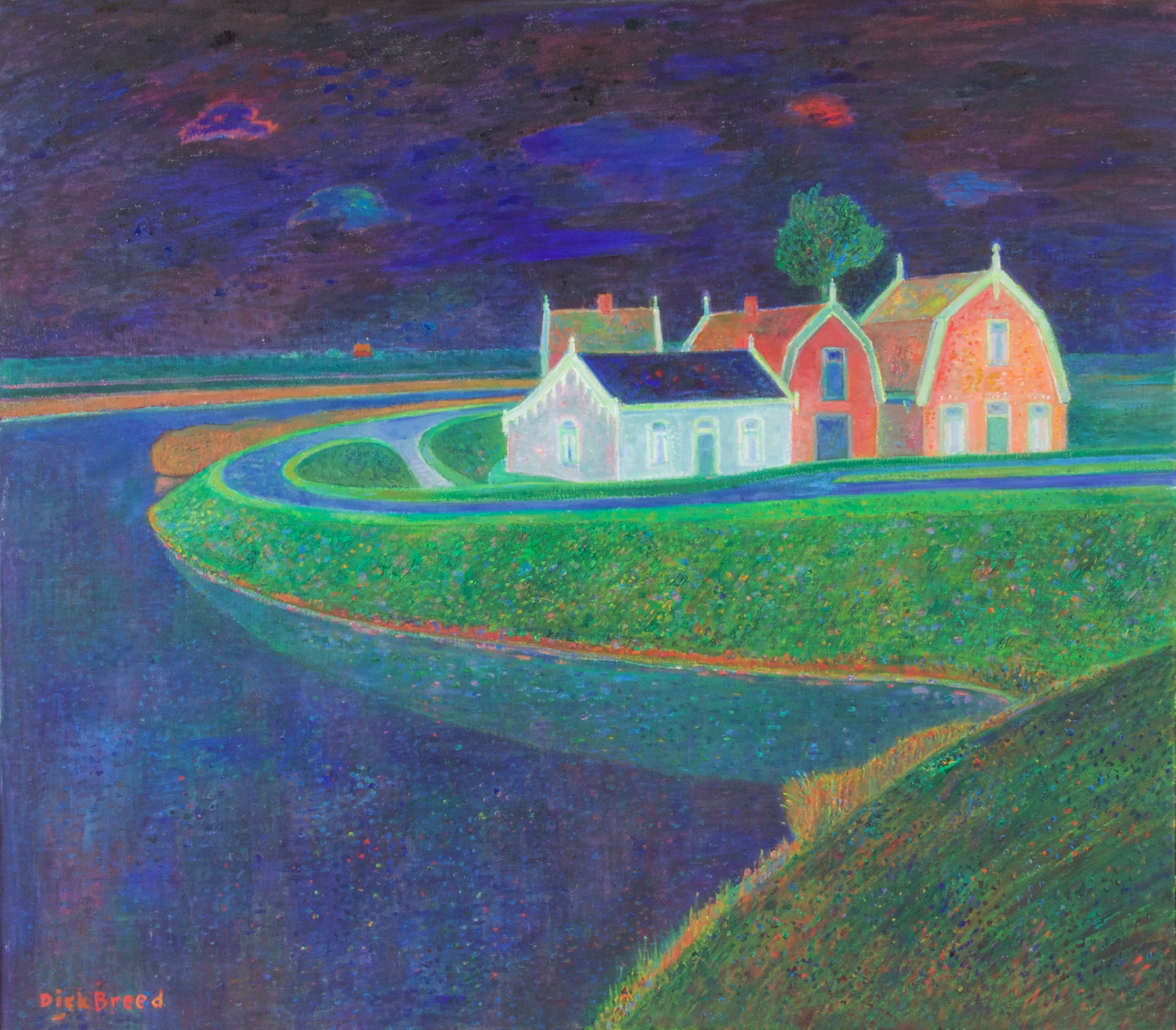 Man tries to control the land. Breed's paintings often show an empty space, with hardly any traffic. He suggests activities by placing dominant traffic signs along roads that lead from nothing to nowhere. A threatening sky and a palpable storm make clear that this regulation is human pride in the spirit of the Bible. Vanity of Vanities. The landscape is clearly made by man. See how a firm dyke runs straight through the meadows, accompanied on both sides by ditches dug by man. But nature has become autonomous, which is further accentuated by a threatening cloudy sky. There is no human trace (such as a building) to be discovered. Feel the atmosphere of Creation. There is land and water.
Sometimes the influence of man is visible, but one suspects that he has lost the battle with nature. For example, one painting shows a wide body of water between two high-lying dikes that must protect polders on either side. In the background there is a steam pumping station, a large building that is becoming void in infinity.
The building looks deserted, as if it has lost its function to control the water levels, has given up the fight against the water. Nature has won from the human race again.
Atmosphere of loneliness and desolation
Life seems to have been swept away in other paintings too. An atmosphere of loneliness and desolation. Has an atomic bomb exploded somewhere? This desolation can grow into a threat, as in a painting in which the steam pumping station of Kolhorn is central. The building and the surrounding houses look uninhabited, but what happens behind the large windows?
What do the two pedestrians know, or suspect, as they will pass each other wordless like ships in the night?
Should they witness a drama, or have they already? And what is the role of the man in the other painting, looking at a mysterious house in the ominous orange-red of the moat? This house is made even more inaccessible by a palisade standing in front of the water. Is that tall, slender, man with the investigative eye Dirk Breed, looking for the mystery behind things? This house is not "my home is my castle," but it is an uncanny, enchanted building.
All these representations are further accentuated by a special use of color. They are not ordinary greens, blues, reds or turquoises, but there is a load in these colors, accentuated by the way they are placed side by side. Breed's colors are reminiscent of colors used in early Italian paintings, but still have their own unique character.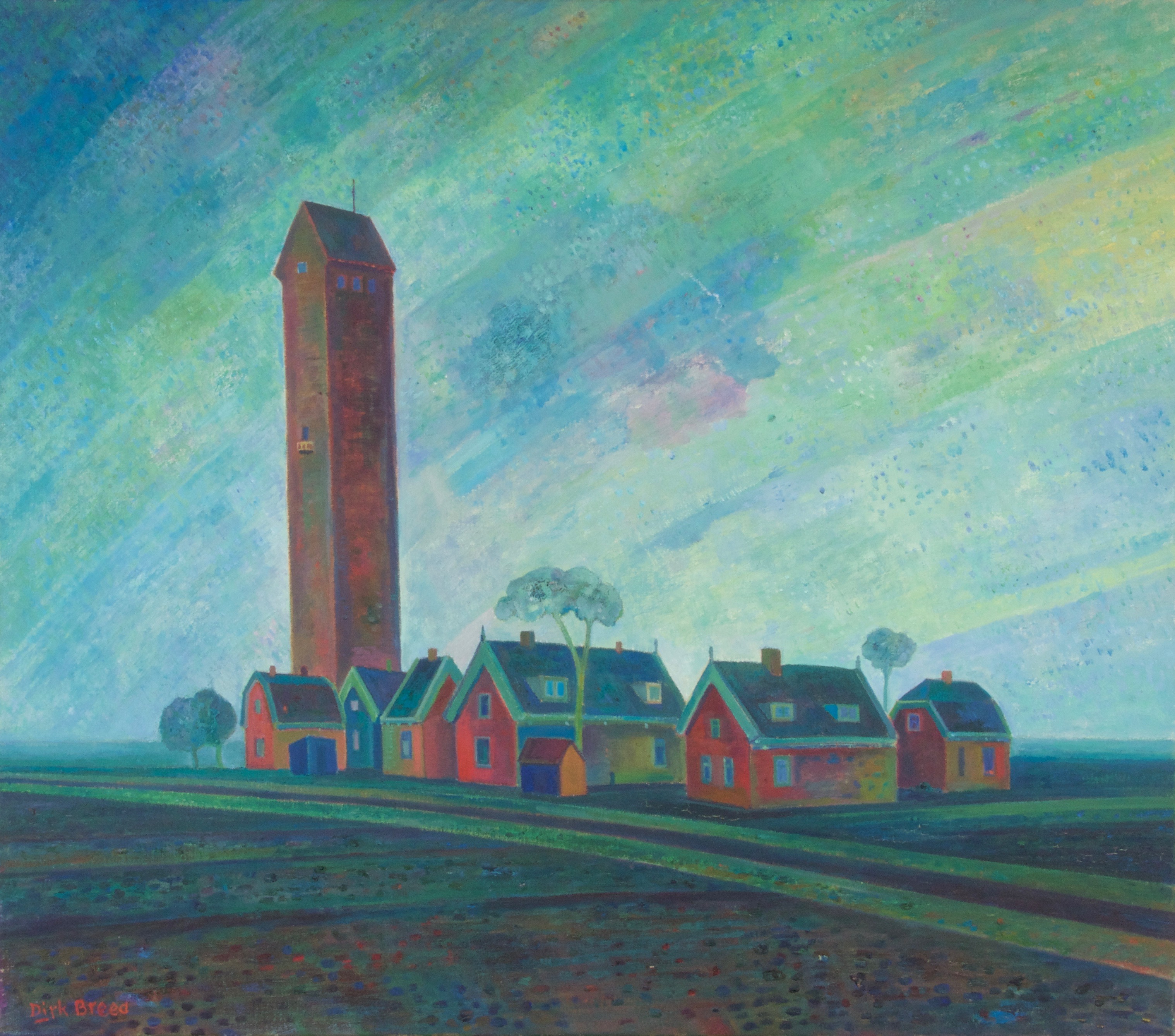 National Academy of Visual Arts
Dirk has always remained true to the man-made landscape. He almost always lived there. In 1946, however, he moved to Amsterdam for his education at the Rijksacademie voor Beeldende Kunsten (National Academy of Visual Arts). As a young artist, Dirk found it hard to live in the city, for a period he went back to his place of birth Kolhorn. Since 1965, however, he and his wife Lia have been living in a polder landscape again, that of Waverveen, with his studio central in their home.
This house is close to the river Waver and borders the man-made lake area of ​​Botshol and Vinkeveen. Man has designed this landscape in order to control the water level, so that it does not flood again or become swamp again. A mathematical pattern of dikes, waterways and locks has been laid for the dewatering of these polders. The reflection of this can be seen in Dirk's panorama landscapes. He depicts this entire pattern of allotment in a condensed form and in a colorful way, with farms and houses like Lego blocks in an endless lowland. It is a landscape presented in its own unique way, viewed from a high point.
The high points in this landscape are mainly church towers. With iron discipline, the poorly walking Dirk climbed the church tower of Kolhorn. After all, he has been suffering from chronic bone marrow infection in one of his legs for 50 years, which has consequences for his hip joints as well.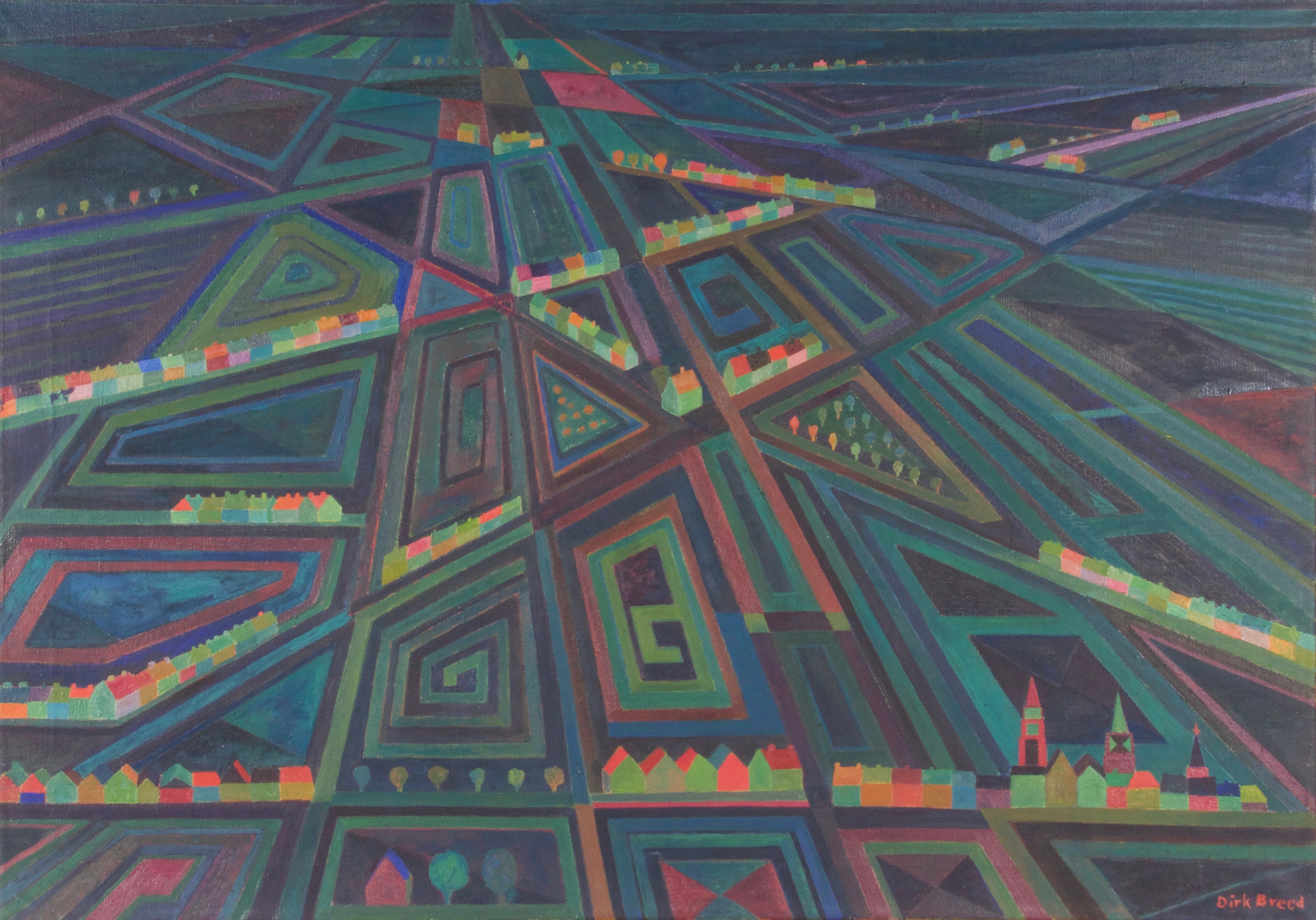 Colored cabbages on narrow fields
This compression of certain elements of the landscape can also be seen in the representation of the ponds with long, narrow islands that in the past have been used for making and drying peat. Peat has for centuries met the energy needs for cooking and heating, especially in the western Netherlands.
Until a few decades ago this type of landscape was clearly visible in the north of Noord-Holland, especially in the Geestmerambacht, the area between Krabbendam, Eenigenburg, Oudkarspel and Broek op Langedijk. It was a large area with very wide waterways and many narrow fields, on which red, green and white cabbages were grown. A colorful party.
West Frisian in heart and soul
This area was closed on one side by the still impressive medieval West Frisian dike, which winds its way through the landscape. It was a strategic dyke for the counts of Holland in their struggle against the West Frisians. It appears on many of Dirk's paintings, gouaches and drawings. Dirk Breed is West Frisian in heart and soul. His forefathers lived here for centuries; Breed's inherited the tenacious and straightforward character of the West Frisians.
A ruthless land consolidation has made this typical landscape disappear, but it is engraved in Dirk's memory. This was also due to the many cycling trips he made from Kolhorn to Bergen, where he took drawing lessons at Thijs Sterk. Dirk also cycled to the craft school in Alkmaar where he was educated as a house painter.
On the edge of figurative and non-figurative
But this grand landscape is still present in a somewhat less picturesque form at Vinkeveen. The imposing church of the village still looks out over a large water surface. One sees elongated layers of land, of which the peat was removed with sailing ships. Beautiful drawings have been made of these sailing ships that radiate a penetrating timelessness. Images that also appeared on drawings from the seventeenth century. As with many painters, Dirk Breed's drawings are underestimated.
In certain panorama paintings, these layers are transformed into colorful boxes, surrounded by water in many colors. This mathematical pattern leads to an almost abstract result. Here we meet the interface of figurative and non-figurative.
Cuypers' churches of Nes and Vinkeveen
Certain motifs rom Dirk's birthplace keep coming back, in all seasons, in all weather conditions and in all variations: the harbor of Kolhorn, the steam pumping station, neighborhoods, etc.
This also applies to his new living environment: the river Waver and the river Amstel that slowly flows to Amsterdam, the ferry at Nessersluis, and the impressive churches of Nes and Vinkeveen designed by architect Cuypers.
Over the years we see a shift in the pallet. In the beginning Dirk created dark paintings, which show a certain affinity with painters from Bergen and De Ploeg from the 1920s and 1930s, as well as the German expressionists. However, the palette gradually becomes lighter, with a more neo-impressionistic touch. The earlier paintings are painted in a smooth way. The later ones are more grainy, with the clouds often being painted pointillistically. Many of them also radiate a less oppressive atmosphere. His work becomes more poetic, such as the farm house in spring with a red "coral tree", or the winter landscape with the thin haze of a melting layer of frost.
Dirk is a diligent craftsman day after day, year after year, busy with the landscape in all its aspects. Unfortunately, other subjects, such as the portrait, have been given less attention. The few portraits that we know have their own charm. They express well the essence of the painted person, such as the open-mindedness of youth in his children's portraits. He received the Royal Subsidy for Painting of 1952, in particular for the submission of a children's portrait.
Also other subjects that were processed fascinatingly, such as a cat under a chair or a duck's nest, never became his main focus. But who knows what will happen with good health. Not the least artists switched to other subjects and a different conception of painting at a later age.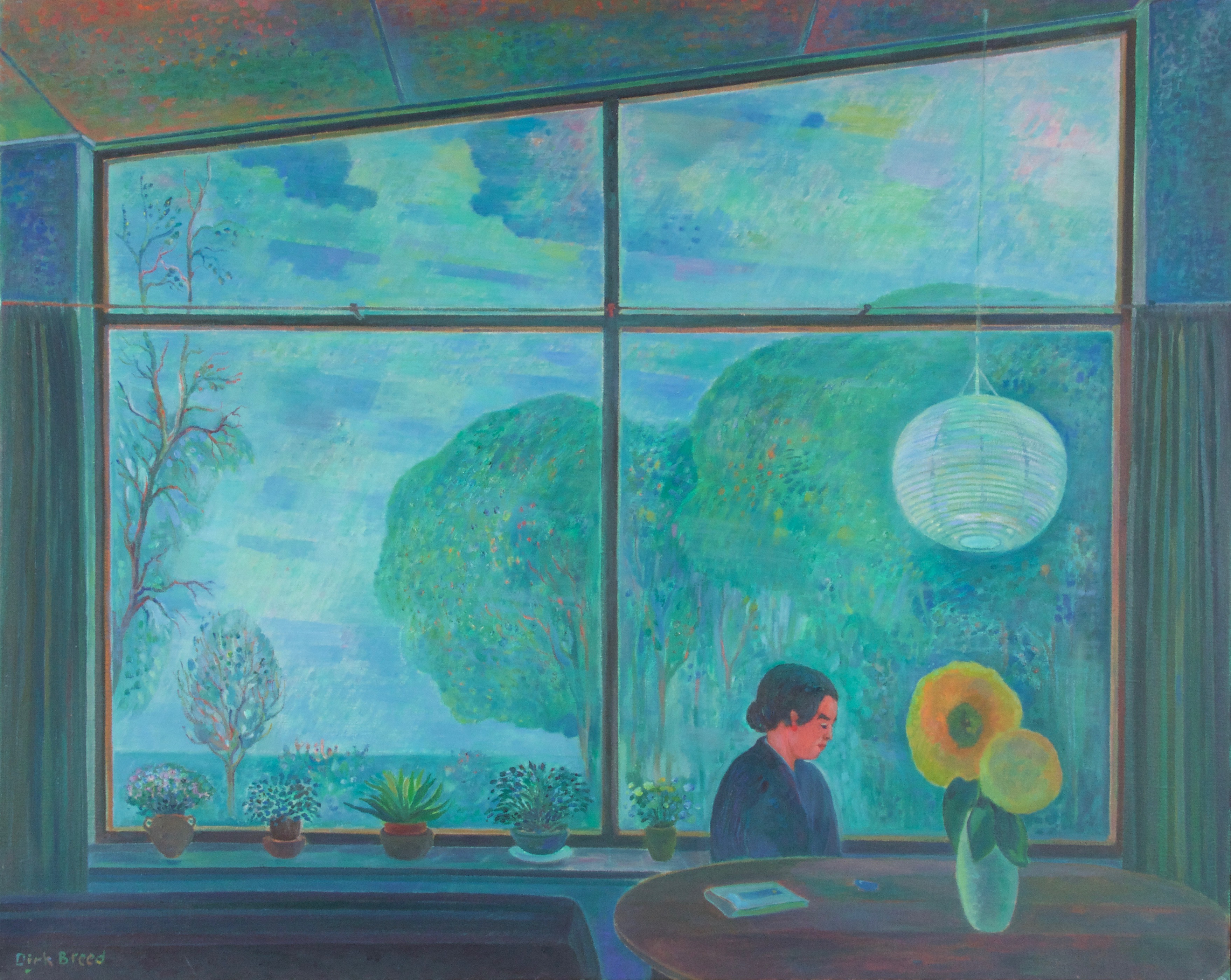 We publish this text with the permission of Mrs. Hella van Schaik. It was previously printed in the publication for the exhibition "Dubbel Breed." Portrait of a married couple. Dirk Breed, landscape painter - Lia Breed, ceramist ", which took place from 25 November 1995 to 7 January 1996 in Museum Flehite in Amersfoort and from 9 March to 21 April 1996 in the Westfries Museum in Hoorn.
The sales exhibition "Dirk Breed. Estate" will take place from 1 to 29 March 2020 at Kunstconsult in Amstelveen. More information.