Rietveld's rare high chair: Executed by Gerard van de Groenekan
Posted on 2 September 2018
Around 1920 Gerrit Thomas Rietveld (1888 – 1964) designed several kinds of furniture for architect H.G.J. Schelling, including two types of high chairs. The earliest high chair (1918) was the first design in which Rietveld used his distinctive and inventive application of the dowel connection, which made it possible to lay slats next to each other. It was also Rietvelds first design published in magazine De Stijl, but it still missed the harmony and balance of his later works.
Visually balanced
The second type of high chair that Rietveld designed for Schelling (probably one or two years later) does have this distinctive harmonious Rietveld-style. Clearly derived from the famous Red and Blue Chair (1918 – 1923), this design was not only better balanced visually, but also represented a high degree of abstraction. A chair of this design, manufactured by Gerard van de Groenekan, is part of the collection of Kunstconsult – 20th century art | objects.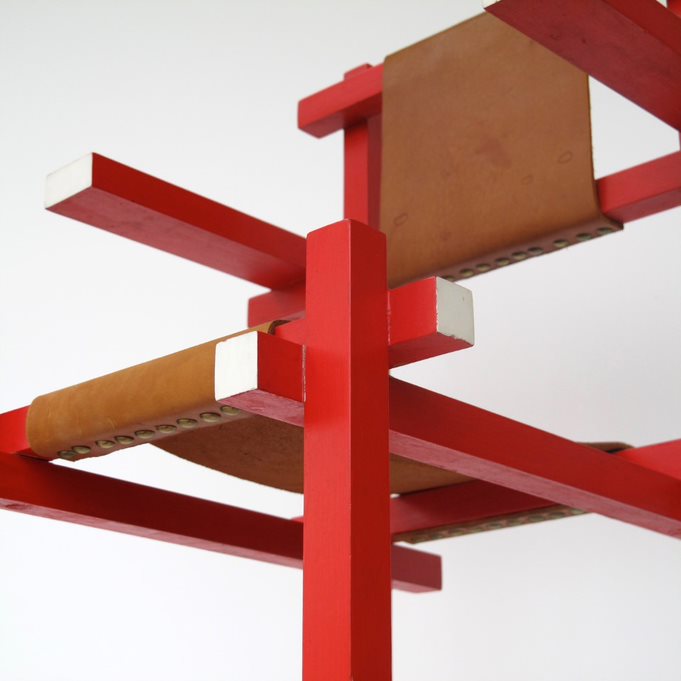 Exhibition in Stedelijk Museum
Unfortunately, the original made by Rietveld for Schelling got lost. It was not until the early seventies that a small amount of these high chairs came onto the market. Reason was the exhibition 'G. Rietveld. Architect' in the Stedelijk Museum Amsterdam (1971/1972). Even though it is not mentioned in the catalogue, a special reproduction of the second Schelling high chair was made by the props department of the museum. Gerard van de Groenekan – Rietvelds well-known pupil who came into the workshop as a sixteen-year old and later took over – also manufactured a few extra 'reconstructions' of this model for clients. The chair offered by Kunstconsult – 20th century art | objects, is one of those.
Typical De Stijl colour combination
Back then this specific chair in a typical De Stijl colour combination – red with white ends – was purchased by an enthusiast who kept it for years as a decorative object in his office. Thus, it has not actually been used as a high chair, which is why it is still in excellent condition. A report about the authenticity and condition will be supplied.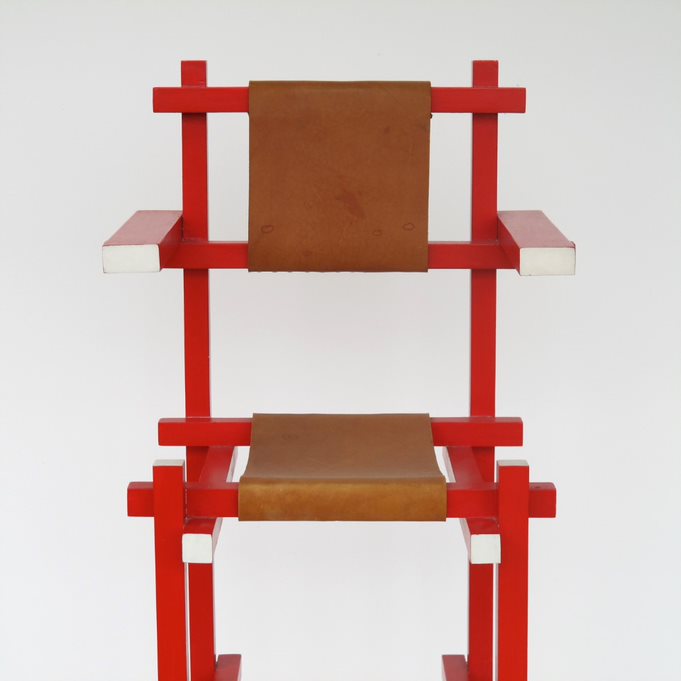 Text: Bobby van Brussel with courtesy of Jan de Bruijn
Photos: Erik Rijper
© Kunstconsult – 20th century art | objects
Reproduction and distribution of this text is only allowed with correct reference.