A restorer's blog: Pre-war crate desk by Rietveld
Posted on 26 June 2019
What was so innovative about the 'crate furniture' by Gerrit Rietveld (1888-1964)? What was the reaction at the time? How does a specialized restorer look at such a desk today and how do you recognize an early, authentic piece of furniture? Let's have a closer look at Rietveld's crate furniture and his crate desk in particular.
"Do you see those horizontal cavities at the bottom of the inside of the side panels? That is probably because there used to be a little tubular steel chair." Furniture restorer Jurjen Creman demonstrates how a relatively innocent, maybe daily, act has added a charming authenticity to the furniture he has researched: a very rare pre-war 'crate desk' by Gerrit Rietveld.
"A piece of furniture made of precious wood and artisanaly made is sent in a packing crate, to protect it from damage and breakage. Someone who receives such a crate at home says, at the most: well packaged. But it has never been recorded that such a crate represents a carpentry method which is very efficient. The crate is composed of sober materials, which make it stronger than its precious content. (…) That is why there finally had to be someone who chose the crate over the 'furniture'." With these words, Gerrit Rietveld argued his choice in 1935 for designing a series of furniture built from standardized pine boards – cheap material for packing crates – which were soon well-known as 'crate furniture'.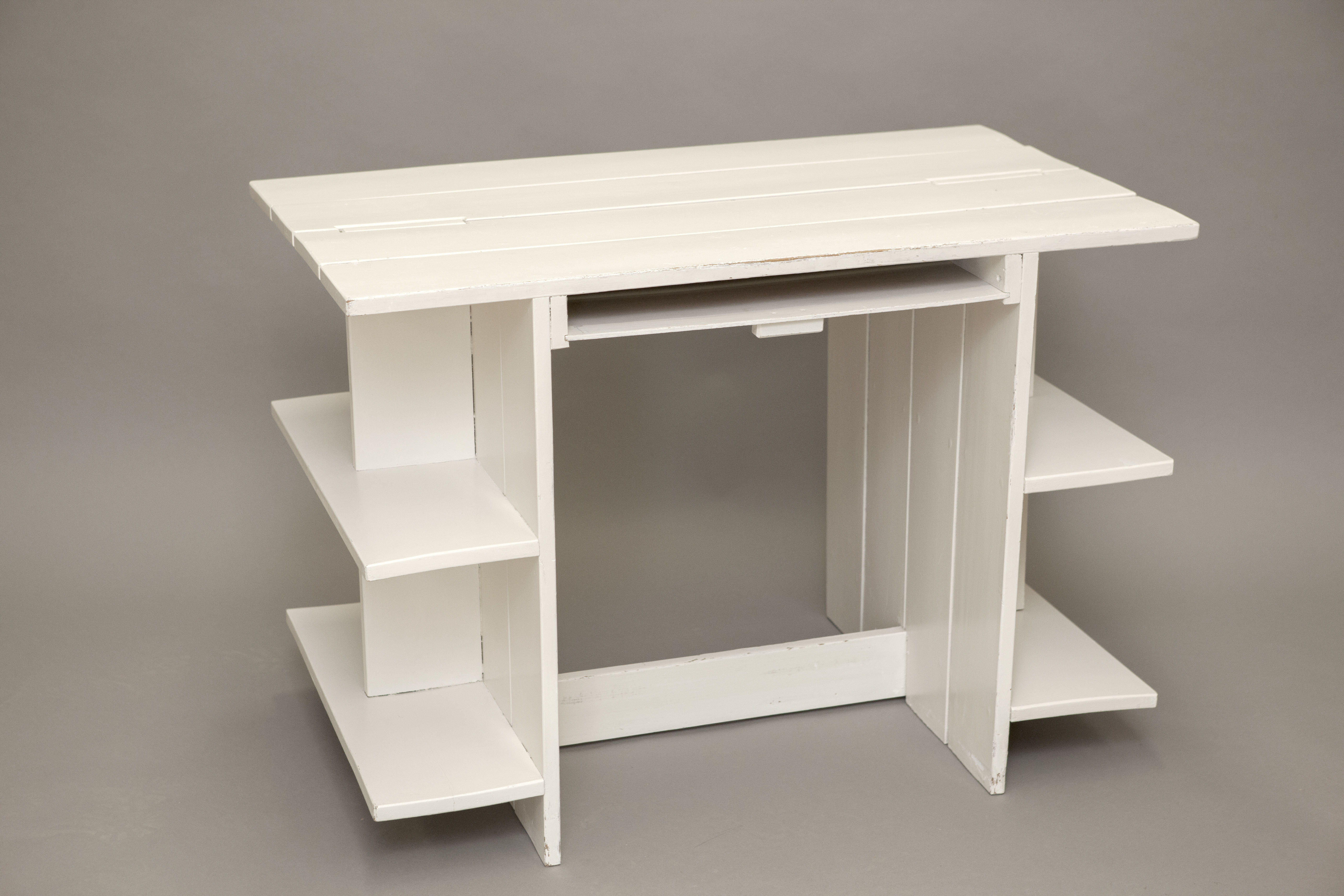 It was until after the war, at a retrospective at the Stedelijk Museum Amsterdam, that there turned out to be a social motivation; the architect and furniture designer had many acquaintances who were not wealthy, but still wanted a modern piece of furniture. In the beginning Rietveld executed his design, made in 1934, himself. The furniture – first the well-known crate chair, a small table and a bookcase, and later on also a desk with a 'desk armchair' and another table – could be ordered from H. Schröder at Prins Hendriklaan 64. This was the address of one of the houses that Rietveld realized in collaboration with Truus Schröder-Schräder in the early 1930s, within a hundred meters of the Schröderhuis in Utrecht.
From 1935 on the progressive designs appeared at Metz & Co, where furniture by Rietveld had already been sold since 1930. The crate desk is also from this period before the war; purchased by the main store at the Keizersgracht in Amsterdam. This piece of furniture was relatively inexpensive. A painted model could be ordered for 16 guilders, while a fancier desk designed by Rietveld and Schröder in 1931 was ten times this price. In the store's flyers the furniture was labelled as 'weekend furniture', meant for 'weekend homes, sunrooms, student and children's rooms'. This intended function is not just indicative of the wealthy clientele, but also implicitly shows the somewhat sceptical attitude that the store had towards Rietveld's latest designs.
In these years, the furniture department of Metz & Co was not at all profitable – the company lived off the sale of fashion, gift items and relatively traditional textiles – though it was largely responsible for the international fame of the department store. The sales of works by avant-garde designers such as Oud, Van der Leck, Breuer, Aalto, Mies van der Rohe and Rietveld were primarily important for a progressive appearance. The collaboration of a commercial department store with avant-garde designers – in fact an unusual collaboration with conflicting interests – had to result in Metz & Co worthy designs. "We cannot sell wood chips," director Joseph de Leeuw had written to Rietveld. De Leeuw was probably aware of the dubious reputation that Rietveld's furniture enjoyed in terms of building quality. In 1932, in a review of an exhibition at Metz & Co, Paul Bromberg in his magazine 'Binnenhuis' had made Rietveld himself responsible for this. Almost prophetically, Bromberg stated: "He wants his furniture to be made worse than a packaging crate apparently."
Thinking averse to what you have been taught
According to Jurjen Creman – furniture restorer and specialist in the field of Rietveld furniture – Rietveld was indeed a skilled furniture maker, with knowledge about materials, techniques and construction. "When you look at Rietveld's early work, for example the pieces he made for Piet Klaarhamer, you can really see the skilfulness of the craftsman." The quality of Rietveld's progressive work, often criticized at the time, can therefore be fully attributed to his experimental attitude: trying out innovative forms, constructions and unusual materials. Creman argues that you have to judge his crate furniture in that light: "It is actually very clever what he does. Just try to think completely averse to what you have been taught!"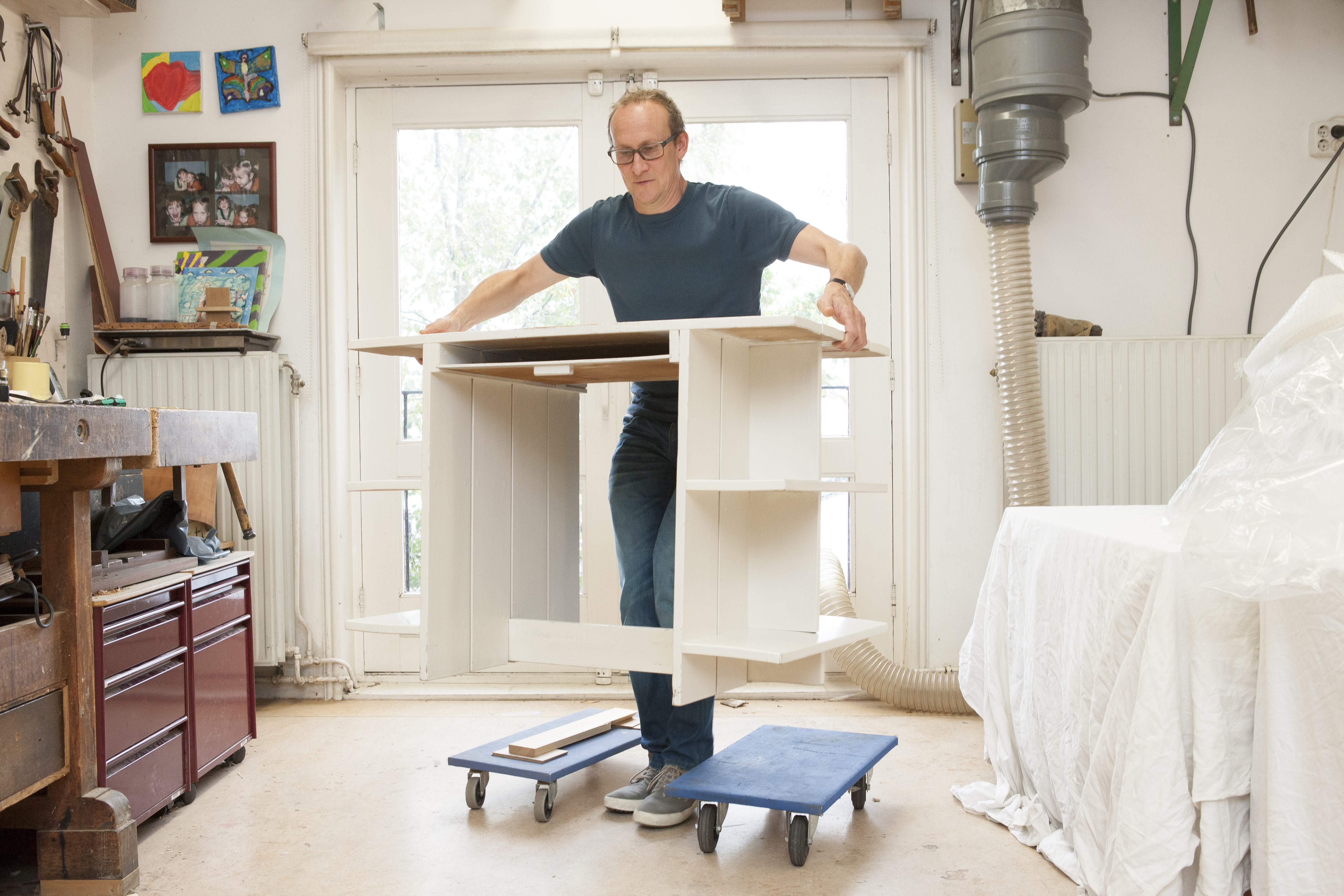 As a result to Rietveld's strict adherence to his own philosophy, Creman sees some damages in Rietveld furniture returning repeatedly. One example is the tearing of a screw, which connects the side not only to the rear leg, but also to the back of the chair. "Sometimes I wonder why he didn't apply something behind the screw or added an extra screw."
On the other hand, the restorer can enjoy the ingenuity. "You can see that he has been puzzling over it for a while, in order to ultimately need as little material as possible and of the same measures." This is also visible in the crate desk. Apart from the drawer, the design is based on pinewood boards in standard measures, which only had to be sawed to the right length. Despite these limitations, Rietveld managed to create a piece of furniture that looks attractive from every angle.
Nowadays the crate furniture is highly valued, but in his own time Rietveld was heavily criticized. In an article in 'Bouwkundig Weekblad' with the title 'Vakverrotting' (Rotting of profession) architect and furniture maker Jan de Meijer criticized the, according to him, mediocre finish of the furniture. He stated nostalgically that pure artisans - 'true martyrs of the good cause' - had become a rarity. "Every true craftsman will value the execution, not the design, as the most important. Only in the correct realization does the true design reach its most powerful effect. A designer, full of love for the craftmanship, cannot tolerate a poor execution. An artist is anyone who also finishes the work he started!" It was evident that De Meijer jumped to conclusions, because he saw the wide seams between the shelves of the desktop as a poor finish, while this was precisely what Rietveld had intended. Two weeks later he answered to De Meijer's criticism. "A lot of wood of the same width has a calm effect, if the seams are clearly visible and the tendency to warp is not suppressed by desperate glue attempts."
Creman confirms this. "Look, Rietveld was of course aware of the fact that pine has a strong tendency to warp." Moreover, incorporating the 5-millimeter wide spaces in his design was a clever way to, despite the planks in standard dimensions (20 mm thick, 145 mm wide), be able to work with rounded dimensions of 15 centimetres, characteristic of Rietveld's designs. Almost teasingly, Rietveld explained the philosophy behind his furniture to De Meijer. "Don't you like pine? Don't you like the structure of mechanically planed wood? (…) Sawed off wood has something picturesque to it."
Painting each board separately
It is not surprising that Rietveld preferred to see the furniture unpainted, an opinion that fits in with a broader trend within his oeuvre in the mid-1930s. In his architecture the natural structure of material is also becoming more important. For a small extra charge the furniture could be ordered from Metz & Co in any desired colour. In that case, according to Rietveld, every board had to be painted separately before assembly – without fillers – and only then had to be screwed together; "so no tucking away of seams or screws." Despite Rietveld's preference, the surviving desks that Creman knows are almost all painted, with the screws tucked away. Unfortunately, it is not clear whether this usually happened at Metz & Co. Creman also questions the realization of Rietveld's wish to offer the desks, just like the chairs, as a self-build package. Despite the simple design, unlike the crate chair, the assembly of the desk still involved a number of relatively complex operations; handlings that the average Metz & Co customer would probably not venture into. Moreover, offering it as a package hardly spared costs, because the transport distance from the studio to the store was limited and the desks were never produced in a large series.
The fact that Metz & Co has offered the furniture for decades – up to the 60s – does not alter the fact that before the war only a few dozen were probably realized, all handmade and in commission. Creman kneels at the desk. "Look at the way the broken edges have been shaved to varying degrees and how sharply the edges have been chamfered." These are details in which the specialist recognizes the pre-war way of working. Furthermore, there are also small differences within the surviving early crate desks, in particular the size of the line between the sides and the execution of the handle on the front of the drawer. This all shows that the restorer not only knows the design down to the last detail, but also has an overview of all existing Rietveld furniture.
It has resulted in a somewhat sceptical attitude towards literature and stories that go with Rietveld's oeuvre. "As a restorer you are first and foremost material-technical and that is the perspective from which I start looking. How is something put together? What can be deducted from the drawings? If you look at these aspects, then you realize that a lot of what is written in literature is incorrect."
As an example, Creman points to the screws with which the desk is assembled. Literature always talks about brass, while it really concerns original steel screws. "And I found those in several crate furniture!" The thickness of the boards - "good quality pine, by the way" - is 20 millimetres, the standard size at the time, while most professional literature speaks of 22 or even 18 millimetres, the standard size nowadays. You often recognize later productions or replicas by the latter.
According to Creman, the most important aspect in the identification of an original early piece of furniture is a correct provenance: a well-traceable origin.
Jurjen Creman followed the newly established furniture restoration course in the 1980s at the Opleiding Restauratoren – now UvA – in Amsterdam. During his studies he developed a great interest in the 20th century and its innovative materials and techniques. Since he "always wanted to work in a museum", he applied for a job at the Centraal Museum in Utrecht, where he could work as a furniture restorer. There he was involved in the big Rietveld exhibition in 1992-1993. During this time, the Rietveld-Schröder archive was also added to the Centraal Museum, so that he suddenly came into contact with a lot of Rietveld furniture, design drawings and documentation. It stirred up a huge frustration for the Utrecht designer in Creman. "What inspired the man and how do you see his ideas reflected in his furniture?" The restorer has been in the business for more than 30 years and can safely call himself the specialist in the field of Rietveld furniture.
In the years that Creman has been active, there was a considerable development within the profession of furniture restorer: less intervention, less craftmanship and more and more science and (material-technical) research. In addition, restoration ideas and ideas about originality have changed enormously. Until about 30 years ago, Rietveld furniture would be renovated to new condition without restraint. "Museums simply sent their pieces to Gerard van de Groenekan – the student who came to work in Rietveld's workshop at the age of 16 and later took over. He painted them over and turned them into brand new furniture." Even when making "replicas" for exhibitions, few questions were asked; Rietveld was the one who came up with the idea himself!
Nowadays, the concept of authenticity has a very different value. The way in which a piece of furniture is marked by history adds an extra layer of meaning; meaning that is lost in too thorough a restoration.
Creman therefore follows a less-is-more principle, or as he puts it: "minimal intervention, maximal conservation". In practice, a lot of his activities therefore fall under the name of conservation rather than restoration. The crate desk is a good example of this. Every piece that Creman handles is first analysed down to the smallest details. In this case he analysed the two layers of paint with a so-called X-ray fluorescence spectrometer, a tool with which different metal-containing pigments can be identified in paint. The bottom layer is a kind of white-wash layer, applied with visible brushstrokes. This layer turns out to contain only a zinc white, which indicates a pre-war, possibly diluted white oil paint. Moreover, it is also present between the seams, which means that the paint was applied before assembly – like Rietveld wanted – and probably at Metz & Co. The second finishing layer contains a lot of titanium dioxide white, a pigment that has been used in paints since the late 1930s, but usually indicates a post-war finishing layer. Possibly the owner applied this after a few years because the first layer was worn or simply because she taught a covering, nicely finished white layer was more attractive.
"Be a bit careful with it"
After an extensive inspection of the desk, Creman decides to fix the layers of paint at the places where they are loose, with a special diluted gelatine glue. He then cleans the desk with a light (buffered) citric acid solution and polishes damage to the surface of the desk in certain places. Finally, he retouches the most disturbing damages, so that the overall desk looks calm and can last for years. How to handle a piece of Rietveld furniture is entirely depending the piece. Many pre-war chairs are now too fragile to still be used, which means that they end up on pedestals as art objects. Creman is not sad about this: after all, conserving and preserving such items is part of the duties of museums.
However, the crate desk is a different story. According to Creman, the timeless design and the condition in which it is now make it particularly applicable in a modern interior and extremely suitable to work at with a laptop. "To individuals owning such a piece of Rietveld furniture I say: realize what it's worth, make sure that the construction is alright, be a bit careful with it... And for the rest? Enjoy using it!"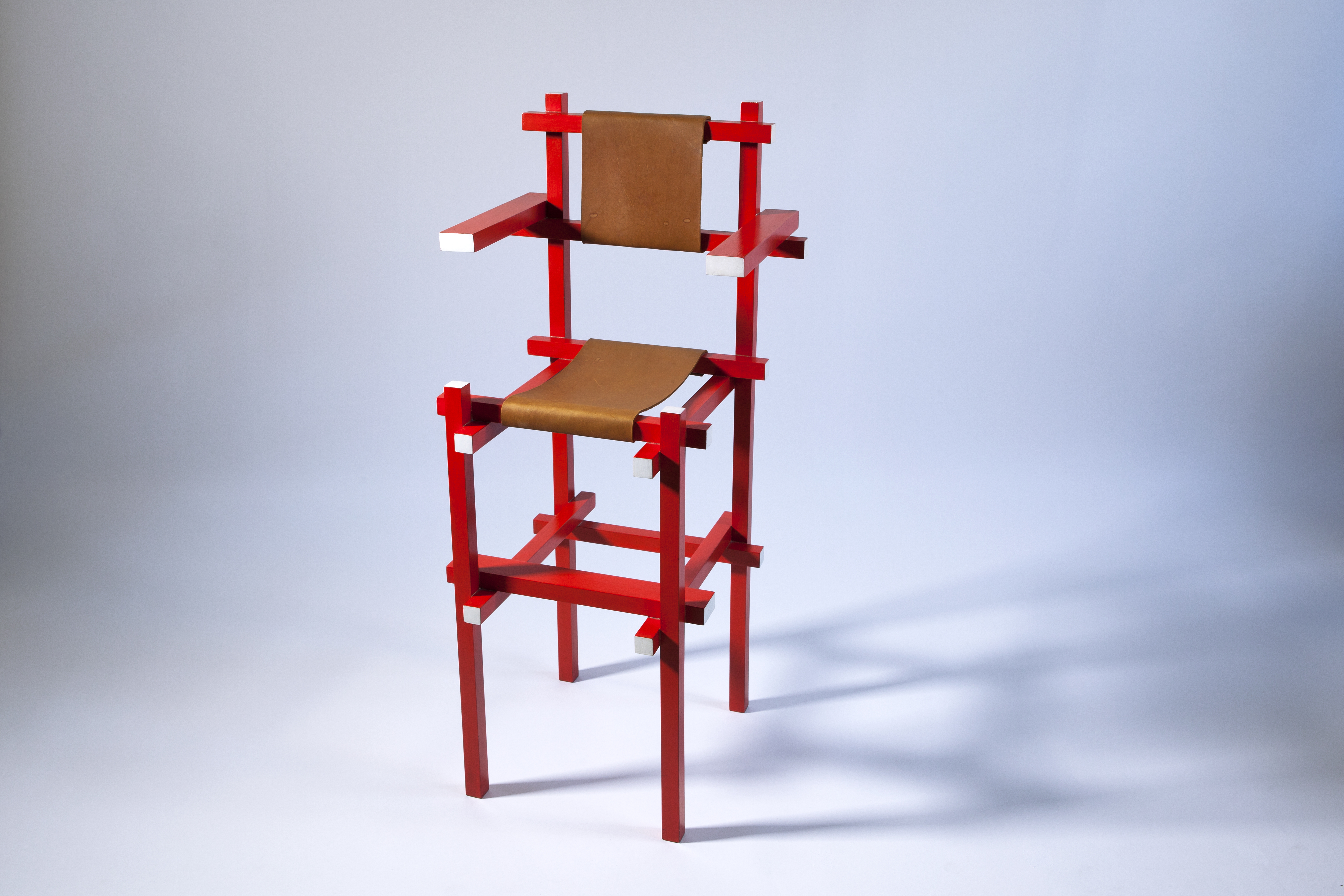 Rare children's high chair
Gerard van de Groenekan, the well-known student of Rietveld, also manufactured the red-white children's high chair, which is part of the collection of Kunstconsult. This rare children's high chair in a typical De Stijl colour combination - red with white ends - is executed in 1971. This is one of the few extra 'reconstructions' which Groenekan made of the second type of children's high chair that Rietveld designed for architect H.G.J. Schelling. This ornamental object is clearly related to the famous Red and Blue Chair.
Text: Jan de Bruijn
Photos: Dennis A-Tjak and Erik Rijper
© Kunstconsult – 20th century art | objects
Reproduction and distribution of this text is only allowed with correct reference.