The versatility of Cris Agterberg: Art and Craft
Posted on 5 December 2018
Although he received praise for his many qualities as a decorative artist, Cris Agterberg (1883-1948) saw himself primarily as a sculptor. In the sculptural bronze clocks which he designed in the mid-1920s, all his skills come together.
Because of their labour-intensive character and high cost price, the larger studio pieces by Cris Agterberg are quite rare. His growing name recognition led him to seek collaboration with manufacturers of applied arts in the 1920s. He saw this as a way to increase his sales. For several years, he designed glass objects and decorations for the glass factory in Leerdam. In addition, he designed ceramics for pottery Zaalberg and collaborated with the earthenware factories Zenith and Schoonhoven.
First orange touch
At Glasfabriek Leerdam, Cris Agterberg was the first designer to literally give an orange touch to the 'oranjeglas' ('orange glass'), objects that were - and are - made at memorable moments of the Royal House, the 'House of Orange'. In honour of the 25th anniversary of the accession of Queen Wilhelmina, Agterberg designed a few glass decorations in 1923. Among them was a design with cheerful 'oranjeappeltjes' ('orange apples') executed in enamel. This was a resourceful solution, at a time when orange-coloured glass was not yet available in Leerdam.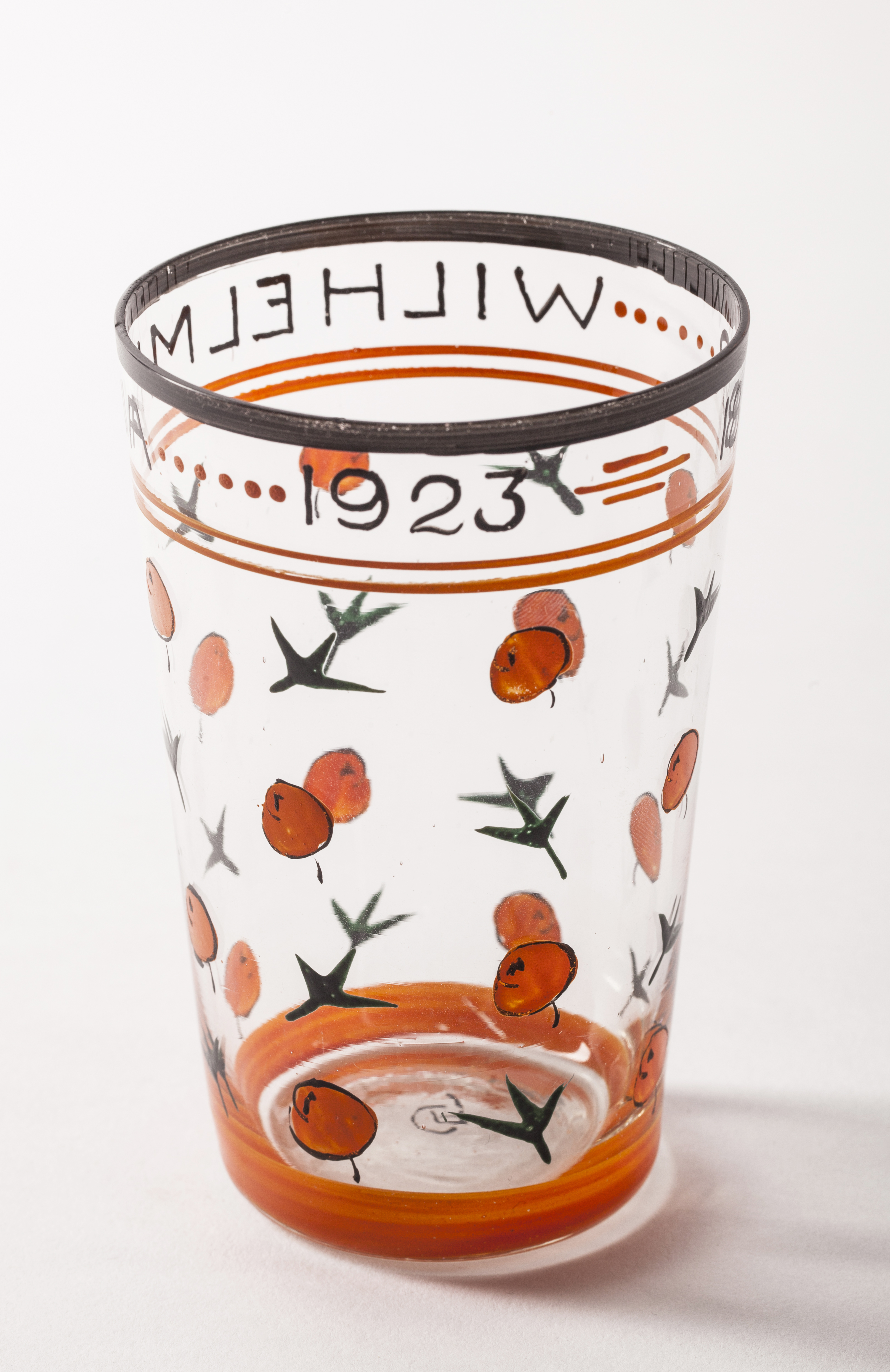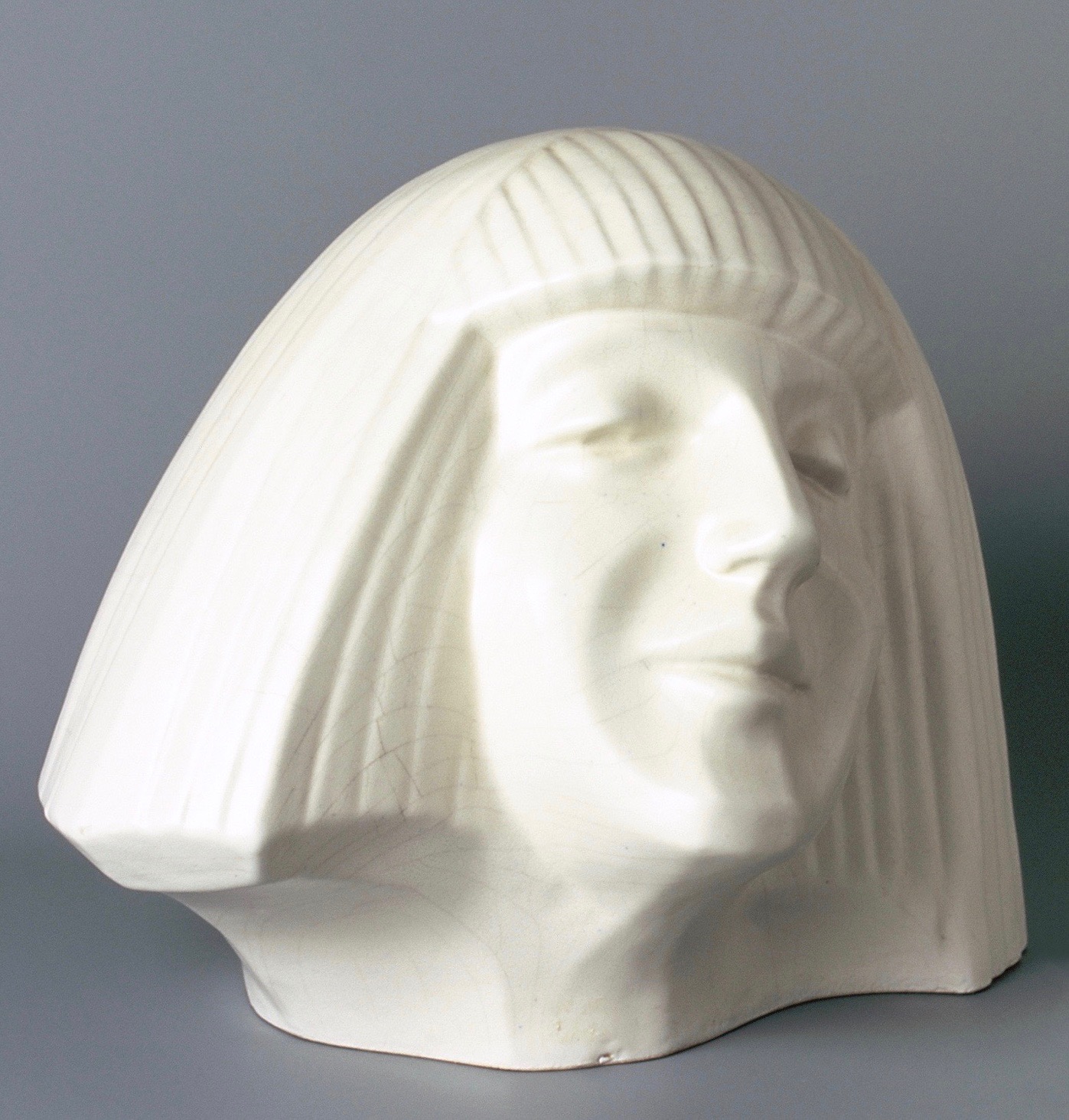 'Egyptian' dancer
At earthenware factory Schoonhoven Agterberg had several ceramic sculptures executed in the second half of the 1920s, including a few female figures and a head of dancer Darja Collin. She was the wife of writer and ship's doctor Jan Jacob Slauerhoff. Agterberg probably met the dancer in the theater world of Utrecht. He portrayed her with a hair style inspired by Cleopatra and ancient Egypt. Besides in white-glazed earthenware, the head is also known in bronze.
Amsterdam School
His joint ventures with commercial businesses remained small endeavours. The real focus was on hand-made objects of applied art, made in small quantities, like a series of characteristic bronze objects that Agterberg designed in the mid-1920s, including female figures and pendulum clocks. A fine example is the bronze cast pendulum clock from around 1925. The parabolic clock with sculptural, zoomorphic details and the abstracted female figure embody the design ideal of the Amsterdam School. Agterberg's work as an ornamental artist in the 1920s fits the style of this movement, although he gave it his own twist. Characteristic of his work are the elongated human figures. His expressive style shows similarities with the work of contemporaries such as Hildo Krop and H.J. Winkelman. One of Agterberg's first projects in which the style of the Amsterdam School was expressed was a summer house for the First Dutch Jaarbeurs in 1917. Architect Jan Gratama drew the design of the garden house, Agterberg designed the interior and was the project manager. The garden house was made of metallized concrete, a very innovative product at that time. The reviews were full of praise and the success of the new material was unprecedented.
Work in concrete
In the following years, Agterberg decided to manufacture various small sculptures made of metallized concrete. This fitted in with the ideals he had at the beginning of his artistic career: dedicating himself to sculpture. An example of such a concrete sculpture is 'The Kiss', an expressive statue of two lovers. This sculpture has symbolistic characteristics; the two figures, which emerge from their pedestal, seem to merge together. The abstract and organic design of the Amsterdam School is also recognizable. Contemporaries John Räedecker and Hendrik Chabot followed the example of Agterberg and also created sculptures of this new material. In addition, Agterberg used earthenware to shape his sculptures. The white glazed earthenware sculpture of a woman shows clear similarities with 'The kiss'. The abstract, organic female figure with her symbolic facial expression also seems to emerge from her pedestal.
Silver Jewellery
Although Agterberg initially focused on sculpture, he developed himself in the course of his career as a versatile decorative artist. In addition to the disciplines mentioned above, he also designed pottery, furniture, costumes, metal utensils and jewellery. The latter he has continued to make throughout his life. Certain popular jewellery designs were re-released with regularity. The silver jewellery always had openwork decoration. Characteristic is the subtle use of amethyst, moonstone or agate in brooches. The jewellery features abstracted plant and flower motifs with a zoomorphic figure here and there. This is characteristic of jewellery from the period of the Amsterdam School. In terms of design, Agterberg's jewellery is comparable to that of Dutch contemporaries such as Fons Reggers, Jan Kriege and Frans Zwollo sr., although their work is somewhat more abstract. His objects of base metals, such as brass and tin, show similarities with the work of Hendrik Methorst, who also regularly executed designs by Agterberg.
Artist and artisan
Although Agterberg is now seen as a full-fledged artist of his time, during his lifetime he was mainly acknowledged as a craftsman, to his own frustration. Nowadays, these elements of craft are actually regarded as exceptional qualities and make his work popular. Works by Cris Agterberg can be found in collections of collectors and Dutch museums, like the Centraal Museum in Utrecht.
View here all the works by Cris Agterberg in the Kunstconsult collection.
Text: Marleen Windhorst
Photos: Gé Dubbelman en Dennis A-Tjak, collectie Kunstconsult
© Kunstconsult – 20th century art | objects
Reproduction and distribution of this text is only allowed with correct reference.