'Standing girl': key piece in the oeuvre of Eja Siepman van den Berg
Posted on 11 April 2019
'Standing girl' is the key piece in Eja Siepman van den Berg's career. With this important sculpture, now in the collection of Kunstconsult, Siepman set the tone for the rest of her oeuvre. Sculpture gallery Het Depot recently devoted much attention to this work in the magazine 'Fragment' and gave the depicted girl a name: Marjolein van Raalte. In Wageningen, Het Depot shows a large collection of sculptures by this exceptional artist in a permanent exhibition.
The female body in marble and bronze
Eja Siepman van den Berg (Eindhoven, 1943) is a Dutch sculptor, well-known for her sculptures of the female body in marble and bronze. Siepman studies poses and 'translates' these movements into sculptures with a perfectly smooth surface. Her work can be found in a large number of museums and private collections. Siepman's sculptures are also exhibited in public spaces, in large cities such as Amsterdam, Utrecht, The Hague, Groningen, Enschede and Leeuwarden. No less than twenty sculptures of Siepman are presented in Dutch public space.
Exhibition at Het Depot
Recently sculpture gallery Het Depot, as publisher of the magazine Fragment, published an extensive article about Siepman. Het Depot has great admiration for the artist's work and has around forty of her works in the collection, which are permanently exhibited. In addition to this permanent presentation, the exhibition 'The Sources of Inspiration of Eja Siepman van den Berg' can also be seen here from 16 June 2019 to 26 January 2020, including sculptures by Charlotte van Pallandt (1898-1997) and Charles Despiau (1874 -1946).
Celebrated artist
Siepman's exceptional talent was noticed early on. In her twenties, she received the Prix de Rome in 1967 as an encouragement for her sculptural art. And in 1978 she was the first artist to receive the Charlotte van Pallandt prize, from the artist who inspired her so much: Charlotte van Pallandt. As a woman who managed to survive in a world of sculpture dominated by men, Van Pallandt was a great example for Siepman. Later, Siepman won the Wilhelminaring, a prestigious prize that is awarded every other year to a Dutch sculptor in recognition of the entire oeuvre. The jury said about her work:
"In every phase of her life, her work has proven to be relevant and of high quality. Undisturbed, with skilled craftsmanship, Siepman van den Berg has always continued her own course, averse to any whim of fashion. Her dedication has always remained with the human body. She invariably chooses the body of youth and mostly the female. The decisive postures of the sculptures make you forget that they are bodies that are still crystallizing." - Jury report read by Wim Pijbes, Dutch art historian and former Rijksmuseum director, on September 23, 2017.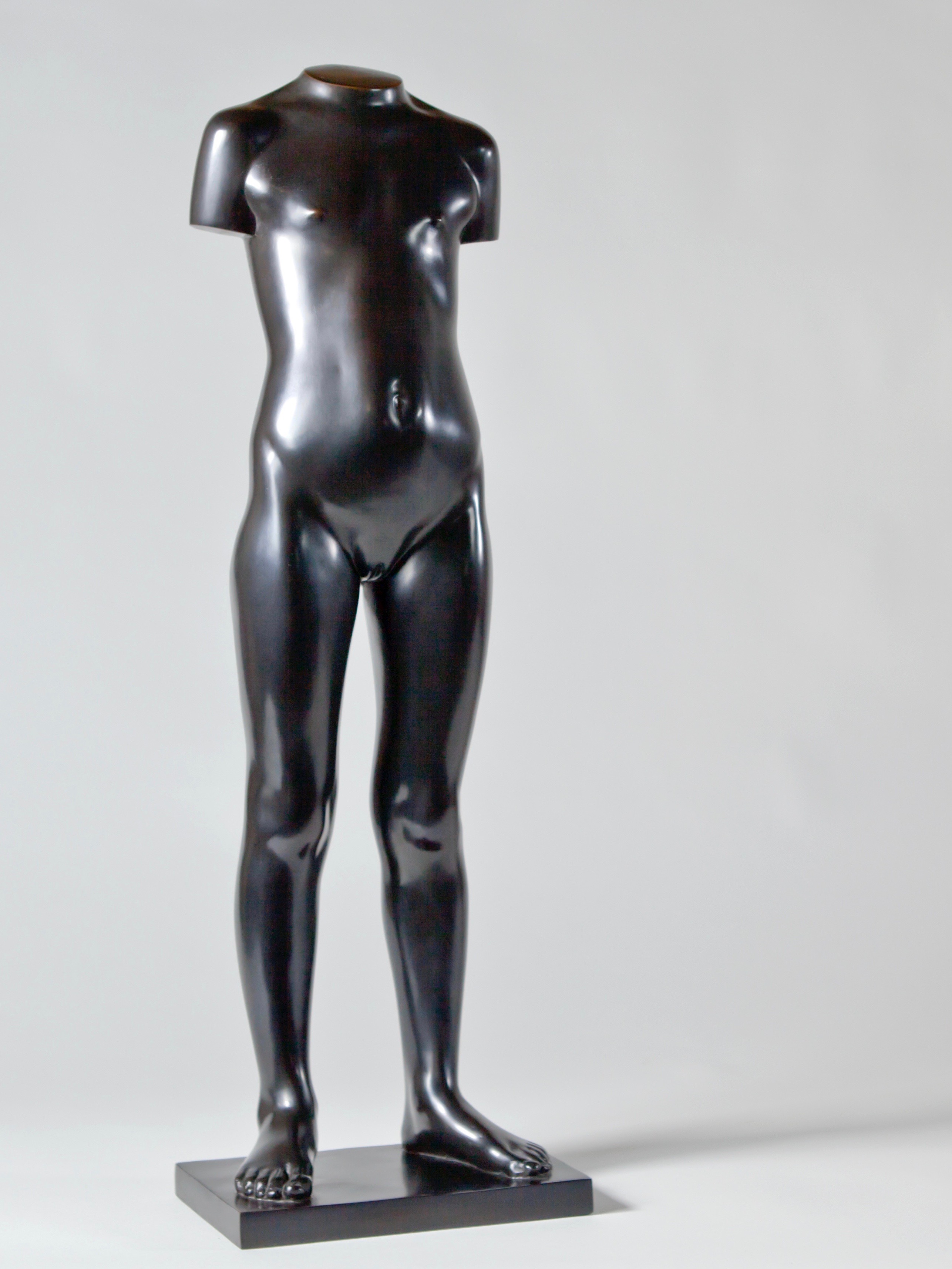 Between figuration and abstraction
At the beginning of her career, Siepman was inspired by the abstract work of the French-Romanian artist Constantin Brancusi (1876-1957) and began making abstract sculptures. But despite her love for the abstract, she longed for the human body. She started to make sculptures in which a unique combination between figuration and abstraction was visible: the stillness of the figurative, the human body, gave Siepman's work a special abstract quality. This came together for the first time in the creation of the black patinated bronze sculpture 'Standing Girl' in 1972. By leaving out the head and arms she takes away the human, the personal. Or as Siepman calls it herself: 'the psychological load'. This focuses the attention to the shape of the body and the sensual quality of the surface. As the key piece, 'Standing girl' sets the tone for the rest of her oeuvre.
Unique form language
Because of the balance between figuration and abstraction in her work, Siepman is often counted among the Group of figurative abstraction. This group originated at the Rijksakademie van Beeldende Kunsten in Amsterdam, where Siepman studied from 1962 to 1967. However, Siepman does not consider herself to belong to this group: she mainly wants to be seen as an individual. Her unique form language makes it hard to place her work in a particular category.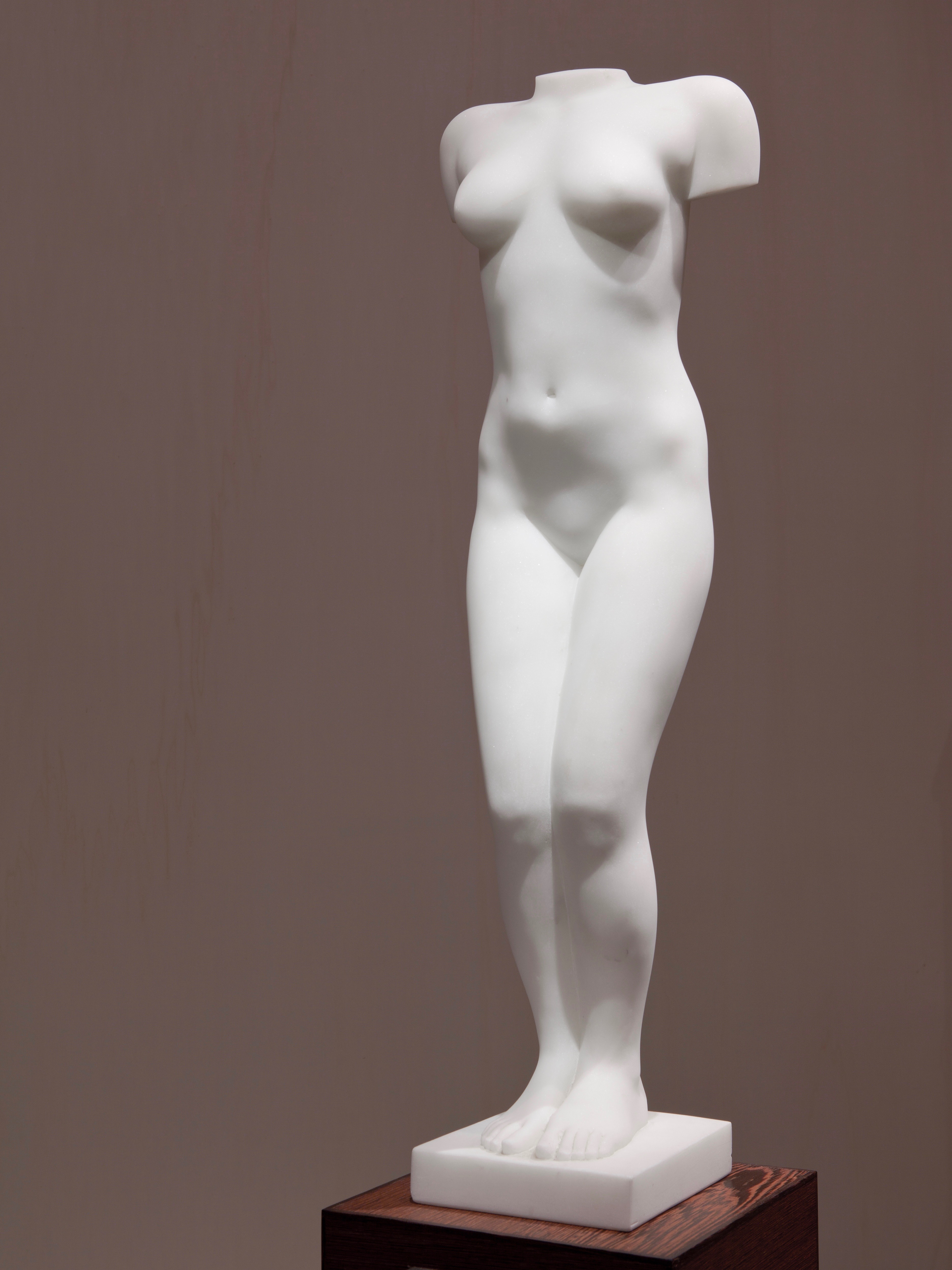 Zigzag in marble
In addition to the works in bronze with the black patina characteristic of Siepman, she also made sculptures in marble, particularly at the beginning of her career. Already in 1971 Siepman traveled to Carrara, the area in Italy where a lot of marble is extracted. Upon arrival, she saw impressive zigzag roads on the marble mountains. Inspired by this, she later made the 'Zigzag torso' in marble from this area, a clear white statue from 1995 that is now in the Kunstconsult sales collection. This sculpture is also inspired by the zigzag chair by Gerrit Rietveld. The shape of this chair attracted her enormously and she used it in various sculptures, including this special torso.
View the collection page for more information about the sculptures by Eja Siepman van den Berg in the Kunstconsult sales collection.
For this article is used Fragment No. 16, issued by Het Depot in spring 2019.
Text: Loïs Geerlings
Photos: Erik Rijper
© Kunstconsult – 20th century art | objects
Reproduction and distribution of this text is only allowed with correct reference.