Jan Eisenloeffel: From sober utensil to unique luxury product
Posted on 20 December 2018
Jan Eisenloeffel (1876 – 1957) was a leading artist within the field of the applied arts. He is considered one of the most prominent Dutch designers of the early 20th century. Together with H.P. Berlage, Chris Lebeau and Jac. van den Bosch, he has been characteristic for the 'constructivist direction' within the Nieuwe Kunst, the Dutch version of Art Nouveau. But his influence was not limited to The Netherlands, his works were also exhibited and admired abroad.
Eisenloeffel followed his education at the Rijks Normaalschool voor Teekenonderwijzers in Amsterdam. In addition, he worked at the studio of Hoeker & Zoon, one of the most important silver- and jewelry companies in Amsterdam at the time. Here, Eisenloeffel could develop himself during his early years. Moreover, they gave him the opportunity to visit Russia for several months in order to acquire knowledge about enameling- and niello techniques. In Russia he visited the workshop of famous goldsmith Peter Carl Fabergé, but he was kicked out after describing the works as 'suikerbakkerswerk' ('confectioner's work'). Besides the technical developments, Eisenloeffel was also inspired by artworks in Russian museums. Especially the Greek jewelry and Eastern artworks that were on view here have been a source of inspiration during his career.
In Russia, Eisenloeffel witnessed the division between the rich and the poor. He saw luxury products being designed for a small group of privileged people, while the biggest part of the Russian population lived in poverty. This made Eisenloeffel realize that he wanted to do it differently. His work had to be accessible for the 'common' people. This resulted in designs that were aesthetically sound and could be produced in series. After his return from Russia, Eisenloeffel went back to work at Hoeker & Zoon, where he created the sober objects that made him famous. He stopped working here in 1902. Afterwards he was employed at different workshops, where he used noble as well as base metals. This was in line with his desire to make daily utensils available for a large audience, but still with a modern design. This copper milk jug is an example of his early work.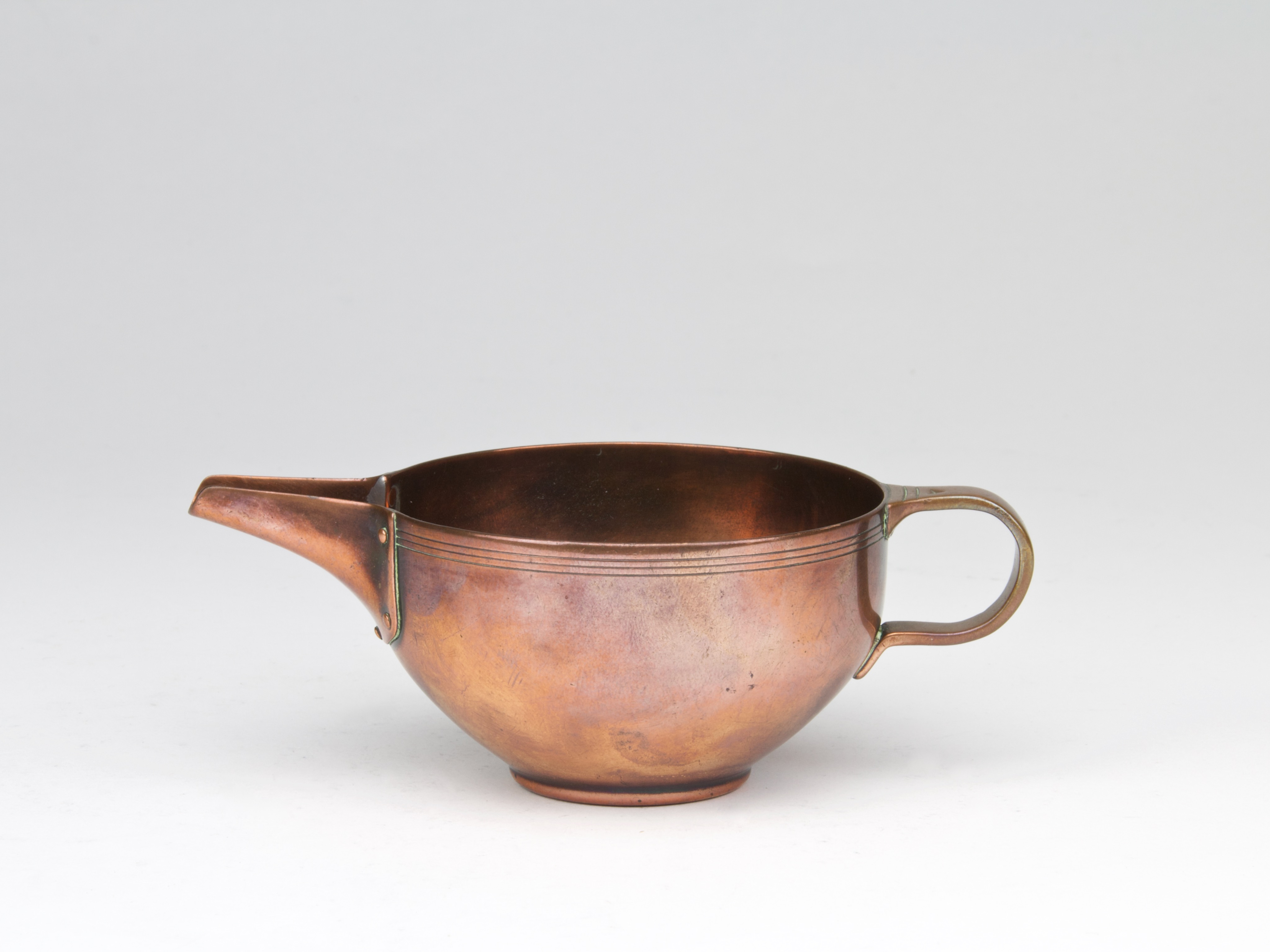 The sober decorations of Eisenloeffel's metal utensils also became popular abroad, especially in Germany. In 1908 he went to Munich to work at the 'Vereinigte Werkstätten für Kunst im Handwerk'. Here he hoped to realize his ideal to create affordable products for a large audience. This was hard to achieve in the Netherlands because his objects were still too expensive due to high production costs. Also, a growing amount of cheaper imitations of his works came on the market. But this was no better in Germany, which led Eisenloeffel to return to the Netherlands later the same year. This unfortunate adventure led to a turn in the career of Eisenloeffel. He started to design unique, abundantly decorated objects, which he manufactured at his own workshop. This was a remarkable twist in the oeuvre of Eisenloeffel. He created these works for individuals, the government, church associations and socialist organizations.
An example of this later work can be found in the sales collection of Kunstconsult. The depicted bronze vase was made in the workshop of Eisenloeffel in Amsterdam. On July 8th, 1915 the 'N.V. Jan Eisenloeffel's Kunstnijverheid' was officially established. The focus was on objects that were made on request. These unique works were mostly decorated with enamel champlevé or plique-à-jour. The vase in the collection of Kunstconsult is characteristic for Eisenloeffel. It is decorated with four enamel medallions and geometric enamel bands. For these decorations Eisenloeffel used the champlevé-technique, in which the cells that are to be filled with enamel are carved out.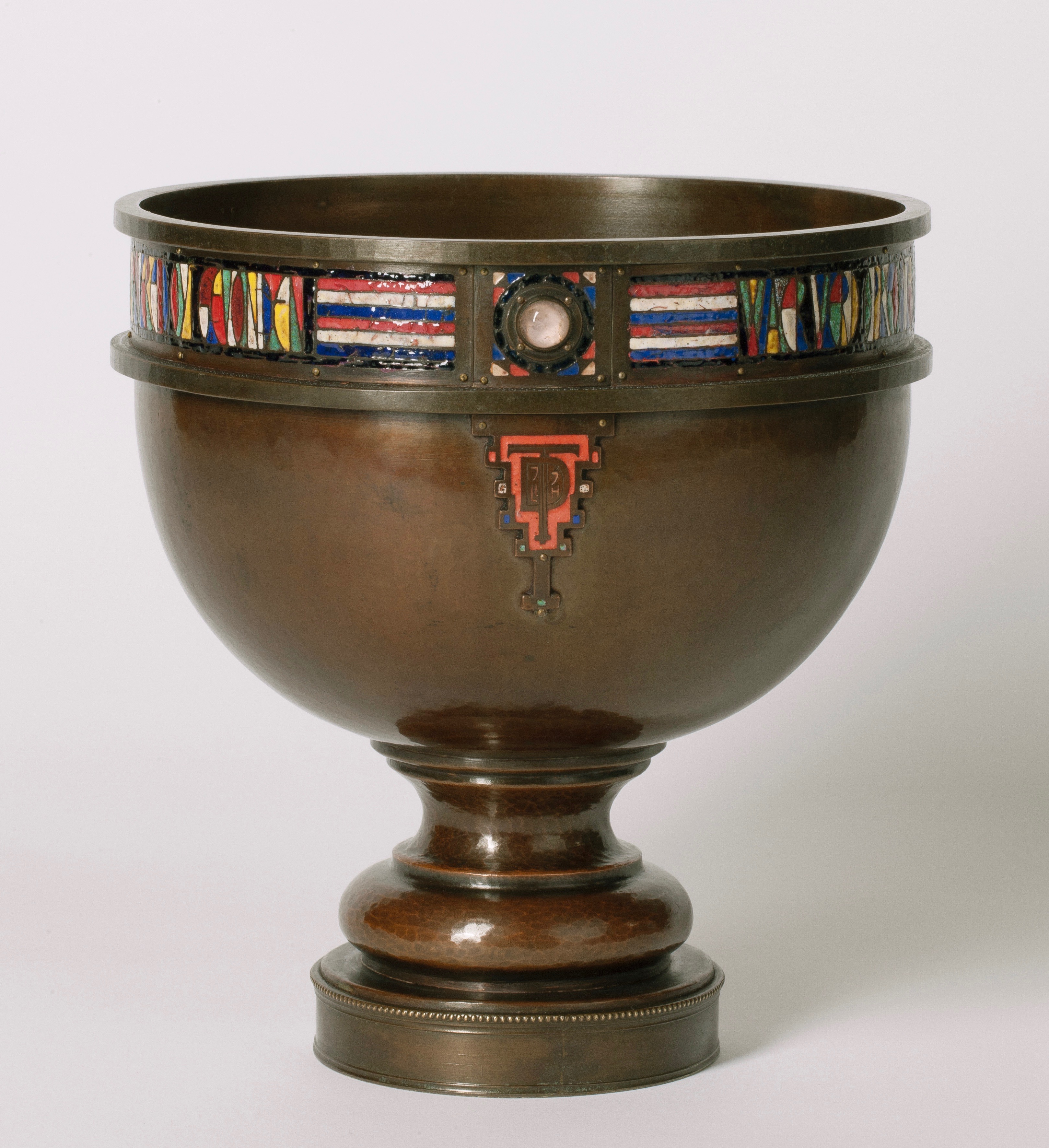 The Drents Museum in Assen bought this special 'Loving Cup' at Kunstconsult, a unique piece in the oeuvre of Eisenloeffel. In England there is the Loving Cup, in France the Coupe de Marriage: a big cup to drink from together during weddings and banquets. The use of the cup symbolizes love, friendship and unity. Eisenloeffel produced the goblet in 1924 for the textile manufacturer Johannes Leonard Lodewijk Tilanus, an in-law of Eisenloeffel. He made the goblet to commemorate the 50th wedding anniversary of Tilanus and his wife. When the cup is rotated, a line from Vondel's famous poem 'Gijsbrecht van Aemstel' can be deciphered: 'Waer werd oprechter trouw dan tusschen man en vrouw ter wereld oyt gevonden' ('Where in the world has truer fidelity ever been found than between husband and wife'). The goblet is an exceptional piece in the oeuvre of Eisenloeffel. However, as far as the use of the enameling technique and the ornament is concerned, this piece is Eisenloeffel through and through and fits perfectly within his oeuvre of these years.
Photos: Erik Rijper, Noortje Remmerswaal and Dennis A-Tjak
For this text the author used, inter alia, A. Krekel-Aalberse en E. Raassen-Kruimel (e.a.), 'Jan Eisenloeffel, 1876 – 1957', Waanders Uitgevers Zwolle, 1996.
Kunstconsult – 20th century art | objects
Reproduction and distribution of this text is only allowed with correct reference.