An art dealer's blog: Not everything is for sale
Posted on 16 January 2019
"Don't you find it hard to let go of a beautiful piece of art?" I am often asked by customers. An art dealer cannot afford to keep every beautiful artwork himself. Living on bread and water in a museum, not an attractive prospect.
I find pleasure in temporarily enjoying a beautiful piece of art and I think it's fantastic when it is lovingly added to a beautiful collection. Afterwards, I see the discovery of another extraordinary work as a challenge.
Some time ago I was offered two formidable vases of Purmerend pottery, which were in England. Around 1900 Purmerend was an important player when it comes to innovative Art Nouveau earthenware. The city housed three earthenware factories, which employed several – still highly regarded – innovative artists. During my flight back – with the valuable works safely stored in the cabinet above my head – I thought back to the very first piece of Purmerend pottery that I bought, about 30 years ago.
In the next town a new little thrift store had just opened. The owner was still unpacking boxes when I walked in. Amidst cup-and-saucers, copper knick-knacks and newspapers, was unmistakably a vase of Purmerend pottery. Beautifully slender in form and gracefully painted with a floral Art Nouveau decor. With my heart pounding in my chest I asked about the price. "I can call you tomorrow, the expert will come tonight", was the dissapointing answer. What a surprise when I was called back the next morning. And that the alleged expert had set the value at 25 guilders. "Sold!" I immediately went over to the shop to collect my first valuable piece of art.
Look, that is a piece of art I do not sell. My very first object of Purmerend earthenware is not only beautiful, but it also has a special personal value. Now and then I visit the Purmerends Museum, to which I have given it on loan. They have a wonderful collection of Art Nouveau earthenware. You should go and see it! You can also find some great pieces on our collection page, such as this beautiful Purmerend Art Nouveau vase below.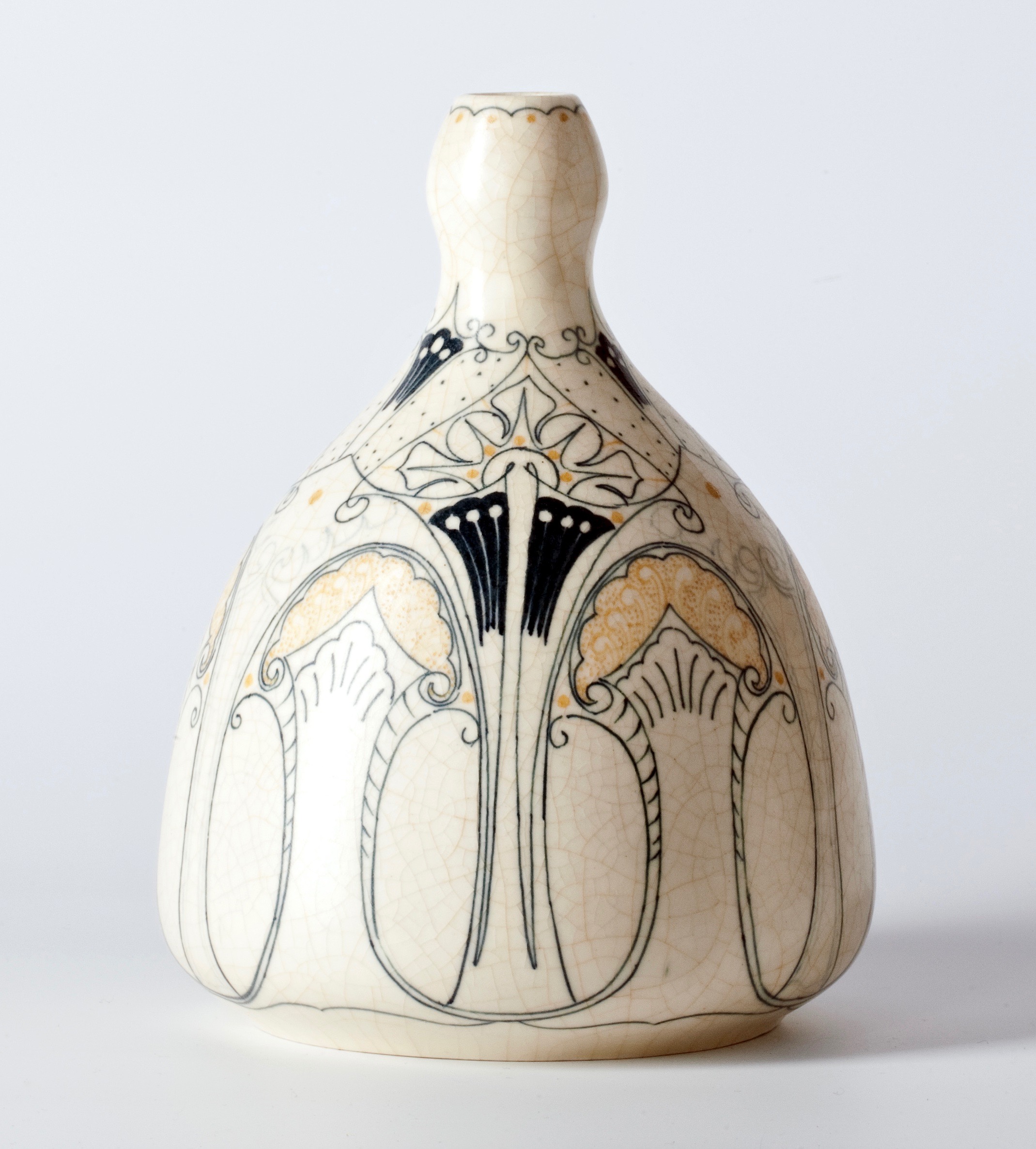 Wiljan Versteeg is co-founder and owner of Kunstconsult, art dealer in 20th century applied arts.
Text: Wiljan Versteeg
Photos: Erik Rijper
© Kunstconsult – 20th century art | objects
Reproduction and distribution of this text is only allowed with correct reference.